Chelsea's top secret 1920s bar has a whole lot to shout about with its new 'comic book' cocktail menu – and as 'London's worst kept secret', the word about this high-end speakeasy is getting out fast. 
Conceptual Prohibition-era bar Barts is hidden away in Chelsea Cloisters, a marble-floored apartment block in the SW3 area, 'somewhere on Sloane Avenue'.
The 'somewhere' is as elusive as it seems – we spent a good 10 minutes trying to find our way in.
But we were there to see one man: Uncle Bart.
Luckily, once inside the Cloisters, fictional mobster Uncle Bart's 'apartment' had a distinguishable black door, followed by a second entrance where you're confronted with an eye-level letterbox for the doorman to suss out whether you're suitably suave to be allowed in.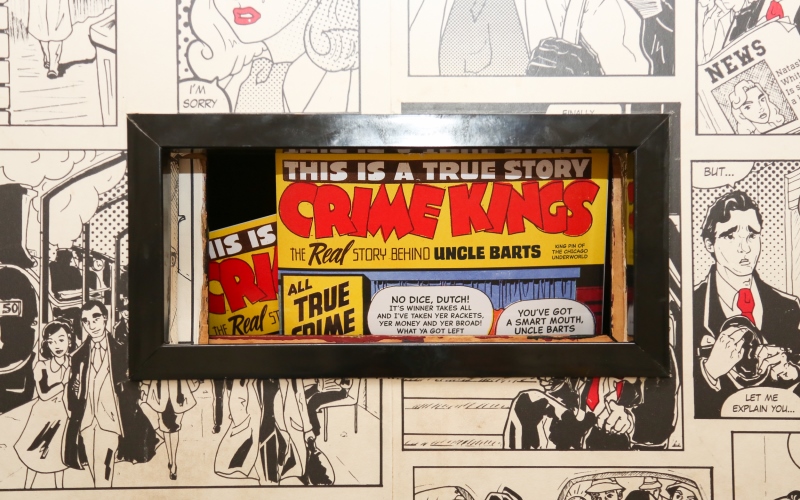 It's all part of the show, and after a dubious pause, the door was opened to reveal a poky yet bustling speakeasy bar, complete with faux 20s memorabilia including whimsical bric-a-brac and off-beat artwork.
We were here to try Barts' much-hyped-about new cocktail menu, which is disguised as a comic book (in case the fuzz bust the place at any point, at a guess).
Alongside the cartoon strips depicting Chicago gangster Uncle Bart's eventful journey to London is an extensive list of 44 cocktails, divided into eight themed chapters.
It's a well-thought-out idea, if a lengthy read, but the huge choice of cocktails on offer makes the whole concept all the more impressive.
Staff are on hand to recommend the drink to suit your style, and service is swift.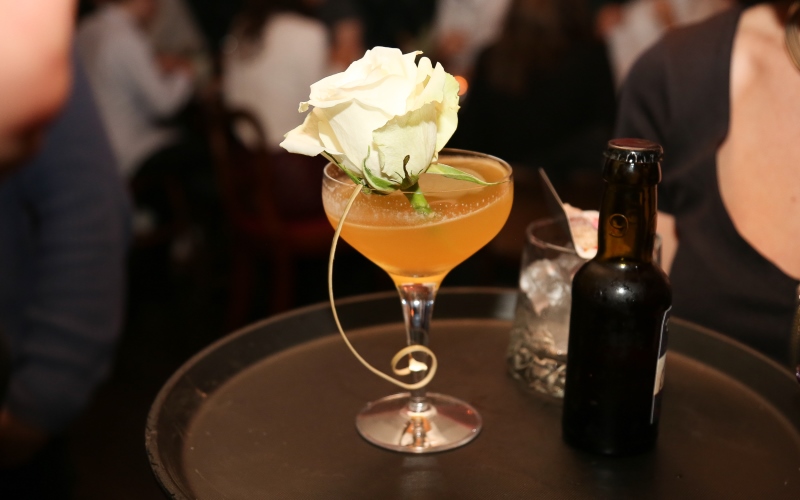 We eventually chose the vanilla-infused Jazz Singer, a creamy vodka-based drink served with a white tulip, along with one Uncle Bart's Cola, a mixture of whiskey and Barts' homemade – or 'bootlegged' – cola, topped with a lipstick-smudged playing card.
If you're after a cocktail that'll look really great on Instagram, Kidnap and Handsome (a vodka and oak bitters cocktail teamed with vanilla syrup) is served in an incense-infused glass dome – enough to turn every head in the bar.
The little details are really what makes this place worth visiting – the only thing left to do is choose the right filter.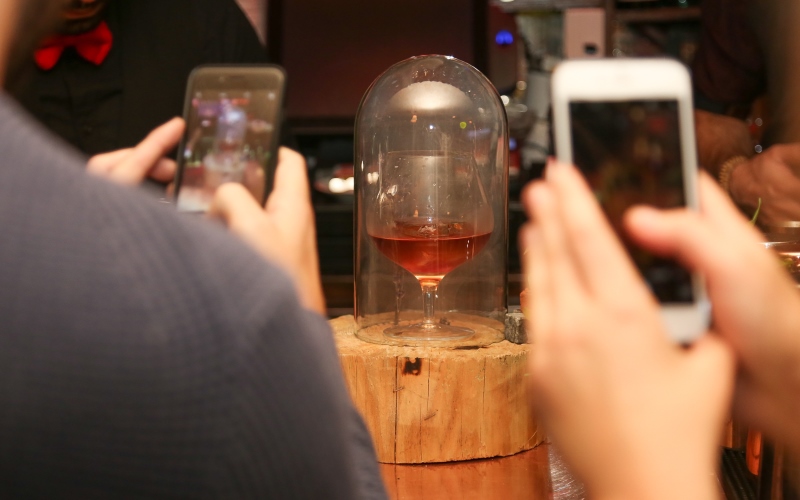 Chelsea is all about the high life, and this place hasn't skimped on the finer things – even if there is a Prohibition going on.
Okay, I'll stop with the 20s references (Barts opened in 2009), but it's a great place to experience conceptual drinking at its finest.
A hidden bar in a block of luxury apartments in Chelsea, the allure of Barts lies in the secrecy of its hush-hush exclusivity and the five-star treatment you'll receive once you're in (if you manage to get past the concierge at all, that is).
Events to look forward to include a Gatsby-themed New Year's Eve party. Get yourself on the guest list by booking ahead now.
Open from 6pm every day, find it on Sloane Avenue, Chelsea, SW3 3DW.
For more information go to www.barts-london.com