Rajasthani restaurant Chokhi Dhani is taking its shot at international success after opening their first European eatery in Battersea.
It's a stylish venue with a classy wooden finish that gives a sense of authenticity and prestige.
First opened near Jaipur in 1990 as a small restaurant, their original complex has transformed into a 22-acre, five-star resort. Now, the luxury Indian company are making big moves and hope to corner the waiting British market.
Starters
Kicking things off, the popadoms came with a welcome twist. Chokhi Dhani's popadoms come in a variety of shapes, colours and flavours but all taste excellent with 85% dehydrated vegetables. Dip them into the three chutneys, the first an avocado one — essentially a Rajasthani guacamole — the second a fiery Himalayan tomato and the last a fruity apricot and mango. The perfect way to start any Indian meal.
The bheja roasti was an interesting starter. A free-range egg on toast. Except with lamb brain mixed in. Not one for the faint-hearted but certainly a first for many and surprisingly good.
Khargosh, pulled slow cooked rabbit, provided an equally-challenging mental obstacle to overcome and was definitely an experience to say the least, especially with the strong spice! Kadak momo chaat provided a far easier and more enjoyable mental episode with a delicate, intricate deep-fried potato crispy casing holding a vegetarian dumpling and chickpeas.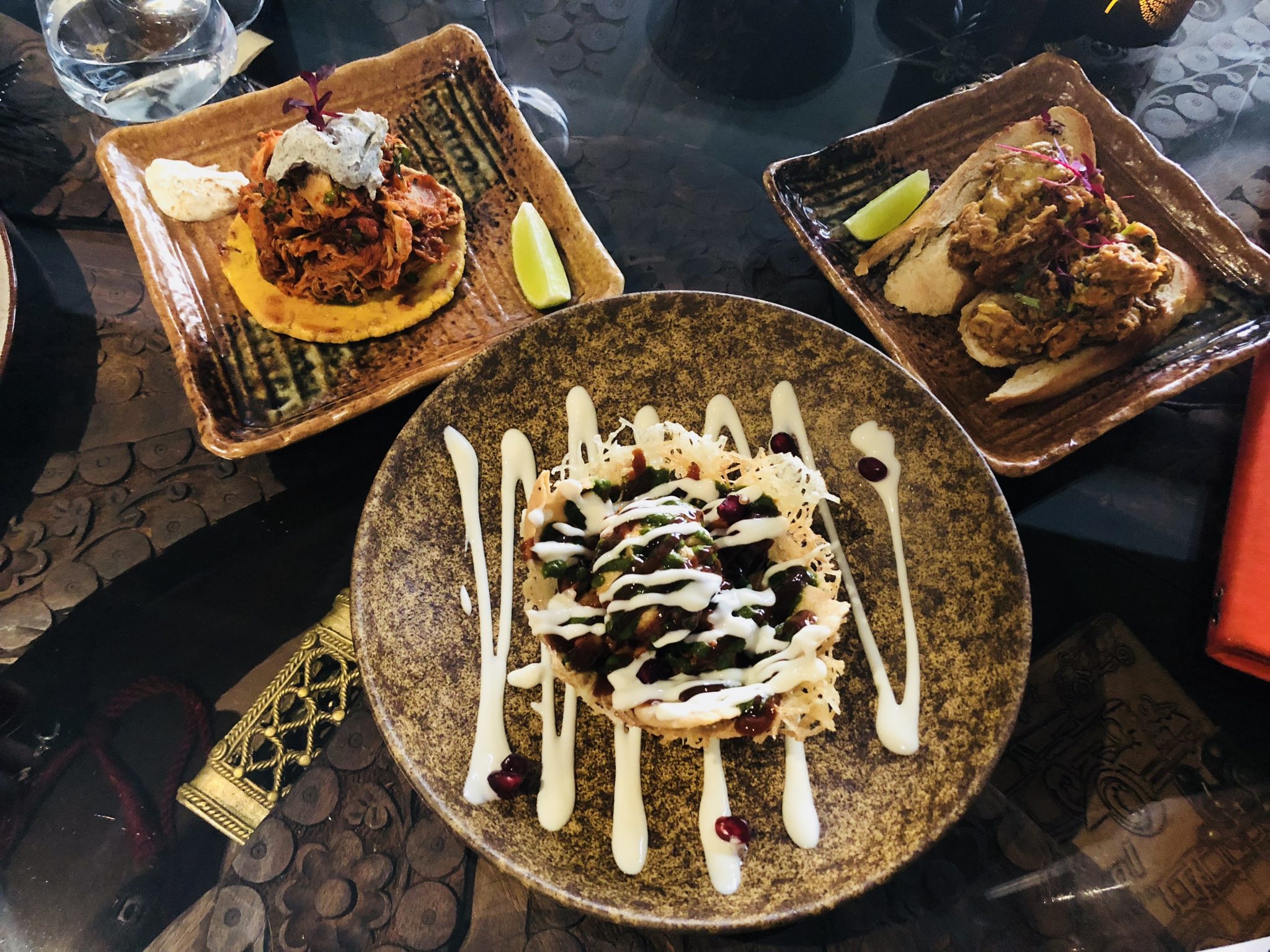 Main
Already beginning to feel the stomach starting to fill, the mains arrived and in their masses. The two main dishes, the bamboo seafood pilau steam (a combination of seafood and basmati rice in banana leaf-lined bamboo) and the Rajasthani laal maas (a lamb rump with traditional spices and red chilli), were both rich in flavour and were most welcome. On the side, aloo methi (potatoes and fresh fenugreek leaves), plain and garlic and coriander naans and kashmiri saffron pilau rice completed a delightful palate.
Desserts
Already feeling stuffed, it would have been rude to decline the offer of the tempting desserts to finish off. The chocolate sphere, with melted chocolate poured over, was simply divine and a taste of heaven for all chocolate lovers.
The rose crème brûlée provided a final touch of class to a wonderful meal with its rose petal relish meringue, crunchy honeycomb and juicy fruit. Silky smooth and sensational.
Drinks
The Bollywodka cocktail was a phenomenal choice. A wonderful combination of belvedere vodka, passion fruit, raspberry, pineapple and vanilla provided a fruity, alcoholic punch which worked well with the flavours of the Indian cuisine. If you fancy something different, Lion lager slips down effortlessly, too.
A hugely filling meal and although on the upper range in terms of pricing, good value for money both in terms of the portion sizes and quality of food. A truly authentic, traditional Rajasthani experience and certainly worth a visit if you fancy a classy, Indian evening with fantastic service and spectacular views over the Thames at sunset.
What: Chokhi Dhani
Where: Riverlight Quay, 2 Nine Elms Ln, Battersea, SW11 8AW
When: Monday – Saturday 12pm-10:45pm, Sunday 12pm-9:45pm
How: Short walk from Vauxhal Rail and Underground Station