In all honesty, the thought of trying out a Golden Shower has never appealed to me.
I like to think I'm quite Cosmopolitan, but realistically, I'm an Old Fashioned girl at heart.
But I hold my hands up, I was missing out – as proved by an intimidatingly tall temptress, with an ample bosom perched precariously within a latex bandage dress, who offered me one in a disabled toilet.
Fear not for my sanity, as this surprisingly delicious experience was all part of the fun to celebrate the new-look Bar Three Six Six – now firmly one of South West London's finest and friendliest cocktail bars – where a few brave pals and I went along to sample some tipples from their exciting, adventurous new drinks menu.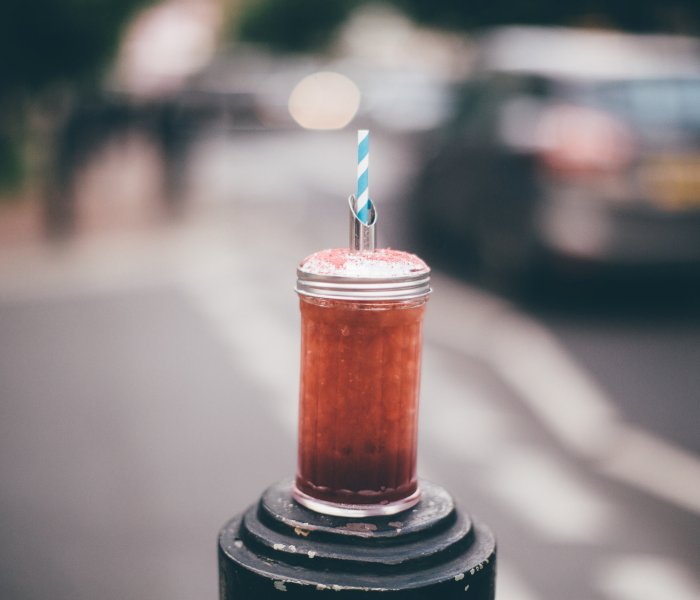 RETRO: Cocktail served from a diner-style sugar shaker

Hosted by the ever-vivacious team, headed up by the de la Mora brothers, Eduardo and Andrés, and fellow co-owner Mick Armstrong, we were treated to an evening of sumptuous smells and exotic flavours – a genuine assault on the senses.
Having enjoyed an alfresco aperitif – a Citric Sotol, made from Sotol Anejo spirit, nettle cordial, alfalfa sprouts and horseradish, served with a cute butterfly-shaped shaving of lemon peel (a nice touch, given the bar's new logo) – we were led inside and presented with the type of blindfolds I imagine Christian Grey keeps in his playroom.
With one hand firmly on the bar we edged our way to the first of five 'taste stations' each representing one of the flavour categories the cocktails appear in on the menu.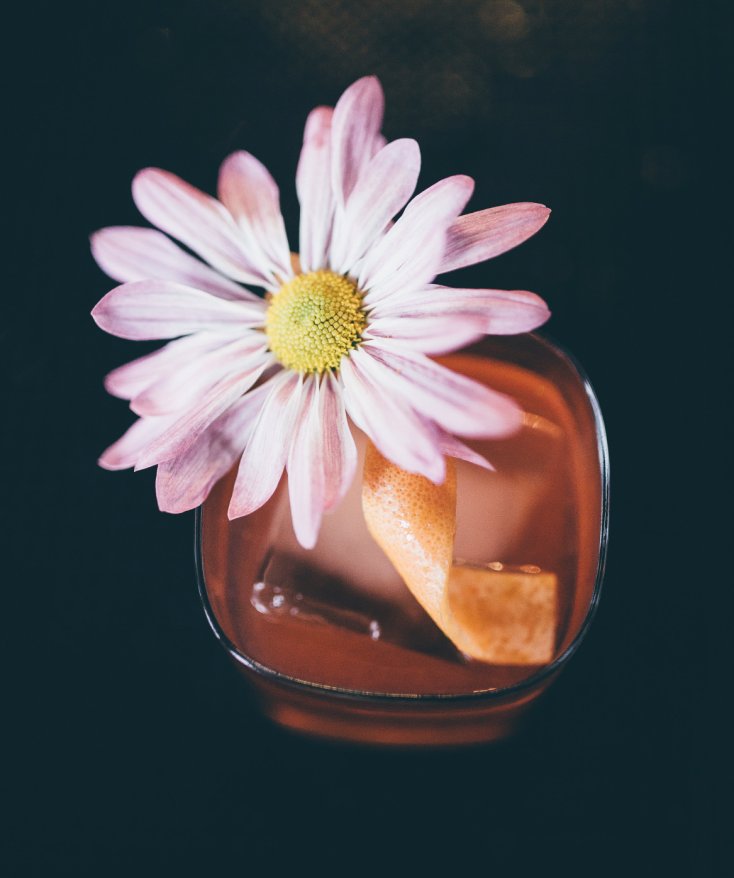 ELEGANT: Flowers and orange peel are a dainty touch to an otherwise raunchy tipple

The 'salty' theme was instantly recognisable – despite being temporarily blind – as we were spritzed with authentic ocean spray, perhaps a little too much but it all added to the ambiance.
Once our blindfolds were removed we were faced with a stunning display of oysters, seaweed, crushed ice and, naturally, an array of bottles and dishes containing aromatic cordials, spirits, herbs and spices.
We were served a sample of their Balsamic Sea cocktail, concocted from Hiyland Harvest Scotch, Nori, raspberry and rose cordial and balsamic pearls, which we downed in one from an oyster shell.
The genuine passion shared by the staff shone throughout the evening, as they meticulously talked us through each cocktail, from how they distill their own syrups, purees and bitters, how they source their certified organic liquor, and the process of creating a perfectly balanced, flavoursome drink.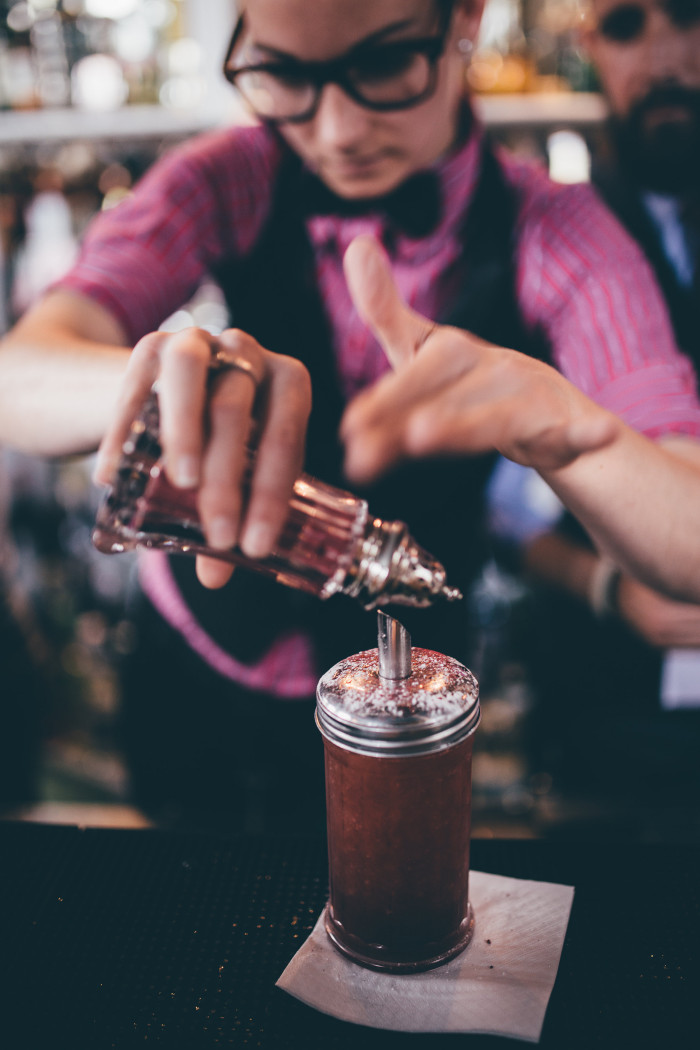 EARTHY: A beetroot-infused concoction
"Everything we do is for the customer," admits co-owner Andres. "We love what we do, and we want our customers to love coming here."
Each cocktail was an individually crafted work of art – from a brown paper bag-packaged Tobacco Negroni, served in a cloud of botanical smoke, an Iberico and Truffle Old Fashioned (a perfect accompaniment to their charcuterie platter), to a seriously different, beetroot-infused, super sweet, and intensely flavoured 50's Shaker, served in a retro-diner sugar canister.
Being a regular who knows my way around the stylishly designed bar (even after several glasses of Sauvignon), I was somewhat perturbed when we were led towards the disabled loo to sample a Golden Shower cocktail for our final 'sour' taste station.
However, waiting inside the dramatically transformed candlelit bathroom was our aforementioned bondage heroine, who put our minds at rest and sprayed the surprisingly delicious, foamy drink into our glasses from a compressed canister – playfully embellished with chainmail.
Luckily, we were presented with dainty little parasols to protect our clothing from any misdirected ejaculations.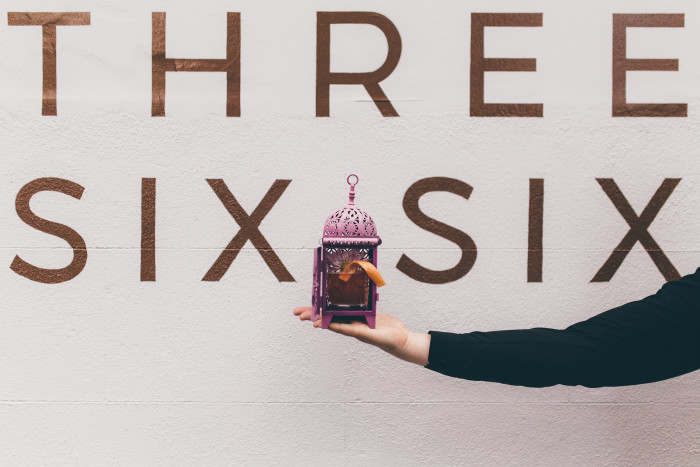 The delightful drink is marketed as the bar's ultimate first date ice-breaker, as it's a couples-only drink. Well, you can't deny it's a conversation starter…
Pop along to Bar Three Six Six (on St John's Hill, Battersea or Garratt Lane, Earlsfield) and try out their new creations for yourself.
Go on, be bold!