Tucked away under Battersea's blackened railway arches is Mother – the brand new Scandi-Italian fusion that's come all the way from the red roofed climes of Copenhagen.
The concept for this hip new restaurant is simple. Combine a Scandi-chic atmosphere with hints of hygge and bring pizza into the equation and you're bang-on trend.
At least what I think what I'm being told by the uber-friendly Jacqui who greets me in place of preoccupied owners Nick and David.
"It's about combining simple Italian flavours with this Scandinavian concept and this feeling of hygge," she explains.
She tells me the idea is to create 'no nonsense' rustic food with the simplicity and minimalism that you see on Denmark's city streets.
This desire to fuse these flavours together is certainly a contemporary concept, and while I was dubious, I had no doubt that the combination of pizza and Scandi cuisine would make the cut for my Instagram.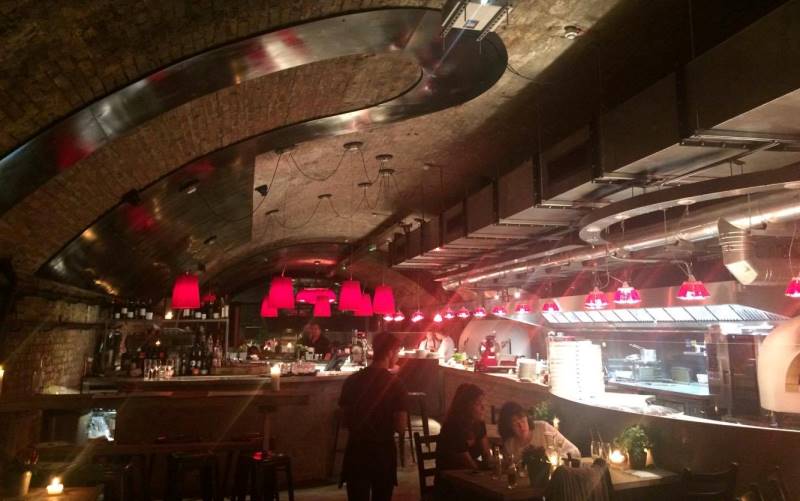 ANYONE FOR HYGGE?: Mother tries to bring Scandinavian cosiness to its restaurant
The menu is simplistic and offers a selection of no nonsense starters, bruschettas and pizzas, another nod to the minimalist city streets of Copenhagen.
The décor also mirrors the Nordic theme, with blackened exposed brickwork, the bright pop colours from the red lanterns, and the bold green pots of basil artfully placed on our tables.
It's cosy and snug under the arches, especially with the roaring pizza oven as a glorious centrepiece. The room is artfully open plan and dimly lit with doors flung open out to the wharf. It's slightly cavernous and this dark setting lends itself to wine indulgence.
Luckily the charming Michele is on hand to offer his pearls of winey wisdom and he helps us select a delicious bottle of Orano – a velvety Sangiovese ruby red.
Michele has come from LA to work for Nick and childhood friend David. He has such a palpable passion for wine and he goes into detail describing the bottle before we are poured our glasses. Maybe it's the grand introduction but his real zest makes our first sips all the more sensational.
The first course arrives. A chirpy and super smiley young waiter brings us a creamy burrata with roasted vine tomatoes which melt in your mouth and goes down a treat with the accompanying plate of cold meats and crispy garlic focaccia.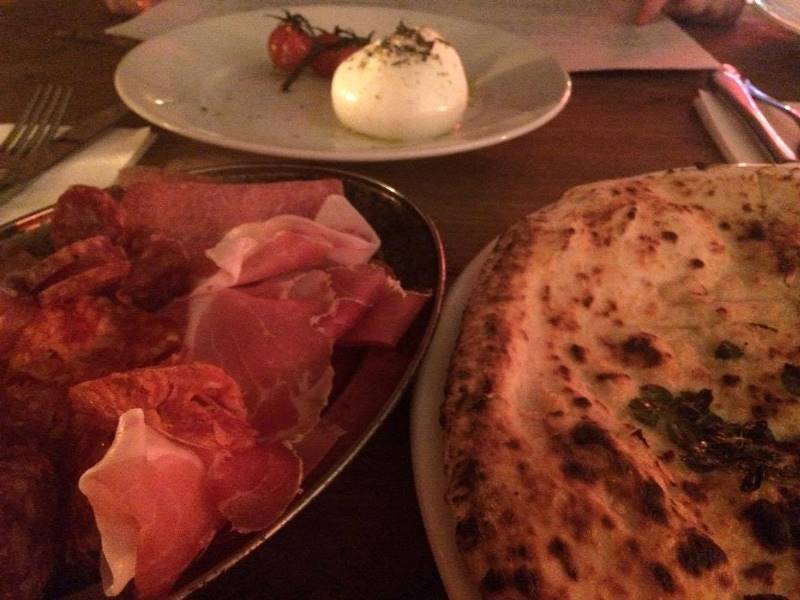 MEAT FEAST: A starter of a meat platter, creamy burrata and garlic focaccia
The portions aren't modest and the cold meat selection is diverse, with spicy chorizo, salami and Italian sausage.  I am intrigued and want to eat on.
Pizza has always been the way to my heart so I was pleased to see our lovely waiter making his way over to us with two large plates of charcoal-flecked goodness.
It's undeniable that pizza is an unrelentingly exhausted market, with popular chains like Pizza Pilgrims dominating in central London and Franco Manca with its independent feel.
So it makes you wonder what Mother can deliver that I haven't already sampled.
Jacqui though points out I am wrong, and there is a whole other world of pizza I'm yet to explore – pizza made with seawater.
Yes I'm dubious too. Is this a Scandi trend-setting buzzword thrown in there to win points? Is this part of the definition of hygge that people threw about aimlessly last year but failed to really understand?
Why would I want pizza made with water from the sea? What's more, I'm sceptical to note the sea is pretty far away from Battersea and the nearest expanse of water is the Thames.
But Jacqui reassures me that what I'm about to taste is an age-old Italian tradition Nick and David are bringing over from Rome to revolutionise the English pizza scene.
"The chefs here use filtered and purified seawater imported from Italy, it just makes the dough so light and airy and it's all natural," she says enthusiastically.
"It contains far less sodium so more minerals are delivered to the body."
The pizza is good-looking and certainly Instagramable, an essential element if you're starting up a restaurant in London these days.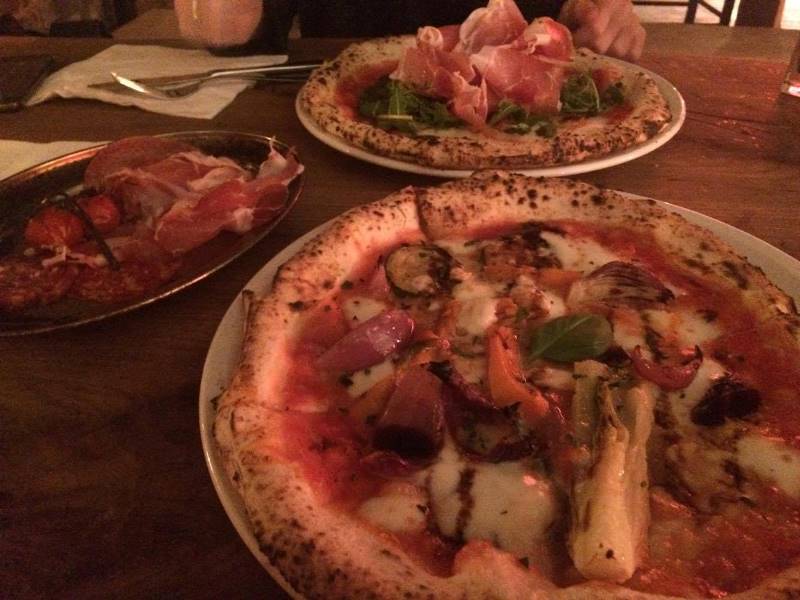 CHUNKY: The vegetable and prosciutto pizzas
It is tasty. Chewy dough, a nice blackened bottom (it's a Tuesday and I'm very aware I'm missing bake off), complete with a light but tangy tomato sauce and a good topping of soft cheese.
I opt for the vegetarian after my first course meat fest and my friend goes for the prosciutto and pesto-topped pizza.
The vegetable toppings disappoint me. I was expecting a nice Mediterranean melange but the toppings aren't particularly dainty with a giant slab of fennel dominating one slice.
It's also been heavily slathered with balsamic glaze which makes it quite a sweet experience and detracts from the taste of the tangy tomatoes.
You can't go too far wrong with a combination of quality ingredients and it is still tasty, but I am concerned the pizza looks better than it tastes.
But maybe this is where food is shifting towards. If food looks good, does it have to be a taste sensation? As long as it gets those Instagram likes rolling in. Fads like unicorn toast (eh?) and cloud eggs (say what?) prove this to be a sad truth of 2017.
Nevertheless, Mother was a delight, for the eyes and for the palette.
It's pizza with a definite saltwater twist that elevates the dough above other establishments around London. What's more the urban setting adds to what was overall a lovely evening.
I will be back, telling my friends I know an arty little place that's straight out of the backstreets of Copenhagen, which I'm sure will give me some street cred, and maybe some Instagram followers.