Following its successful soft launch this week, the largest ever BrewDog bar will open tomorrow – Thursday 18 August – in Waterloo Station.
The independent Scottish craft brewer's 60-tap craft beer destination is spread across two floors and 26,500 square feet – making it twice the size of BrewDog's second largest location and the biggest bar in London.
As well as a podcasting studio, cocktail bar and duckpin bowling, the 1,775 capacity space also contains co-working spaces and quiet "Zoom" rooms.
There will also be a new house beer, Trainspotter, brewed on-site and exclusive to BrewDog Waterloo.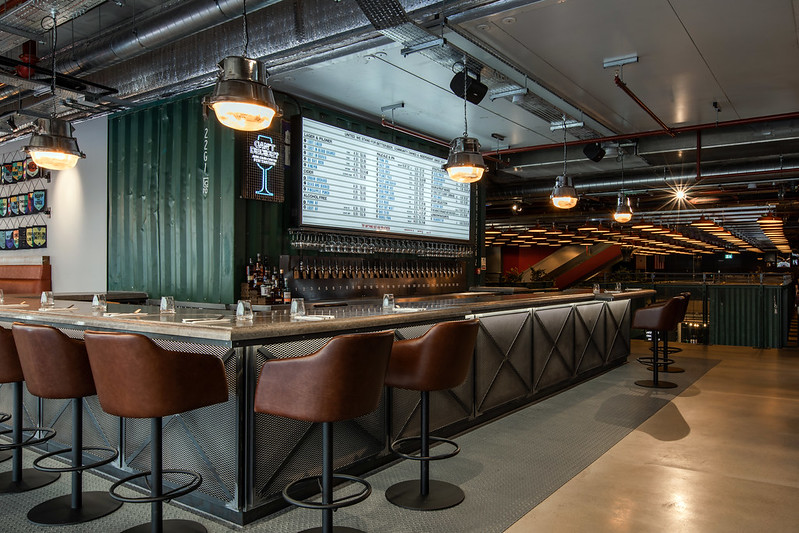 James Watt, Captain of BrewDog, said: "London has supported us since the very beginning, so whether you live in the capital, work in the city or are just visiting, get ready for the biggest BrewDog Bar on Earth.
"Minutes from the landmarks, moments from the platforms, great beer and food are seconds away.
"This is one of our most exciting bar creations and a true reflection to where our brand is heading. Wait for your train as you sip a bar exclusive beer, brewed on-site, Trainspotter."
Additionally, as part of tomorrow's launch, two customers will win a trip to the opening of BrewDog Las Vegas.
On Friday, a prize of free beer for a year will be up for grabs and on Saturday 20 August at 8pm special guests The Futureheads will be playing an exclusive live set.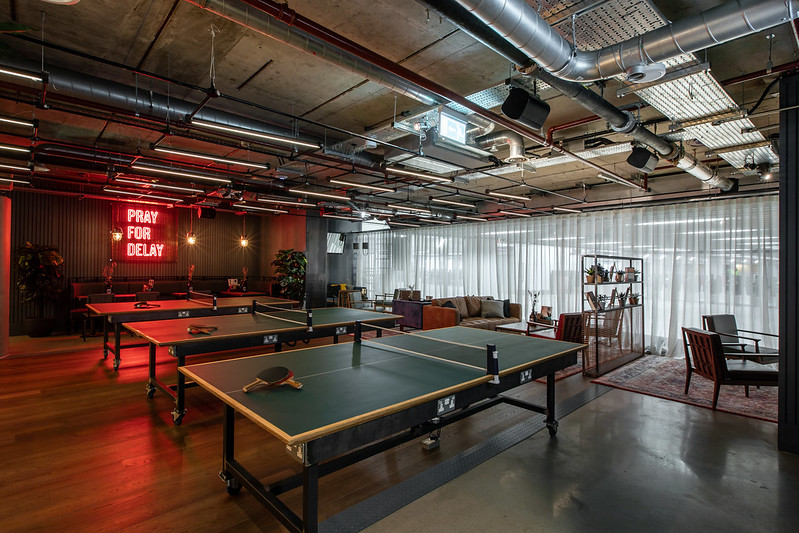 One thing that was clear from the soft launch is that the size of the space is not exaggerated: BrewDog Waterloo is vast.
There's almost too many interesting features to list: between a coffee shop that serves cocktails, a non-for-profit florist, a co-working space with tables that flip into table tennis at 5.30pm and a literal ice cream van situated inside the bar.
Oh, and there's also a slide (which you're not allowed to take a pint on).
There are a number of collaborations involved, be that London coffee legends Grind or Hackney Gelato.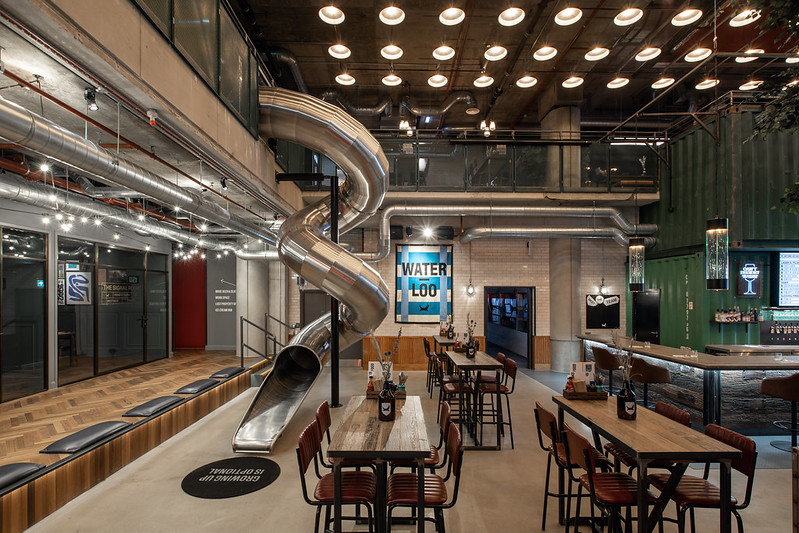 BrewDog is also collaborating with multi-award winning bartender, writer and presenter 'The Cocktail Guy' Rich Woods on a very different kind of Lost Property Office; Waterloo's cocktail hideaway.
The speakeasy is very exciting, and you have to call through on a 1920s style phone to gain entry.
The signature experience of the Lost Property Office will be a 'Martini Roulette', a trio of miniature martinis, identical in size and colour, but showcasing the evolution of the iconic drink through a timeline of cocktail history.
The food options, appropriate for both vegetarians and vegans, are your classic BrewDog fayre of burgers and wings, and absolutely delicious.
The August special of chicken thighs with bacon, cheese sauce and dusted with black truffle dust, come particularly recommended.
You can even buy train beers for the way home.
All image credits: Taylor Herring via Flickr under CC BY-NC-ND 2.0 license