If you're a fan of eating steak in South London, you should probably eat at Macellaio's and then thank me for finding you a new favourite place.
On walking into the Battersea restaurant the experience hits you, with a slight Italian gothic feel to the décor.
You cannot fail to notice the meat dangling on hooks, in what I can only imagine would be a re-occurring nightmare for a member of PETA.
This is not primarily done to scare off the vegetarians however – the meat, which come from a local farm in Italy, is being dry aged to ensure its tenderness.
We were shown to our table and presented with a wine list and a menu by the manager Roberto, who was fantastic throughout the evening.
Strangely, he had been to school with the owner in a small village in Italy and they had serendipitously reconnected when they both moved to London. His knowledge of the Italian farms from where the meat was sourced, and the family feeling he gave the restaurant, only enhanced our experience.
To start we had steak tartare, which can be a risky choice if it is not quality meat (trust me I had a very bad experience in France), but it was perfect and the seasoning of Tabasco, Worcestershire sauce and mustard gave it a great flavour.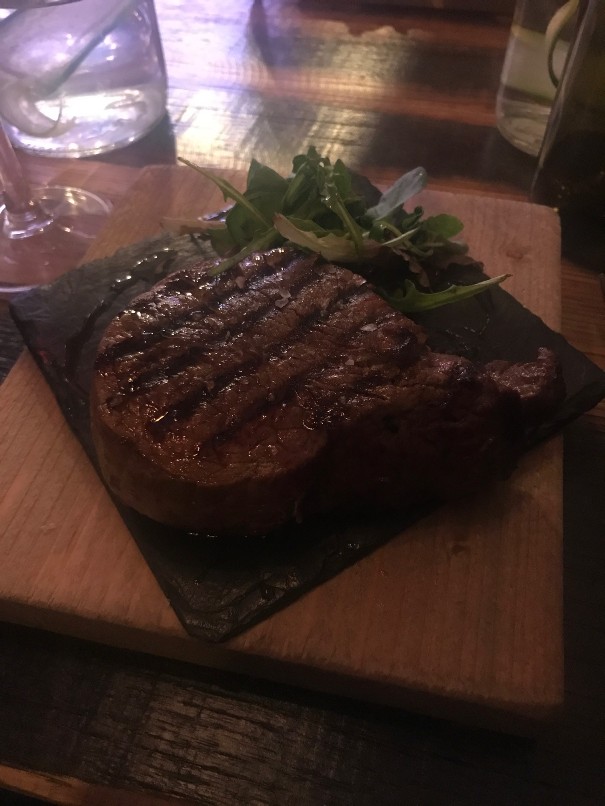 We followed that with Tataki, a seared rump steak served with a cold horseradish sauce which tasted as good as it sounds.
Not deterred by the fact that we had already eaten a small cow we started on our main course, which was a 300gram fillet steak with some spinach and beans for sides.
The steak was cooked medium rare and melted in your mouth, in all honesty it was one of the best steaks that I have tasted.
I was also grateful for the spinach and beans as it did give a welcome break from the mountain of meat that we had already consumed.
After the main course I was ready to go home as I was unbelievably full, this was until Roberto brought out the dessert menu and convinced us to try the cheesecake. We had one to share, due to the fact we were about to burst.
Overall, I cannot recommend Macellaio's enough, the food was near perfect and the atmosphere brilliant.
The only stumbling block for people might be the price – £24 for the two starters and £60 for the fillet steaks, plus the sides, wine and the dessert means you're probably looking at £150+ for two.
It may cost you an arm and a leg, but it's worth it.