Independent restaurants have to adapt to survive, swimming against a current of brand behemoths and restaurant groups who don't have to worry about breaking even in their first months.   
Drawing in a crowd is an ever-increasing challenge as hypesters and hipsters of the hospitality industry keep their ears pressed firmly to the ground to follow the latest trends and newest hotspot.
These New Age foodies, a rag-tag bunch of bloggers and Instagramers, care little for the independent restaurant.
For this reason, it's worth celebrating those who buck the trend and can tempt back diners without gimmicky relaunches and trendy revamps.
Bistrò on Parsons Green Lane is the first food-centric offering by the people behind Shot Espresso and, much like its older sibling, it lives something of a double life.
Carrying the influences of the Italian cafe and French bistro cultures, it runs mainly as a coffee specialist throughout the day.
The leg of Prosciutto de Parma, pride of place on the glass-top counter, is a giveaway for the transformation that happens every evening.
As the day descends to the night, the chatter of yummy mummies is replaced by atmospheric music and couples enjoying dinner.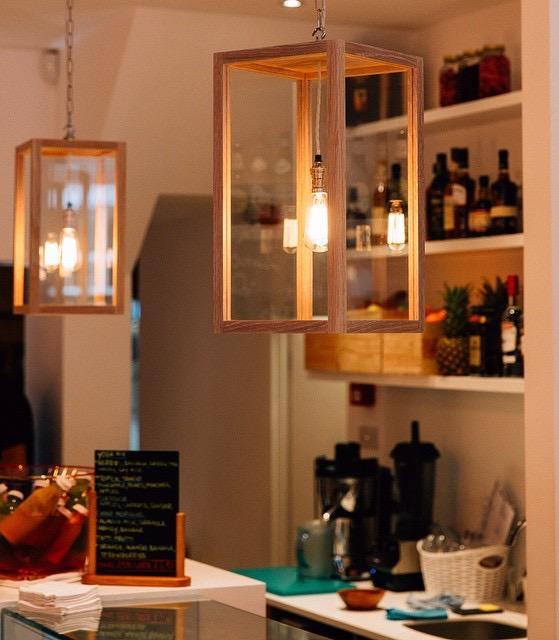 Light wood abounds the airy interior and while the counter may not be conducive to a more formal restaurant offering, it epitomises the flexibility of the space.
In an era where many hybridised eating options fail to hit the mark, Bistrò feels very comfortable being exactly what it is — even at 8pm a customer pops in for her coffee fix to-go, as others enjoy the restaurant's food offerings.
Dishes are pan-European in their influence.
The Parma ham is hand cut by Head Chef Fabrice Meier and is joined by another porcine product in the form of moist farmhouse terrine.
Burrata comes in a small skillet with sweet caramelised onions and peppers. It's a winning combination and shows Bistrò's emphasis on simply-prepared ingredients.
Accompanying bread is disappointing, though.
It suffers from too much time from oven to tables and is unfortunately a little stale.
Shame, as the fennel and salt topping would have been enjoyable otherwise.
Redemption begins in the form of hand-dived scallops.
They are 20 seconds cooking short of perfection but the pleasing flavours of the thick-cut pancetta and salsa verde, balanced with dots of lemon curd, mean this matters little.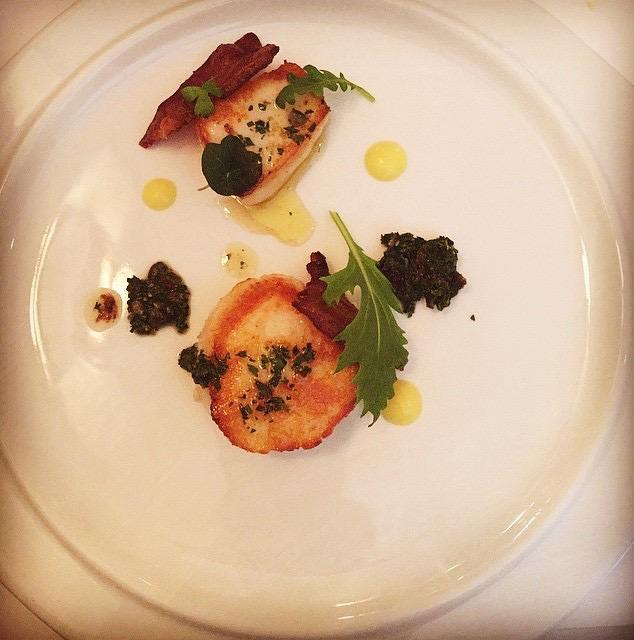 It's at this point that Chef Fabrice shows his Michelin background.
Working in Geneva at Hotel du Parc des Eaux-Vives before spending time under Adam Byatt at Trinity, Clapham, his invention and attention to detail come across in a stunning bavette of beef.
The meat is placed in a vacuum-packed bag filled with a red wine and shallot jus before it is cooked in a water bath for four hours.
It's finished with a quick sear in a pan before being brought to the table a perfect medium rare.
It's mouthwatering, full of flavour and a texture that manages to retain just the right level of chew while being buttery soft.
The chef is quick to praise his butcher, Dickenson Meat, but while the quality of the beef is superb, the cooking is even better.
The meal ends with comte cheese and delightful salted caramel macaroons — another example of locally-sourced delights, brought down by Sophie who runs a small bakery, SoChoux, from the adjacent street.
Bistrò by Shots is a place worthy of praise.
In the current economic climate it takes thought and planning to open a restaurant with true staying power.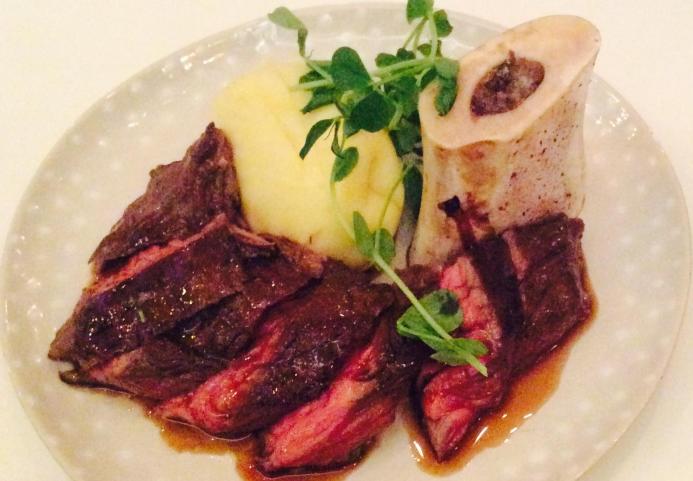 It has managed this by extending the fashionable social eating and drinking concept that brought them success with Shot Espresso and admirably working with local businesses.
Fabrice Maeire has brought invaluable passion and experience to the Bistrò kitchen.
While there were some inconsistencies across the food, the bavette encapsulates an ingredient-focussed, carefully prepared cooking that the kitchen is capable of producing.
Open throughout the day, it has the flexibility to be many things for many people.
Unsurprisingly though it is as a bistro that Bistrò is best.