An enthusiastic band of family and friends from Richmond have joined forces to launch a staple food with a twist.
Sublime Butter was created by St Margarets food fanatic Chris Mair, who saw a gap in the market for different variations of flavoured butter.
The company's produce, which can be used when cooking steak, fish and much more, is now stocked in more than 50 butchers in London and beyond.
Mr Mair, 43, said: "It was one of those ideas which is just so simple that you wonder why no one had ever done it before."
He added: "The initial feedback that we've had from customers and consumers has blown us away, it's been so positive and has seen so many people get behind the product and the brand so quickly."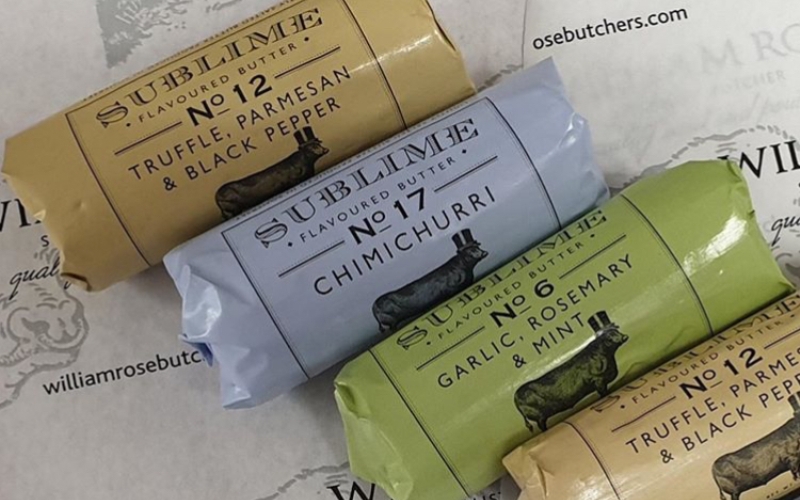 Sublime is supported by a comprehensive network of friends and family, all of whom have been able to bring their own specific skills to the table.
Mr Mair said: "It was a really serendipitous moment; as the company began to grow we realised that all of the key roles we wanted to fill were right in front of us."
Neighbour Stuart Downing, who works in sales, was drafted in to 'light a fire' under the project, while Mr Mair's family also got in on the act.
His wife Tillie, 39, is the brand's head of marketing but has always supported his passion project.
She said: "He's always been such a foodie that there was always going to be something in the pipeline."
Meanwhile, Mrs Mair's parents have been drafted in to support logistics and the company's accounting respectively.
Though a new product, the brand actually borrows its name from an 18th century steak club.
The Sublime Society of the Beefsteak was an eccentric club for equally eccentric Englishmen who enjoyed eating steak almost as much as they enjoyed drinking port.
This weekly dinner club became a notorious institution, with the then Prince of Wales and Duke of Suffolk part of its exclusive ranks.
Though Sublime Butter is not quite as exclusive, it still considers itself as a premium product suitable for different types of cooking.
Mr Downing, 47, said: "Initially we aimed it at the meat market, but what we've realised is that it's super versatile."
He added: "Once we started looking into it, we soon got excited and started thinking what we could do."
Flavours currently available are the  No.17 chimichurri, No.6 garlic, rosemary and mint and the No.12 truffle, parmesan and black pepper.
They are looking to launch a bearnaise flavoured butter in the coming months, with future flavours also being tested at the moment.
Though still a part-time pursuit for Mr Mair and his team, he hopes the brand will continue to go from strength to strength.
He said: "We've only really just got started, but it's fair to say we've got big ambitions for the project."
See their website for more details.