A new Italian seafood restaurant is set to open in Fulham, with views of the River Thames on Tuesday 8 November.
Customers at the new Maria G's will be able to tuck into seafood dishes from the Amalfi coast whilst enjoying cocktails in the riverside bar.
It comes only a few months after the first Maria G's branch opened in Kensington.
Chefs and friends Robin Gill and Aaron Potter want the Italian restaurants to have their own unique identities and have designed a new menu for the soon-to-be open Fulham restaurant.
Gill said: "The plan was always to open two Maria G's restaurants, each with a totally unique identity.
"The reaction we've had for Kensington has been wonderful and now I'm absolutely thrilled to share the new seafood-focused menu we've created for Fulham – and the riverside setting of the new restaurant is just incredible."
The restaurant's raw fish bar will provide customers with the opportunity to select individual seafood dishes, or they can enjoy a taste of everything in one incredible seafood platter.
Seafood dishes available include razor clams dressed in gremolata, oysters per half-dozen sourced directly from Connemara (the west coast of Ireland) and citrus cured chalk stream trout.
Gill's ideas for these seafood dishes derive from his time spent working in the south of Italy and his love for the fishing village Marina Del Cantone, which he still regularly visits with his family.
The restaurant will serve traditional and authentic Italian pasta dishes, including a famous Almafi pasta dish called spaghetti alla 'Nerano' and baked lobster orzo with winter tomato.
The pasta dishes will be ideal for sharing, as they will be served in big bowls and pans.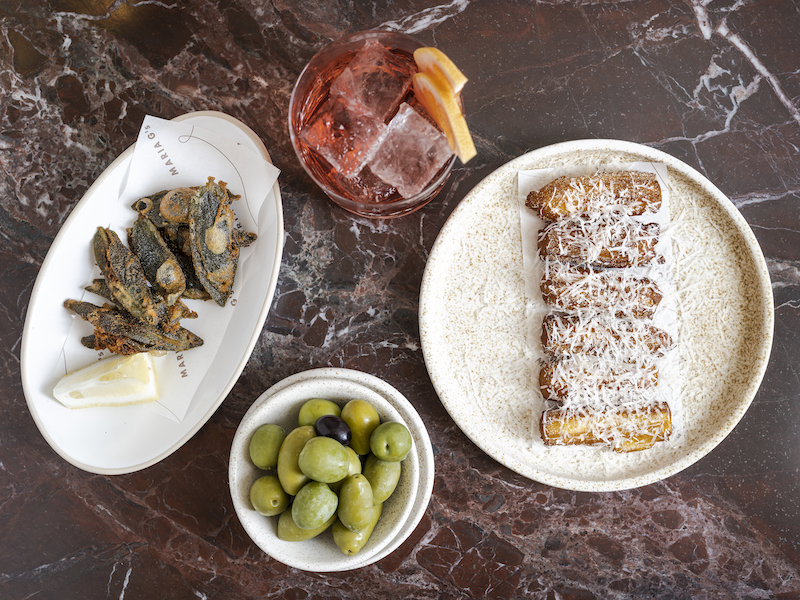 Customers returning to Maria G's for a second time and looking to order some of the restaurant's trademark dishes will not be disappointed either.
Standout favourites on Maria G's Kensington menu will also be available in Fulham, with these including aged parmesan fries, herbed focaccia, sage and anchovy fritti and Florentine steak, with chicory, gorgonzola and aged balsamic.
Executive chef Potter said: "The food at Maria G's is exactly how I like to cook and eat – simple, fun, delicious dishes made with beautiful ingredients.
"Developing the menu with Robin has been a real joy – we bounce ideas off each other naturally and it's great to see the new menu for our Fulham restaurant develop that way."
The restaurant will house a separate 50-cover bar, meaning there will be plenty of space for customers to make their way through the extensive cocktail menu if they only fancy drinks.
The cocktail menu includes fresh spritzes, highballs and classic Italian cocktails.
A few of the standout cocktails include 'Fico Sbagliato- Caramelised Peach Amaro, Fig infused Vermouth and topped with prosecco and the 'Pomelo Cobbler'- Fino Shery.
The wine menu features a large selection of wines, ranging from the fruity reds of the south to crisp refreshing whites and Proseccos found further north.
Particular highlights include the Kalimera Biancolella DOC, produced on the island of Ischia, and the 2016 Tignanello Antinori Chianti Classico.
The wine menu is not exclusive to Italy, with wines from France, Spain, Portugal, and England's Hattingley Valley in Hampshire.
Maria G's Fulham restaurant will be open from 8 November at Unit 4, 20 Central Ave, SW6 2QE.
More information can be found on their website.
Featured image credit: Paul Winch-Furness