Once upon a time, brunch meant poached eggs and sticky pastries. Not anymore. The late-morning meal has become a byword for innovation and indulgence, with more and more restaurants serving trendy versions of our favourite breakfast classics.
Think less Eggs Benedict, more soft-boiled duck eggs.
Ben's Canteen, Battersea, prides itself on serving 'one of the most indulgent brunches in London'. The café/ restaurant, on St John's Hill, has a whole menu devoted to hearty, flavoursome brunch dishes, all served with a unique Ben's twist.
The cafe, a stone's throw from Clapham Junction station, is fairly nondescript – in fact, my friend and I almost walked straight past it. But once inside, there's no mistaking the unique décor, best described as kitsch diner meets rustic kitchen. Grey walls and stripped oak floorboards are interspersed with quirky, colourful touches, including fruit crates and a giant heart-shaped mirror. Adding to its charm are its mismatched tables and chairs.
Upon our arrival, a cheery, Converse-clad waitress, leads us to us seats – a church pew – which I find somewhat ironic, as after a brief glance at the menu, I'm overcome by gluttony.
There's no shortage of indulgence here, and there's something for everyone, including eggs, toast, pancakes, light bites, salads, brioche burgers – the lot. All brunch dishes are priced from £2.50-£10, and each is served with a unique Ben's twist.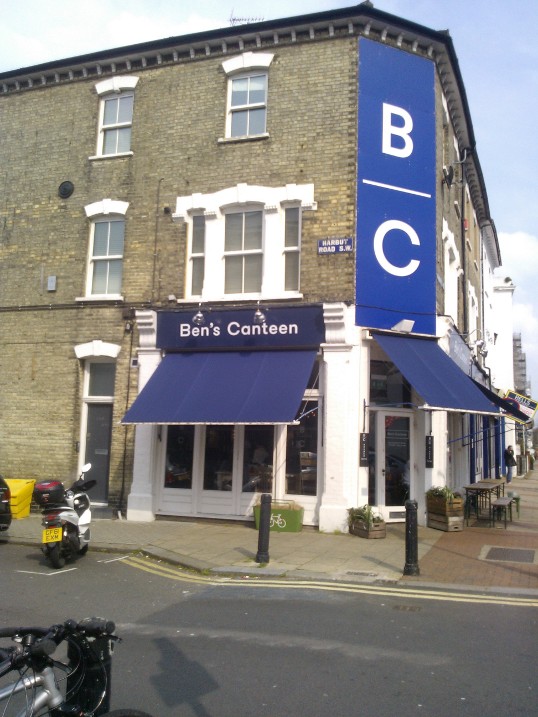 Some of the highlights include: The Big Ben Breakfast, Eggs Pig Out (pulled pork on muffins), the Serious Sausage Sandwich and Eggs Costa Brava (with chorizo). Several nods are made to this year's fusion trend, which include the Chicken and Parmesan Schnitzel and Breakfast Burrito (spicy chorizo with scrambled egg and sour cream).
For the more virtuous, there are plenty of light bites, including sweetcorn fritters, homemade granola and Smashed Avocado on Toast. Vegetarians are well looked after, by the Full Veggie Breakfast, Spicy Baked Eggs on Toast, and sweet potato burger – among many others.
I opt for the soft-shell crab brioche burger with peanut mayo and Asian slaw, and a side order of sweet potato chips. My friend goes for the Ben's Canteen Burger: a beef patty topped with salt beef and melted cheese.
After a 20 minute wait, my burger arrives, a tad on the lukewarm side. A few bites and it's bursting with a strangely pleasing mix of contrasting flavours: the sweet, crunchy crab marries perfectly with the tangy guacamole, and is rounded off nicely by the zingy fruit slaw.
Waiting time aside, the only problem with my dish were the portion sizes. The peanut mayo was barely detectable and somewhat overpowered by the guacamole, and there was very little salad inside.
On the plus side, the sweet potato wedges, were – for lack of a better metaphor – cooked to perfection: beautifully crispy on the outside, and mouth-wateringly soft on this inside. Just a shame they cost almost a fiver.
My friend, engrossed in her BC burger, gives me a nod of approval. The medium-rare beef is tender, juicy (not greasy) and smothered in melted smoked cheddar and a homemade sauce.
We both finish our meals feeling satiated, but not stuffed, which we assume is down to the 'clean', wholesome ingredients.
Assistant Manager, Ague Palionyte, tells me that Ben's dishes are "fresh, made on the day, on the spot'.
She adds: "Most of our products are from farms, including our meat and eggs."
No indulgent brunch, of course, is complete without a reviving drink. Ben's serves a selection of classics, including smoothies, Peach Bellini, Bucks Fizz and Cava, martini, Champagne Cocktail– all priced at £9 and under.  Its famous Banging Bloody Mary, £8, is made with a secret homemade blend and served with your choice of alcohol and spice.
The atmosphere at Ben's is laidback and lively. Tables all around us are all buzzing with chatter; from couples young and old, mothers reviving from the school run, and business colleagues catching up over Cavas.
I ask Ague why she thinks brunch has become so popular in recent years.
"It's a great opportunity for people to catch up. People feel different when they're with friends, with a glass of bubbles and chill for a few hours," she said.
One word of warning if you plan on brunching at Ben's: come on a weekday. Ben's is a hungover haven at weekends, with queues stretching outside the restaurant.
Would I recommend a Ben's Brunch? While £9 might seem a bit steep for a midday meal, it's money well worth it. You would easily pay the same – if not more – at a chain restaurant. The only difference being that Ben's goes the extra mile, with its freshly-sourced ingredients, relaxed ambience and amiable customer service. Admittedly it's not the place for a quick lunch stop – but an all-afternoon indulgence.
A lot of thought has clearly gone into making each dish unique, intriguing and innovative.
Boozy or not, this is one brunch you won't forget in a hurry.