The greatest British foodie institution comes wrapped in newspaper or covered in ketchup – and restaurateur Steve Sotiriou is aiming to impress Wimbledon with his trendy take on traditional Friday night fish and chips.
Despite the enormous pressure of serving one of the best-loved British dishes, Steve smiles confidently as he introduces hungry customers to Cousins: a fish shop with style.
The story of his restaurant dreams started way back at an auction in September 2013 where, with the help of his five cousins, Steve purchased 98 The Broadway, Wimbledon.
Filmed for BBC 1's Homes Under the Hammer the empty former beauty salon was in need of a good idea and luckily the cousins had one.
The result is a shiny new fish shop and restaurant serving fresh seafood ranging from garlic prawns to seabass.
What about all the other eateries in the area? Steve explained: "I think it came as a bit of a no brainer. You're right what you say, there's lots of restaurants here but there's no fish."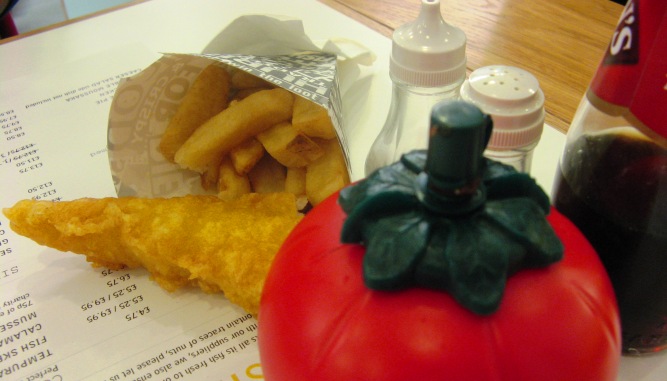 Not only that, Cousins adds a quirky charm all of its own with 1950s -style booths and modern splashes of colour, the décor is inspired by The Life Aquatic with Steve Zissou.
What better inspiration for the interior of a fish shop than the great Wes Anderson film set out at sea?
Far from the standard greasy takeaway with the dodgy brown sauce, Cousins is a fresh take on fish and chips with clean crispy batter and a choice of side dishes that even include vegetables for the health conscious.
In order to achieve this great taste Cousins have sourced their very own expert chef.
Steve said: "The whole menu is done by George Kroustis – he's the executive chef, he's the one coming in daily and training our staff. He had his own fish and chip shop in Battersea for 30 years and is retired now."
Born in the UK into a Greek Cypriot family, Steve is joined in his venture by five other relatives.
Together they are the children of two sisters and one brother. It was Steve's uncle, the head of the family, who suggested the name Cousins.
It seems this was not the only inspiration the cousins derived from their elders, Steve's first experience in the restaurant trade was in the kitchen of his father's restaurant at 10 years old.
"We used to empty all the milk out (of an old milk bottle crate) turn the crate upside down and I used to stand on it to be able to reach the sink and that's how I started," he said.
Working their way out of the kitchen and into the boardroom Steve and his cousins became restaurateurs in their own right and cooked up their own culinary dreams.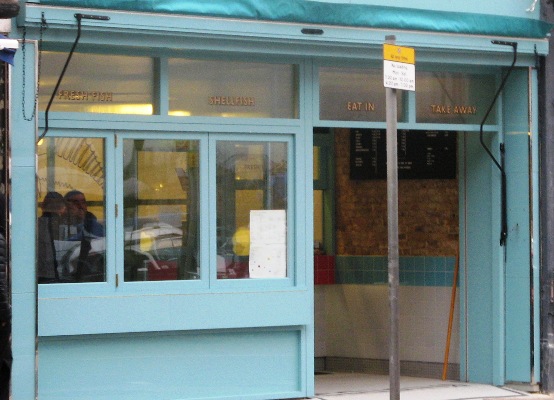 FAMILY FEAST: Cousins' inviting exterior reflects its aquatic inspiration
Although the restaurant has only just opened, Steve is already planning ahead.
"The whole idea is to expand Cousins," he said.
"My ultimate ambition is to turn it into a trendy fish restaurant so it will be a fish-based restaurant that does fish and chips rather than the other way around."
A vibrant and cool addition to The Broadway, no wonder Steve is confident, SWL's advice is to get in fast before the rest of Wimbledon finds out.