Antony Costa may have shot to fame as a member of the boyband Blue, but admits acting is the path he really wants to take.
The 35-year-old is currently starring in a stage adaptation of Ruth Rendell's crime novel A Judgement in Stone, a work many claim was her greatest, and will be appearing at Richmond Theatre this week.
Joining him on stage are a host of well-known names including Andrew Lancel, best known for his roles as Frank Foster in Coronation Street and DI Neil Manson in The Bill, and Deborah Grant, currently in BBC sitcom Not Going Out.
The play is centred around the investigation into the brutal murder of an entire family – with Costa playing one of three key suspects.
He said: "It's gone really, really well so far.
"Obviously the opening night was a bit nerve wracking but as it's gone on it's got better and a lot slicker and we as a cast are really proud of it.
"The character I play is quite complicated.
"He is a bit of a larger than life character but he's got a bit of a naughty past.
"I don't want to give too much away but you initially see a really fun side to him and then in the second act there is a nasty side that comes out that gives you a reason to think why he might be the suspect.
"I'm loving every minute.
"I love being a part of this great company, we've got some fantastic actors in it and I'm learning every day."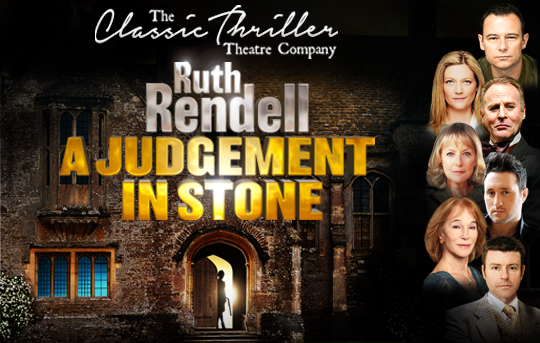 Before becoming a member of one of Britain's most successful boybands – selling 15 million records worldwide and reaching the top of the album charts three times – Costa had already appeared on our TV screens in Chalk and Grange Hill.
Despite earning international fame as a singer, he has always had a strong yearning for acting and believes the opportunity to be part of such a complex play has come at the perfect time for him in his fledgling career.
He said: "Acting's been a passion of mine for many years on and off so when the opportunity arises I always take things with both hands if it's right for me – A Judgement in Stone was perfect for me at this moment in time.
"It is a chance for me to do a straight play with no dancing, no singing – it's just a natural play that you can get your teeth into and perform every night.
"And the good thing is the audience go with you as well – you're not there to entertain and talk to the audience week-in, week-out, which is what I've done for the last 15 years with Blue.
"It's nice to do a play where you let the people come into your world."
Prior to A Judgement in Stone, Costa appeared in the pantomime Jack and the Beanstalk over Christmas as the evil henchman Fleshcreep.
Even though such parts could not be further from his actual character, Costa relishes the challenge of playing roles that put him outside of his comfort zone.
The Edgware-born entertainer said: "I love playing the baddie.
"I've played them a few times in a few different things and I love it because it's completely different to my character in real life.
"If you can pull that off and people believe in it you're doing a good job.
"I was playing a baddie in Jack and the Beanstalk and it was fantastic.
"I just love trying something different that not many people know me for and I get a bit bored of playing the goodies all the time so to go on stage and get booed every night was fab."
Having also appeared in a number of musicals, including Blood Brothers and Save The Last Dance, Costa is quickly becoming a well-known figure in the stage circuit.
However, he is keen to appear in TV and film as well should the opportunity arise, especially if it involves featuring alongside one of Britain's best-known actors.
"If I can carry on with this or go on and do another play or a TV drama or something like that then I'll be really, really happy," he said.
"If the path's right for me, someone gives me a chance and I believe I can deliver then I'm onto a winner.
"I haven't got a preference for TV, stage or film, I just want to act for the next few years.
"I'm a massive Tom Hardy fan so I'd love to do something with him, even if it was just a little part.
"I think he's fantastic and really good for British film and TV.
"He's so good at what he does and is just a fantastic actor."
A Judgement in Stone runs at the Richmond Theatre from January 23-28. For tickets and more information click here.
Featured image courtesy of image 1st, with thanks