More than 600 children with autism and learning difficulties, teachers and parents attended New Wimbledon Theatre's second ever 'relaxed performance' last week.
The generous SW19 theatre decided to make the relaxed performance of Dick Whittington – starring Arlene Phillips, Matthew Kelly, and Tim Vine – free just a week before the showing on Wednesday, January 11 because of high demand.
A relaxed performance is designed to reduce the sensory overload many children on the autistic spectrum experience, such as by reducing sound and lighting levels.
New Wimbledon Theatre creative learning manager Andrew Alty said: "What we have heard is this is amazing and thank you for doing this because there is nowhere where we can bring our kids."
The show was free for 16 south west London schools and groups in the area.
Audience members were also given a 'visual story' of the performance that provided information to help prepare many first-time theatregoers.
"It's also more relaxed, the lights aren't as bright down in the auditorium and the music's not quite as loud," said Mr Alty.
"We're incredibly excited about next year and welcoming all these people back again."
Mr Alty said the staff were overwhelmed by the demand for the show and said it showed a need to provide more opportunities for autistic people.
For others, relaxed performances do not just mean the removal of loud noises or pyrotechnics, but also not being judged by other audience members.
The show itself was a raucous affair with the young audience free to make noise as well as join in the usual pantomime booing and cheering.
Parents and teachers spoke about how it allowed them to introduce children to the theatre without being seen as disruptive.
Wimbledon Chase primary school teacher assistant Mattie Hirst-Allen said: "So many of the kids do not have a chance to go to the theatre normally, but here they can go completely free from judgement.
"All the children were really dancing and they could let loose and enjoy themselves or go to a quiet room.
"Relaxed performances are just such a great idea."
Some artistic groups believe relaxed performances can help open up the diverse talents of autistic people rather than it being seeing as a deficit.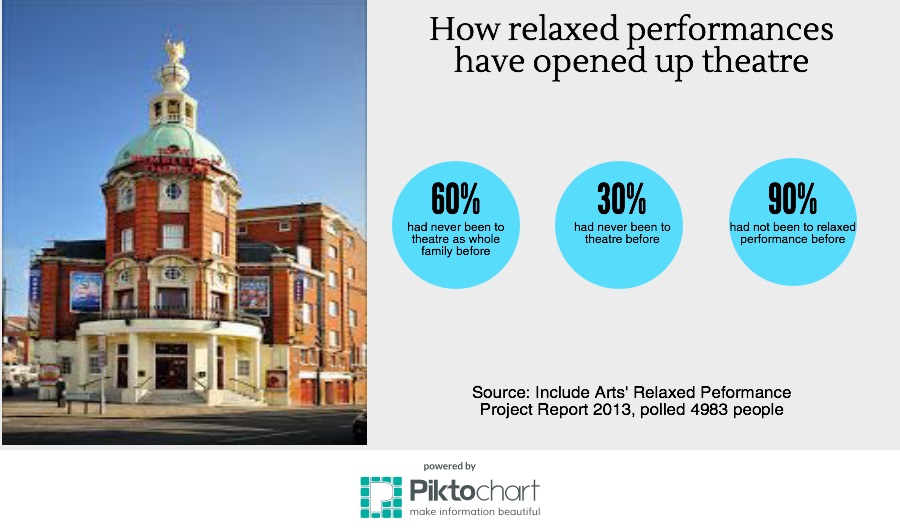 Include Arts, who work on opening up arts to disabled people, found in a 2013 report that 42% of relaxed theatre attendees are families.
For the UK's 700,000 autistic people and their families, these performances stop them being locked out from participation in the arts.
Featured image courtesy of Darren Bell, with thanks