Thriving artists and beginners alike will showcase their work at the bi-annual Open Studios Art Show in Wimbledon this month.
Wimbledon Art Studios will open its doors to the public who can buy directly from the artists this November, with around 270 pieces of work to choose from.
A huge variety of established and novice artists, from oil painters and fine artists to sculptors and photographers will be showcasing their work.
"It is a creative workplace," said Julie Proctor, Open Studios coordinator.
The studios are open to all ages, ranging from the youngest at 18 to the oldest being 86-year-old Joan Hickson, who was the original illustrator for Postman Pat.
Other famous names include Rob Murray, the cartoonist for Sunday Times.
The studios regularly run workshops for artists, whether they are beginners or fully fledged in their field.
"Our workshops help to introduce art to the community and once a month we run socials for artists," Ms Proctor said.
The artists who will showcase their work at the Open Studios Art Show include several award winners.
This year's Royal Academy Summer Show had five artists from the studio with work on display and the National Open Art show included 15 artists from the studios.
"Some of the stuff is really high end and unbelievable," Ms Proctor said.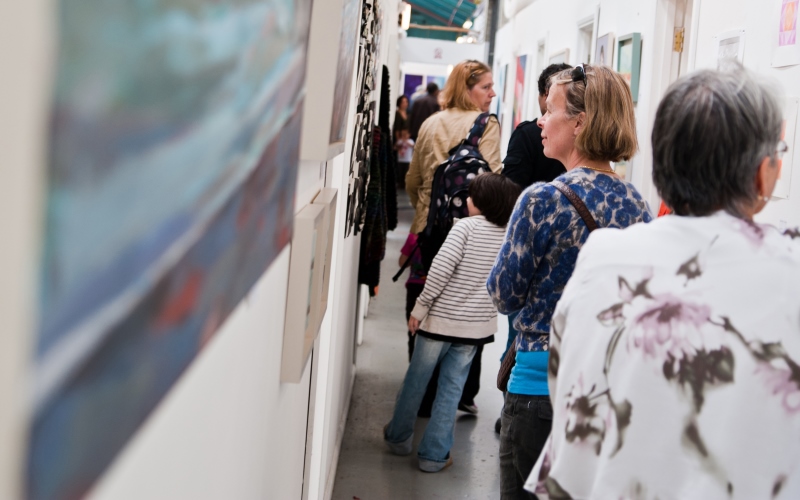 Wimbledon Art Studios will see up to 4,500 people to the door over the course of four days.
"There are both established artists here who create work in the studio and new artists who just want feedback on their work," Ms Proctor said.
The clientele at the event ranges from art collectors and dealers from Dubai to residents in area.
"There are those who are just looking for a Christmas present," Ms Proctor said.
"Then there are some pieces which sell for £20,000-£25,000.
"There is a very eclectic mix of visitors."
A charity called Scrapstore, who supply art materials for free – artists travel to a large warehouse and take what they need for their creations – will also be at the event.
But it doesn't stop at art – the event will also feature a pop-up bar, live music and street food for those browsing the studios.
"It is a great atmosphere and child friendly," Ms Proctor said.
To keep the little one busy there will be crown making and activity tables.
There will also be a raffle with a book containing original artwork from each artist in a concertina style worth thousands of pounds up for grabs.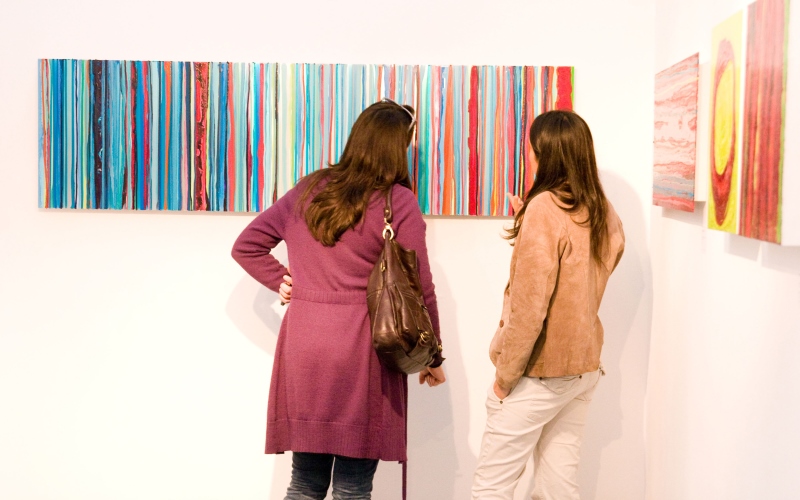 Artist Sophie Tea has been with Wimbledon Art Studios for six months and paints colourful animals on canvas using acrylics.
"There is a sense of camaraderie at the studios," Ms Tea said.
"There is a community feel and atmosphere."
Ms Tea has been painting for one year and was inspired by her travels in India.
"I needed money in India and painted a cow, the sacred animal of India, on the wall of a hostel to stay there for free," said the 23-year-old artist.
"It was the first time in four years I had painted.
"I was surprised by how happy it made me feel.
"I also painted patterns onto an elephant's skin in a sanctuary in India."
Ms Tea is now looking to develop her work further even further afield.
"I am going to California soon and really want to try painting there too," she said.
The young artist was meant to start work at a consultancy firm a week after returning from travelling.
"I realised I didn't want to spend my life in an office and wanted to be happy," she said.
Ms Tea studied Art at A Level but went on to do a business studies degree at Aston University.
"I always wanted to do art but did the sensible and normal route," she said.
Ms Tea's artwork can be found on Instagram @sophieteaart.
The Open Studios Art Show will be held at Wimbledon Art Studios, 10 Riverside Road, London, on November 10-11 from 2pm-10pm and November 12-13 from 11am-6:30pm.
For more information visit www.wimbledonartstudios.co.uk/open-studios/.