A new music venue will open in Tooting later this month replacing a building that has been empty for nearly a decade.
The Sound Lounge in Upper Tooting Road will be open seven days a week as a music venue, arts centre and vegetarian cafe from Friday, January 27.  
The project was part-funded by a crowdfunding campaign which raised more than £12,000 in just over a month, receiving support from Tooting MP Dr Rosena Allin-Khan and the newly-instated London Night Czar Amy Lamé.
So excited to have the Sound Lounge gracing #Tooting with awesome music and community spirit @songsbyhannah @soundloungesw17 https://t.co/da8IJ4fYSP

— Dr Rosena Allin-Khan (@DrRosena) December 29, 2016
Husband and wife co-founders Keiron Marshall and Hannah White decided to take up the project in June last year to create a bigger space for their regular music sessions promoting unsigned artists, previously held in a 'conservatory-size' venue in Colliers Wood.
"I think what we can bring to Tooting is not only a really high quality arts and music venue, but also a space for the community," said Keiron
"It doesn't matter what background you're from, our aim is to make sure everyone can access everything we're putting on and that it's open to all.
"It's not just for the hipsters or the young people – it's for all ages, including children and young families."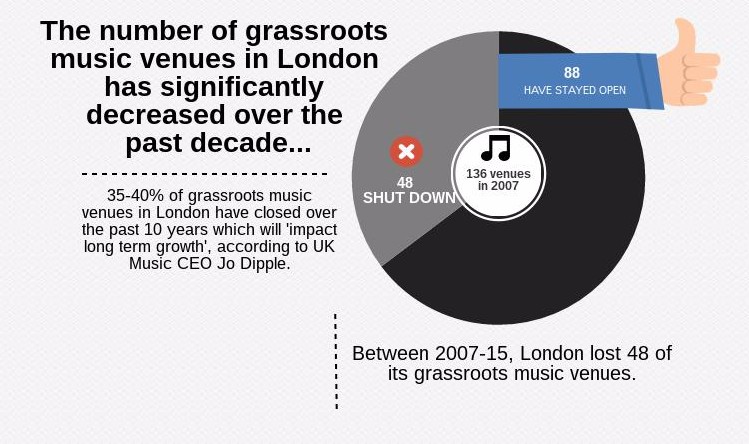 Between 35-40% of grassroots music venues promoting new artists have closed in London over the past 10 years, despite their importance for the music industry as a whole.
London had 136 grassroots music venues across the city in 2007, a number that decreased to 88 in 2015, according to figures released in London's Grassroots Music Venues Rescue Plan (October 2015).
Singer-songwriter Hannah and musician Keiron also run an artist management business and acoustic record label under The Sound Lounge brand, so support for the project has been high – although nothing what they expected.
"We are still quite shocked at the response we received from the campaign," Hannah said.
"It wasn't just the money either – we were contacted by a PR consultant, a brand management company, a signwriter, and so many more people who just wanted to get involved and offer something to help make it all come together."

As well as promoting acoustic singer-songwriters through live events and its YouTube channel, the not-for-profit organisation also supports vulnerable people with community work, holding open mic sessions and guitar upcycling workshops.