When the title of the show is Tinderella (Cinders Slips It In) you know it isn't going to be your typical panto offering.
And it certainly isn't going to be suitable for children (but I'm guessing you'd already gathered that).
Unapologetically rude, crude with some cross-dressing thrown in for good measure, Above The Stag Theatre transports the audience to the eastern European kingdom of Slutvia where slave boy Cinders lives with his murderous stepmother and her daughters.
Staying faithful to the original Cinderella plot we meet the lovelorn Buttons (who wears a crop top and hot pants version of the tradition bellboy costume well) and a, albeit potty-mouthed, fairy godmother sprinkling fairy dust over proceedings.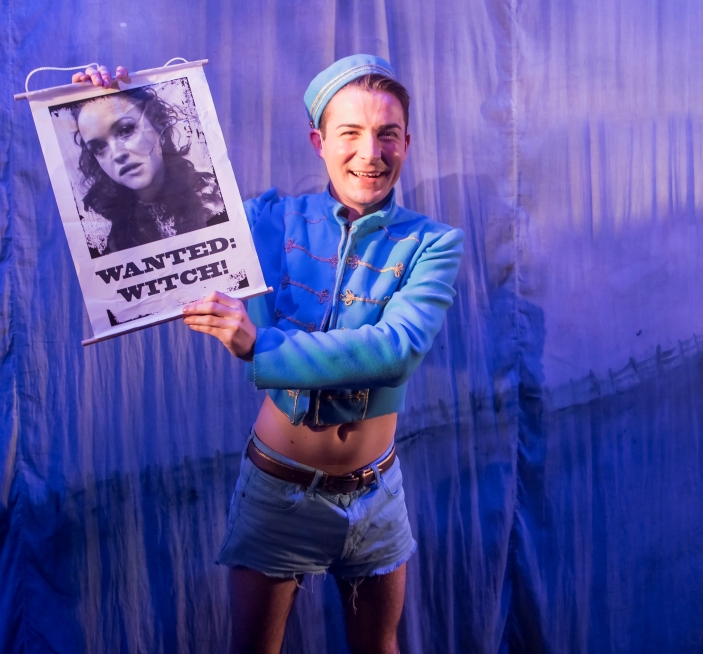 CHEEKY CHAPPY: Buttons holds up the fairy godmother's mugshot 

Prince Charming and Cinders meet, originally through a cheeky swipe right on Tinder, before a chance meeting ahead of one of the infamous royal balls.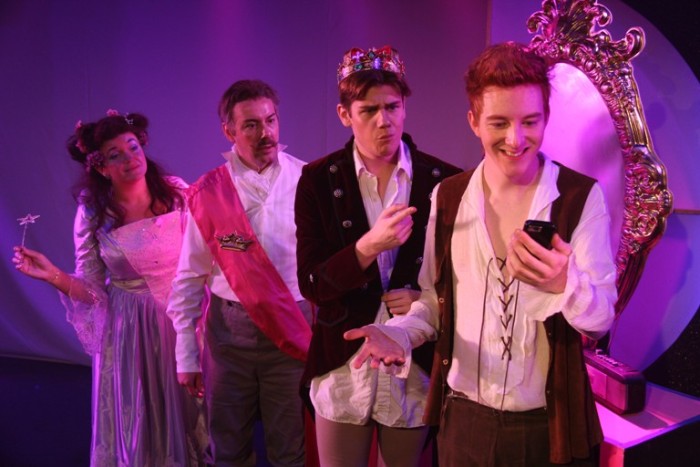 ENSEMBLE: The cast take a look at Cinders' Tinder profile

The pair, played by graduates Joseph Lycett-Barnes and Grant Cartwright, make for a sweet and handsome couple.
In one of the ballroom scenes they manage to somehow craft a gentle and tender moment dancing while singing jaw-droppingly vulgar lyrics which had the audience in stitches.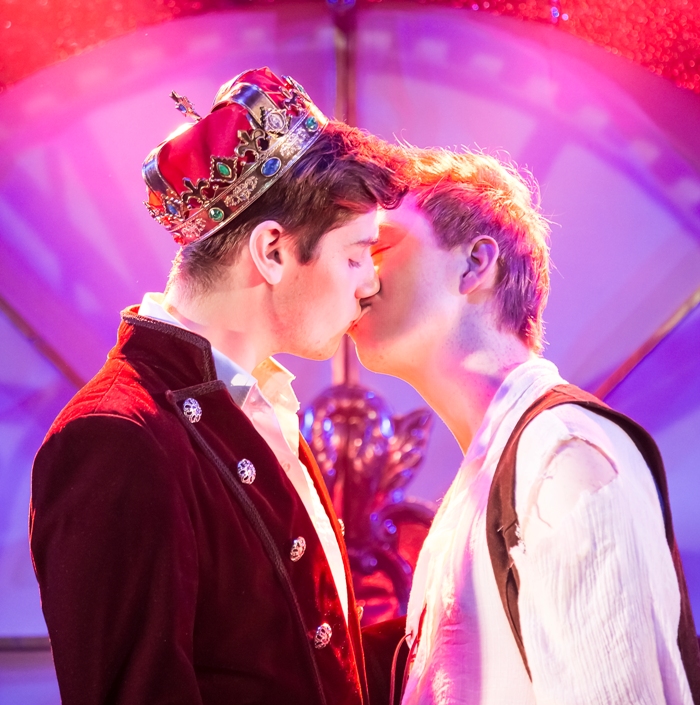 AND THEY LIVED HAPPILY EVER AFTER! Prince Charming and Cinders embrace
I loved the deluded Eurovision wannabe step-sisters Maude Escort and Nicole Ferrari, performed by Louie Westwood and Christopher James Barley.
They belted out great songs (including the Slutvia national anthem with great gusto) and played up to their stereotypical outlandish personas with witty one-liners without having to resort to being vindictive towards Cinders.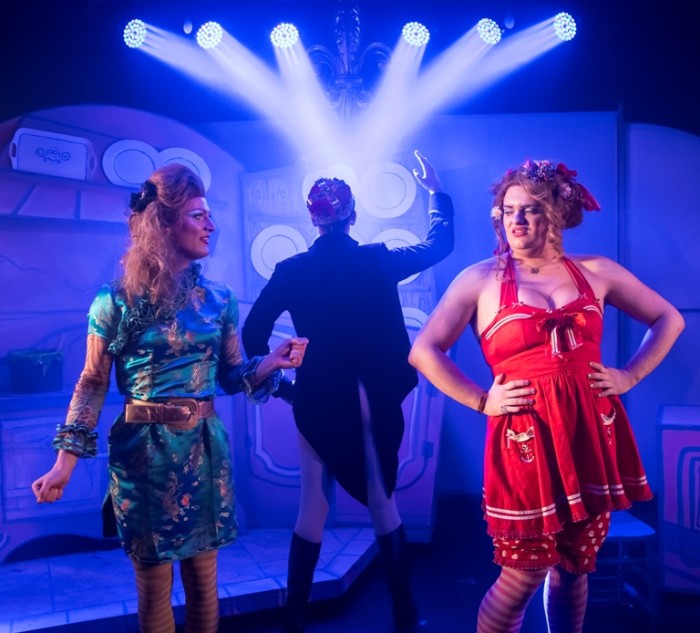 SISTER ACT: Cinders' hilarious stepsisters vie for Charming's affections

Despite sibling rivalry being downplayed in this production their deliciously wicked mother, played brilliantly by Ellen Butler, provided theatregoers with plenty of opportunities to boo and hiss with great gusto.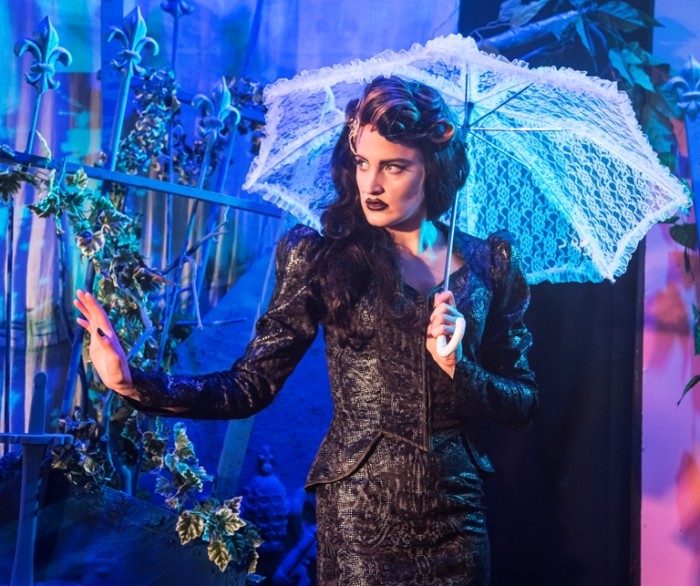 Tinderella embraces all the elements of traditional pantomime while abandoning the twee embellishments, trading them for a dancing dildo, plenty of ball gags and many cunning linguists.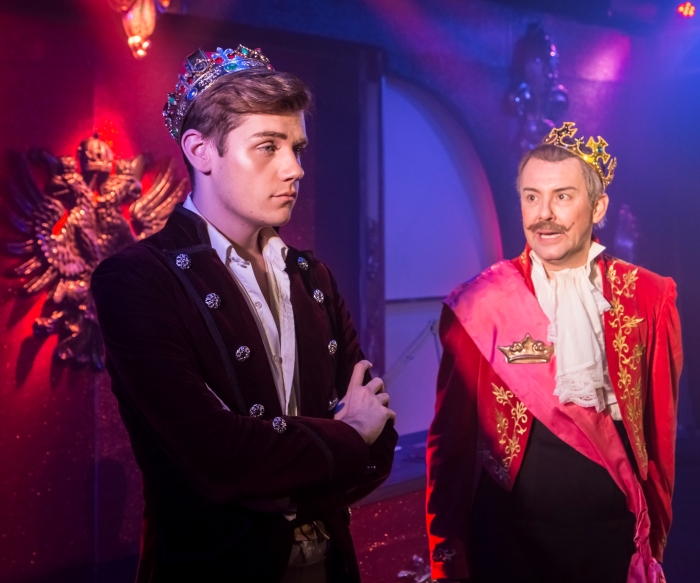 FAMILY AFFAIR: Prince Charming and his father the king of Slutvia

If you're not easily offended and are looking for a festive treat that will tickle your funny bone then Tinderella's just the ticket.
For more information and to book tickets visit http://www.abovethestag.com/