When Barnes' bred dancer and trainer of World champions Amanda Harker was struck down with chronic Labyrinthitis – an illness inducing a debilitating and permanent state of dizziness – she refused to let it beat her. 
Now as the writer, choreographer and producer behind the resolutely uplifting, and aptly named, dance production Club Vertigo, she has found her feet.
Boasting a star-studded cast, including Strictly's Hanna Haarala and Brendan Cole's brother, Scott Cole, Club Vertigo promises a feel-good night to put smiles on faces.
"The show is set on a roof top in New York, so it has the dizzy heights of Vertigo Cafe," said Amanda. "But behind all that, there is really no connection with the name to the show; it's for myself because I'm permanently dizzy!"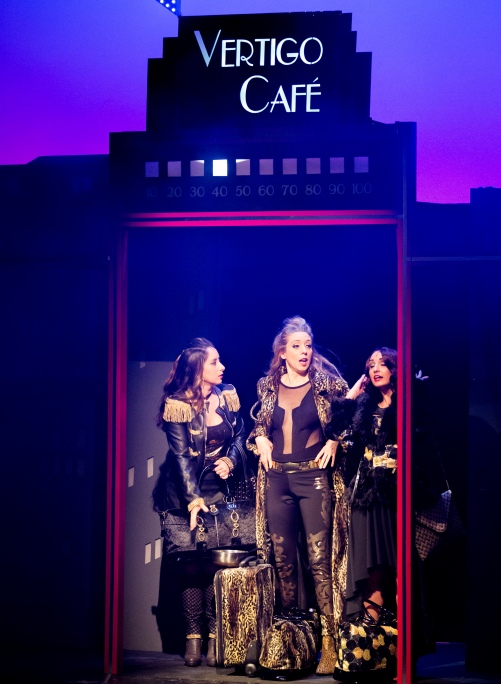 But, as its shaky namesake suggests, it's not been an easy journey.
Before taken under the wing of the famous ballerina Anna du Boisson at the age of 16, and subsequently training with Five Guys Named Moe choreographer Charles Augins, Amanda had to overcome painful shyness as well as a lack of means to pursue her passion.
Taking on all jobs to pay for classes – including a stint at the White Hart in Barnes, she eventually took over Pineapple Studios gym for five years during which time she gave fitness training to World Professional Ballroom champions Christopher Hawkins and Hazel Newberry.
Then ten years ago Amanda was struck a blow by a balance-affecting illness that left her bed-bound for more than a year.
"It completely knocked me for six, it took everything away," revealed Amanda. "I wasn't able to do anything."
"It completely knocked me for six, it took everything away,"
"I couldn't move and I couldn't stand. It's taken me ten years to get to the point where I am now, and I'm still dizzy all the time, but I've fought my way through," she said.
With the support of doctors at the neurology hospital in Queen's Square Amanda gradually learned to cope, in part, by bringing jazz theatre back into her life.
"One of the doctors said 'you have to learn your limitations now' – well that's like a red flag to a bull!
"I missed my career, it was heart wrenching. And I thought 'I know so many talented dancers, why don't I put on a show?'"
Now in its second run after a successful and well-reviewed debut, the show promises new characters and numbers as part of an explosive fusion of jazz, Latin and street dance.
Understanding the power theatre has to inspire hope and help turn lives around, the show is fundraising for inclusive theatre company and charity Chickenshed.
Amanda, who is now back to teaching, performing and choreographing, said: "Sometimes I tell my friends and clients 'you know, if I'm facing the wrong direction, point me in the right direction,' because I do get a bit too dizzy …they get a lot of laughs out of me!
"In a way I want everyone to know 'don't ever give up'. If you keep trying you'll get there."
Club Vertigo is showing at The Questors Theatre in Ealing, November 19-22.
You can buy tickets here.