A crack team of Stormtroopers sporting white helmets, blaster guns but not much else will march into London tonight, promising to deliver a 'nerdgasm' to the masses.
SuicideGirls, founded by Portland's Missy Suicide aka Selena Mooney, will perform in Camden's Electric Ballroom this evening paying the ultimate provocative tribute to pop culture and music.
It's pretty much any Comic Con fan's fantasy brought to life (plus tats and suspenders).
It started 14 years ago when Missy wanted to bring her lifestyle website to life featuring great music and talented dancers.
Missy told SW Londoner: "In the same way the website re-imagines classic pin-up pictures with a modern twist we wanted to bring a live show experience to our audience.
"We have found the most amazingly talented and beautiful dancers to help us bring our pop culture nerdgasm to life!"
SuicideGirls: Blackheart Burlesque from SuicideGirls on Vimeo.
The 37-year-old Portland native works alongside world-renowned choreographer Manwe Sauls-Addison who has worked with performers such as Beyoncé, Jennifer Lopez and Lady Gaga.
"He's like the other half of my brain, I will come up with the wildest ideas and he brings them to life in a way that is brilliant!" she laughed.
The name SuicideGirls might not sit easily alongside the image of girls celebrating pop culture and music, but Missy explained that it sums the women up perfectly.
She said: "The name's taken from a Chuck Palahnuik book and describes girls who choose to commit 'social suicide' by choosing not to fit in and it seemed way better than saying 'alternative girls'.
Missy and her creative team manage to consistently strike the right note with audiences, consistently hosting sell-out tours.
She cited their 'inspirational' fans as the motivation behind the routines.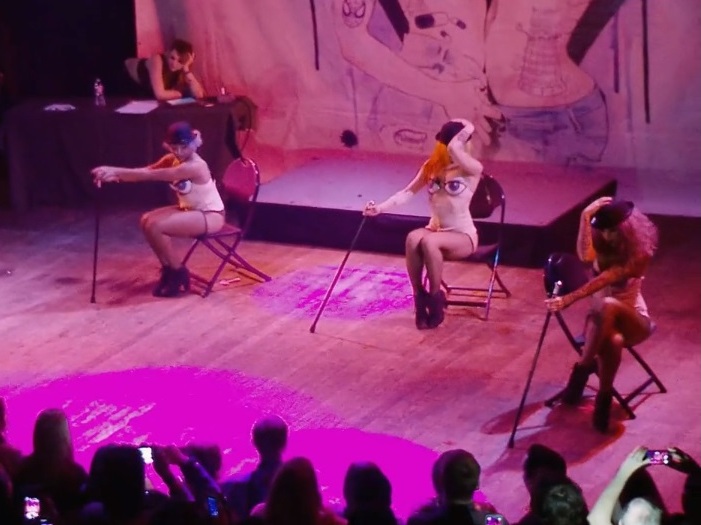 LIKE CLOCKWORK (ORANGE): One routine pays homage to Stanley Kubrick's work
She explained: "I'm inspired by the love I receive from the fans who come up to me and say that they never felt beautiful or like they fit in before finding SuicideGirls.
"We channel that and try to come up with the best numbers that will make them smile and give them the best show experience of the year.
"Our fans are hard to impress and know their pop culture so it is always such a fun challenge to create new numbers that they will fall in love with."
The Star Wars routine has proved to be the most popular performance in the programme, as Missy explained: "Dude it's girls in storm trooper helmets and not much else!
"It's hard to say what the most popular is though, Cadorna's Lora Croft number with fire is pretty fucking bad ass, and Sunny's Harry Potter song is brilliant.
"The whole show is so much fun from start to finish – the audience loves it all!
"We are so excited for the London show everyone who attends should stay for our official afterparty the Ballroom Blitz. It is the most fun night you will have all year."
Featured image courtesy of Dark Chamber via YouTube, with thanks