"What chance have you got when there's representation at one club out of 90 odd football league clubs?"
This was Dulwich Hamlet's Equality, Diversity and Inclusion officer and Show Racism The Red Card (SRtRC) Trustee Daniel Mills' response to a recent set of data that outlined just 1.6% of executive roles in the EFL are held by black individuals. 
The data comes from a survey commissioned by the Black Footballers Partnership and highlights an intrinsic issue that permeates throughout the English football pyramid.
The graph below shows that whilst 43% of Premier League players and 34% of all EFL players are black, just 8.9% of managerial and admin roles and only 4.4% of football managerial positions are held by black individuals.
The most startling stat is that 1.6% of those in ownership and executive roles in the EFL are black, meaning the likeness of players playing the game is not mirrored higher up in clubs.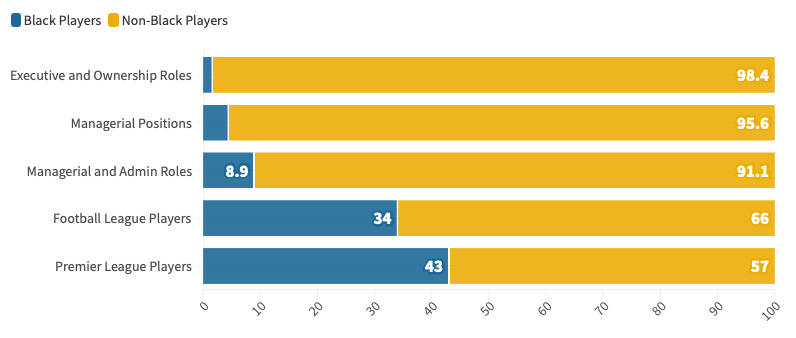 Mills said: "I think all that data does is clarify what we already know, but data is the driver to hopefully having some sort of change, as it's factual and there in black and white.
"As a black person am I surprised or am I shocked? No.
"It's clearly a systemic problem. It's about unpicking where those barriers lie, at what point are we seeing those tangible barriers to black people.
"If you don't have representation on your boards, if you don't have representation in your senior positions then you don't have a voice for under-represented groups in those rooms.
"We don't have that voice and that is a big problem, you need the voice to advocate, to fight your cause as to why you should be given an opportunity, or even just understanding what barriers are there."
With so few executive positions held by black people it's difficult for those attempting to work in football to see any kind of ladder up.
Moreover only three out of 68 new roles in League Two went to black employees, compared with 11 out of 165 new roles at Championship level, both showing the disparity isn't just in the Premier League, but all throughout the English football pyramid.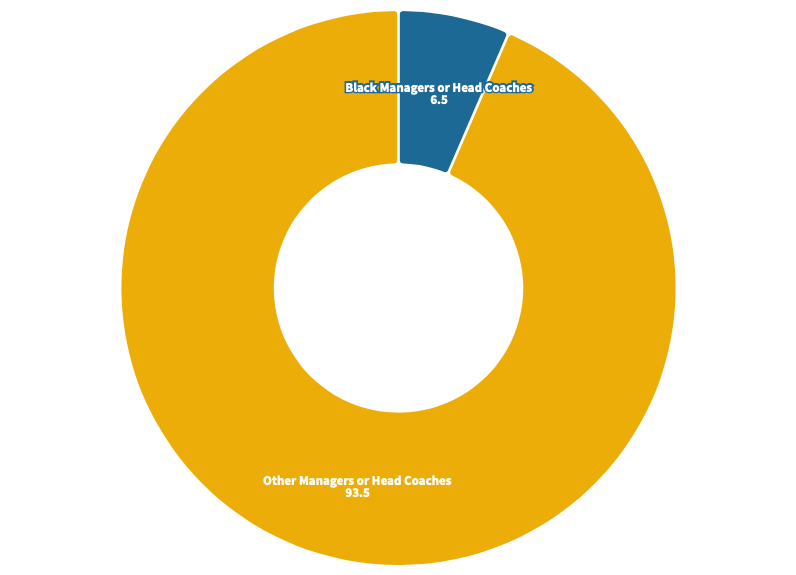 This chart also shows that the problem remains with only 6.5% of all managers and head coaches in the English Football League being black, compared to 34% of all EFL players, so the translation from the pitch to the dugout seems to not be there.
"We don't want exceptions to be made, no one is asking for a leg up, people just want the opportunity because they're good enough for the role," Mills said.
"If there's a chance being taken, it's with the right intention because there are a lot of people who have been given a chance when maybe they haven't been quite ready, arguably they haven't been.
"It's about who's going to give you that opportunity and chance.
"We have the data, we know there's an issue there, we know there's a problem there, what does the action look like, what is the process. 
"We're not seeing the final piece and why aren't we seeing the impact. We know that things can't change overnight, but we have been having this conversation for too long.
"If nothing changes we're not going to have people from a black background, people with a South Asian background representation because they're going to think 'what is the point?'."