Charles Ogilvie and Rose Penfold broke course records as thousands of runners took part in the Lidl Kingston Breakfast Run on Sunday.
Ogilvie, 29, of Serpentine Running Club, crossed the finish line comfortably in front of the rest of the field as completed the men's 20.1mile race in one hour and 56.33 seconds.
Fulham Running Club's Penfold smashed the course record in the ladies 20.1 mile race by almost seven minutes when she finished 12th overall in 2.11:06.
Competitive club runners, fine tuning their Spring marathon preparations, lined up alongside fun runners in a carnival atmosphere over distances of 8.2, 16.2 and 20.1 miles on a day when they had already beaten the clock to make it to the start line after welcoming in British Summer Time.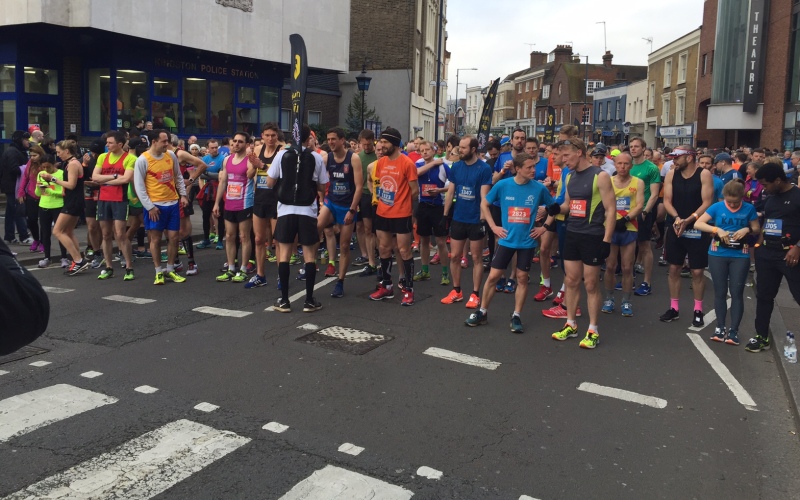 READY, SET…: Runners get set for the start of the 8.2 mile and 16.2 mile races
Ogilvie said: "It was actually lovely, a really nice day for it and early enough in the year that it is cold enough that you don't over heat.
"I am running the London Marathon next month and one of my worries there is that it will be a bit warmer so you have to take care of your temperature more.
"It is a lovely course and very well designed. I was a bit worried doing laps that it would get a bit boring but actually you notice different things each time round and it is nice and quiet most of the way.
"It is a lovely atmosphere too."
Penfold, 25,  added: "It's a really well organised event. I enjoyed the course very much.
"When I got to about 10 miles it got pretty tough. I was on my own and having to work quite hard.
"But then the last few miles there was some good support around the course which meant I was able to pick it up for the last little bit."
Penfold is also running the London Marathon this year and is hoping to beat the two hours 55 minutes she clocked last year.
Many runners, such as Ranelagh Harriers Ted Mockett, 38, use the race as a training run rather than a flat-out race.
He said: "The run went well. The course was really good.
"They had gels, loads of water stations, it was well marshalled, well signposted, nice and flat. The only problem was the wind but they couldn't do anything about that.
"I'm training for my first marathon in London in four-weeks time. I entered three 20-mile races in March and this is my third one so hopefully it's just going to get easier from here as the weeks go on."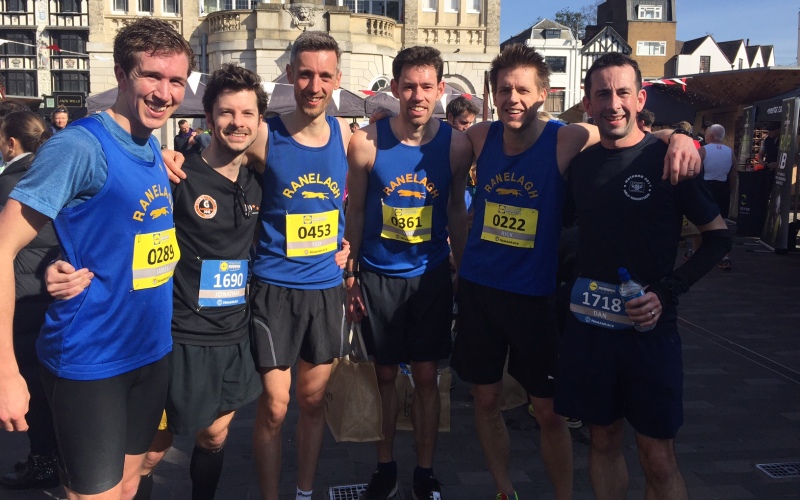 A GOOD DAY'S WORK: Ranelagh Harriers members after the race
By the time most of the runners crossed the finish line, cheered on by friends and family, the sun had come out in all its glorious beauty to warm body, mind and spirit and the cold winds from earlier were quickly forgotten.
Other race winners were George King and Isabel Clark in the 16.2mile with in times of 1.33:17 and 1.36:47, with Andy Goddard and Cat Doyle winners of the 8.2mile race in times of 46:55 and 55:15.