Harry Hudson was working for Fulham FC's Kicks programme at 18 when he was tasked with bringing two gangs together with nothing but bibs and a bag of balls.
And that is when, in an estate between Pollard's Hill and Thornton Heath, an idea sparked the creation of a charity four years down the line.
Hudson co-founded the South-London based Kinetic Foundation in 2011 – where integrating disadvantaged and disengaged young people back into society is the goal.
Fast forward to today and approximately 750 adolescents have come out of the other side, more than 85% from BAME backgrounds and of the lowest socioeconomic status.
"It really changed my perspective in terms of how important football can be to young people's lives," said Hudson.
"People are branded as bad kids from a very early age in life and if you're constantly being told that then you're probably going to start to live that life.
"They have a very materialistic view of success because they look up to rappers and footballers.
"When they realise that isn't attainable and they haven't typically done well at school it's very easy to see why they might go and sell drugs on the street corner."
The foundation runs GCSE Maths and English support sessions during times of high crime and anti-social behaviour for children in Year 10 and 11.
Full-time programmes are offered to children once they turn 16 with the opportunity to re-sit GCSEs and advance to vocational subjects or a-levels.
Football runs at the heart of the foundation, though, keeping the scholars' dreams burning like the embers of a fire, with exposure to coaching and showcase matches where scouts from across the country attend.
Hudson said: "It's about engaging them through their education, widening their options and building as many pillars in their life as we can.
"We can't stop them being in a situation where someone might pull a knife on them. It's impossible.
"We can't have them living with us but we try and build as many positive pillars around them as possible, so when they have that split second to make, they know they have a lot to lose."
However, being that close to the young people they're trying to help build a future for, means it's tough to draw the boundary. "That's probably the hardest thing for the staff," he said.
"One of the biggest things we say to staff is, 'understand the why'.
"If someone turns up to a session late, you can't give a consequence without understanding the why.
"They could have been dropping their brothers and sisters off to school because their mum has worked another night shift.
"To go and punish them for being late to training is why society loses young people."
One way in which Kinetic showcase the footballing talents of their scholars is through the FA Youth Cup.
As a charity they are unable to enter, therefore, they represent four clubs across London, Corinthian-Casuals being one, whilst looking after their training and coaching.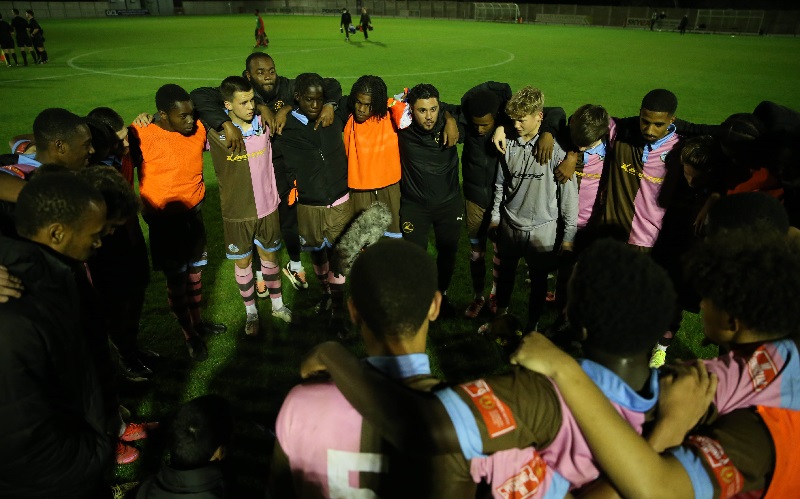 The fruits of their labour was a historic run to the second-round proper of this year's tournament and youngster Ralfi Hand signing an academy contract with League One outfit Charlton Atheltic.
Casuals committee member Dom Bliss believes the partnership has benefitted both parties.
Bliss said: "It's great that we connect with young aspiring footballers, Kinetic gives them a plan B in life and Corinthian-Casuals gives them a second way of looking at football.
"When a young footballer comes from a system and it's all about driving to be elite, driving to get success and then they drop out of that academy, they feel unloved.
"To come and represent a club like Corinthian-Casuals as part of the Kinetic Foundation where it really clicks, the social inclusion and community aspects and the idea of football being a sport that you aspire to be the best you can be rather than trying to be a star, I think that really works well."
Whilst success for the Casuals has been evident on the pitch this season, Kinetic understand it's not always linear and can come in different shapes and sizes.
Hudson said: "I'd be lying if when we had our first five or six signings they weren't wow moments, but success for each young person can be so different.
"Success for some people might just be being able to complete their course and coming out the other end. That might be so difficult for a young person.
"There are loads of boys who have gone to university who never would have dreamt of going, some are coaches on the programme inspiring the next generation and we've also had a number go out to the US on scholarships who have had phenomenal experiences."
Kinetic clearly understands the power of football – it gives young people a purpose and something to long for.
However, it's often swimming against the tide when it comes to professional clubs.
"Young people are commodities," Hudson said.
"Can this player either make other players in this group better so that one or two might make it through, or can we sell that player in five years or can he make our first team? That will never change.
"But when you actually get to understand the person first and them as an individual, your commodity has a higher value because you tend to get more out of that commodity.
"There is so much more that professional clubs could be doing so that when young people come out of the system they are not devastated with no plan B and then it's so much harder for organisations like us to pick them up."
An example of this is Kwadwo Baah. Picked up by Kinetic after being released from Crystal Palace as a teenager for having a bad attitude.
After working with the charity for two years, he signed for Rochdale at 16 and is now playing for Watford in the Premier League – one of the 50 Kinetic scholars to have signed pro deals.
Hudson, who worked with Baah, believes Palace would have had a million-pound player on their hands five years later, if they had understood the why.
Thankfully, Kinetic made sure they did.
Photo credit: Kinetic foundation