In September, 40-year-old Craig Dundas became the oldest player to make their EFL debut since the Second World War when he came on for Sutton United against Stevenage.
Dundas made his footballing debut as a 17-year-old for Croydon FC in 1998 and has finally achieved one of his career goals.
On his 568th Sutton appearance, Dundas played in the Football League for the first time and helped the Us record their first ever EFL victory.
He said: "When I first stepped on, I thought: 'Wow, I've finally made it!'
"But straightaway it was about the job at hand, trying to get us our first win and helping the team to get over the line.
"When we got the win, I could finally enjoy it and just take it in.
"Definitely at the beginning of my career I thought I had a chance of reaching the Football League, but as the years rolled by it increasingly seemed like it wasn't going to happen.
"It's a story of persistence, determination and showing what I've been like as a semi-pro footballer.
"Because I've kept myself in such good shape, I've got to this point."
Dundas, who is also Sutton's fitness coach, is not always in the matchday squad and so usually does training sessions by himself to keep fit on game day.
However, manager Matt Gray called Dundas the night before and told him not to do hard training and stay on standby due to international callups within the squad.
With 10 minutes to go and trying to hold onto a 2-1 lead, Gray turned to the ever-reliable Dundas and told him he was going to come on.
Dundas knew that he had a chance of making his EFL debut when Sutton got promoted from the National League against all odds last season.
With only one automatic promotion spot the National League is notoriously difficult to get promoted from, but Sutton won the league by four points.
He said: "It was a surprise. Even after we won the league, I was thinking 'Little old Sutton United are going to be in League 2 next season'.
"It was doom and gloom around the club when I first joined after getting relegated from the Conference South, but it's just been positives since then.
"The main goal was always for us to get to the first round of the FA Cup – that was one of the biggest things we thought we wanted to achieve.
"To be in League 2 now and sitting in the play-offs as well is the furthest away that I ever thought the club would be."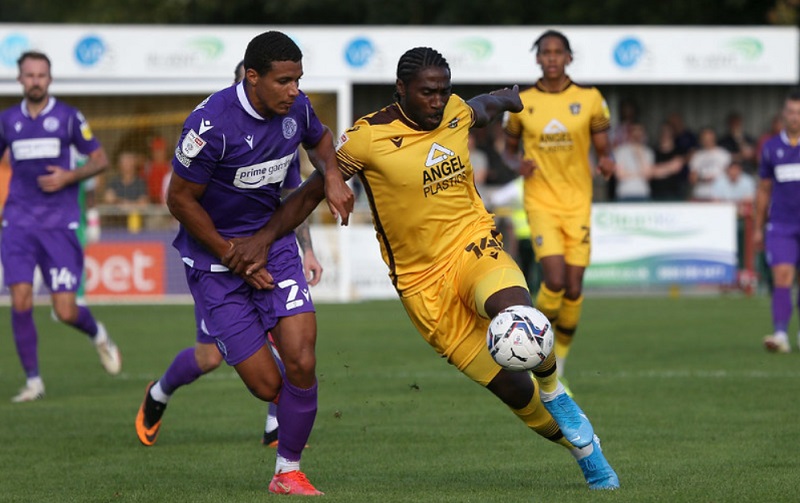 The forward first joined Sutton from Carshalton Athletic as a 26-year-old and has gone on to become their fifth all time goalscorer across four different stints at the club.
Since then, Dundas has had a career almost exclusively in South London with Sutton, Hampton and Richmond, Carshalton and Dulwich Hamlet.
The 40-year-old did venture out of London, and indeed the country, as he spent a season in Cyprus with his old Croydon manager experiencing a different lifestyle and winning promotion to the Cypriot First Division.
As well as on the pitch, Dundas has seen the club grow in terms of its facilities and behind the scenes operations since they were in the Isthmian Premier Division.
He said: "There wasn't really a training venue – we were training behind the goal because there used to be a running track there and a bit of grass.
"The pitch we've got now is one of the best grass pitches you can have."
Throughout his time at Gander Green Lane, Dundas has been a part of many of the club's most memorable moments including hosting Arsenal in the FA Cup fifth round and gaining promotion to the EFL for the first time ever.
Dundas puts his EFL achievement down to his understanding of how his body works and taking care of himself.
He said: "As long as I'm up to speed I'll always make myself available until a day comes when I do actually retire which might be in the next one or two seasons maybe.
"I keep pushing myself, keep learning and try to do both jobs as best as I can."
Featured image credit: Paul Loughlin @paulloughlin