Hampton and Richmond Borough chairman Jacques Le Bars has said the National League South season hangs in the balance after a two-week suspension over funding issues.
The Beavers were sixth when the league was postponed last week following the Government's announcement that future support would come in the form of loans rather than grants.
Clubs were given a £10million grant to start the season and offered another £11m in loans from January to March, but the vast majority say they cannot play on unless this is turned into grants.
Le Bars said: "We certainly didn't want to stop playing football, but, reluctantly, it was the only decision we were able to make. We were kind of pushed into a corner.
"We want to continue and finish the season off. Whether that's going to happen is another question. It's in the balance at the moment, I think it's 50-50.
"We may see it come back for a short period under the auspices of seeing some change on the grant position but something needs to happen in the next couple of days to make that viable."
Clubs and the Department for Culture, Media and Sport have differing views on what was agreed before the start of the season.
Le Bars said clubs understood they would receive the first three months of grants, after which there would be a second round of grants if fans were not yet back in stadiums.
But the DCMS maintains any claims it went back on promises of grant funding for the second half of the season are "untrue".
On Wednesday it announced non-elite clubs below National League level would share a £10m grant and that clubs higher up would be given a grant if they were in urgent need.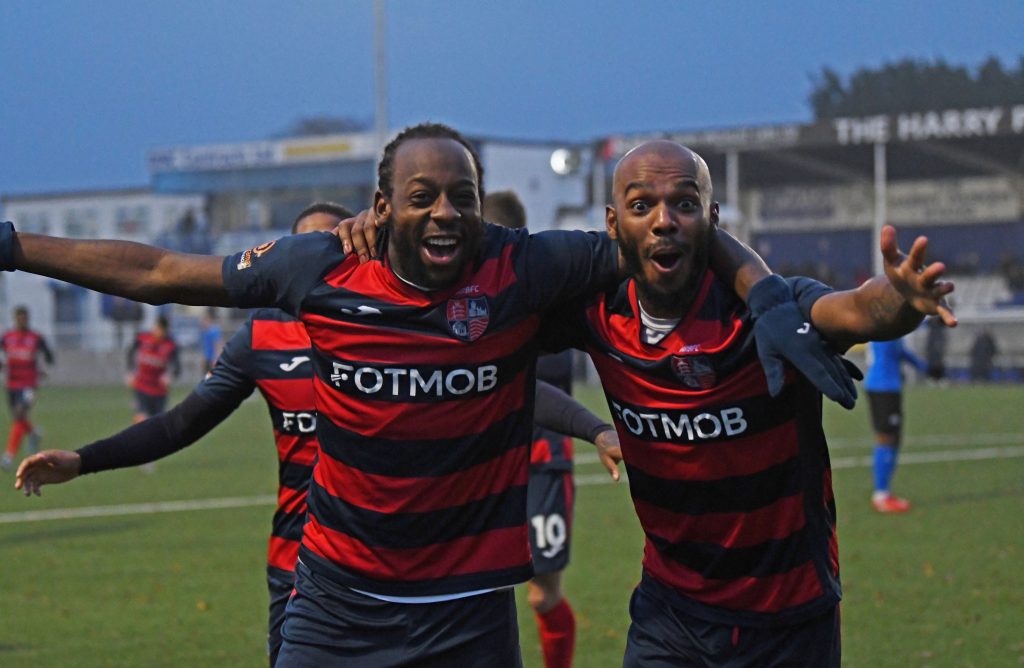 Le Bars said: "It is a little frustrating they've given additional grant money to those clubs at those levels but are refusing to do the same at our level with this tranche of money after we've been playing football and the lower levels haven't.
"My own personal feeling on this is that they put the first three months on the table with the expectation that fans would be back in grounds by the end of the year.
"They weren't expecting to pay up that second three months because they thought fans would be back through the turnstiles and because they're not, that's hitting hard when a lot of expenditure is already going out of the public purse in many different forms.
"But if you take into account the money wasted on track and trace and in other areas during this COVID pandemic, what's being asked to keep a lot of community clubs thriving and alive is not a lot of money."
Twickenham MP Munira Wilson has offered her support and Le Bars said the National League need to lobby the DCMS as much as possible over the next two weeks.
The situation is even more frustrating for Hampton and Richmond given it is the club's centenary year and fans have been barred from the Beveree stadium since a test game against Dulwich Hamlet in December.
The Beavers missed out on the play-offs in eighth place last year after the campaign was decided on a points per game basis following the COVID-19 shutdown, and history now appears to be repeating itself.
Hampton and Richmond have seen a number of games called off at short notice due to COVID outbreaks across the league, and Le Bars said that extra money was also needed to revisit testing if the season is to return.
Le Bars said: "My one hope is that we see the side playing in the promotion places back at the Beveree with fans in place by the end of the season.
"It's very much a déjà vu here. What's important is that if we are going back to football, there needs to be a solid approach to that.
"There needs to be clear direction from the National League on if there is any cessation of a season without the full season being played, how is it going to be decided?
"Is there going to be relegation? Is there going to be promotion? Because at the moment, none of that is clear."
You can read more about Hampton and Richmond's plans for the season here.
Images courtesy of Thomas Lang