A 12-year-old boy with mild Autism Spectrum Disorder has built his confidence and social skills – and become in an enthusiastic rugby fan – thanks to the Twickenham Stoop Harlequins summer camps.
Elliot Coutts Miller took part in the camp – which runs again this next month– in 2015 and thrived despite the disorder which means he struggles socially.
He found a new love for rugby which helped improve his skills away from the rugby field and helped Elliot and his parents manage his ASD.
His mother Karen noticed an immediate improvement in his confidence and said: "When we collected him at the end of the first day not only had he loved the training, he'd also made a new friend and was desperate to get the train by himself the next day rather than us taking him right to the door – another new skill."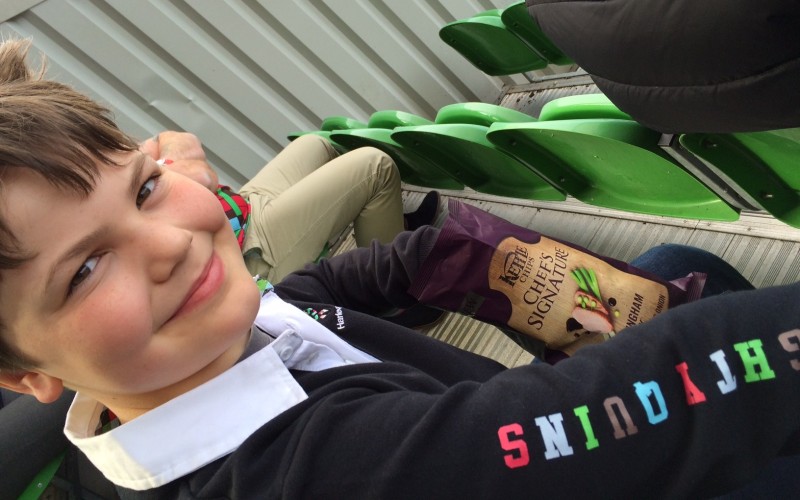 SMILING QUIN: Elliot now goes to all Harlequins games at the Stoop
As well as the training, Elliot was invited to watch Harlequins training in Guildford, where he had the chance to meet some of his rugby heroes and got his 150th anniversary away shirt signed by some of the players.
A more confident Elliot has now been selected in his school's rugby team playing in various inter-school competitions.
After playing a key role in a school match, he told his parents how he would have never have had the courage to do so without the Harlequins Summer Camps.
And Karen expressed the role the sport has played in Elliot's development.
She said: "It was important to us that he should continue something that would help him socialise, instil a sense of teamwork and keep him active."
His passion for rugby has grown and he is now a loyal Quins fan, attending every home game and he even participated in the Harlequins Guard of Honour at a European match.
Elliot's favourite Quins player is fly-half Nick Evans, who retired at the end of the season but has since been appointed Harlequins attack coach.
The Harlequins Summer Camp take place August 21-23 at The Twickenham Stoop, for boys and girls aged 6-14.
For more information please visit www.quins.co.uk or contact the team on [email protected]