Disorder at football matches rose by more than a third during the first half of last season, even before a series of notable pitch invasions towards the end of the season.
Data released by the UK Football Policing Unit (UKFPU) in March showed a 35% increase in reported incidents of disorder in the first half of the 2021-22 season, compared to the same period of the 2020-21 season.
The UKFPU has not yet released data for the second half of the season but on the eye, it seems as if disorder in and around the stadiums is becoming worse since football fans have been allowed to return to the terraces after the pandemic forced supporters to watch from home.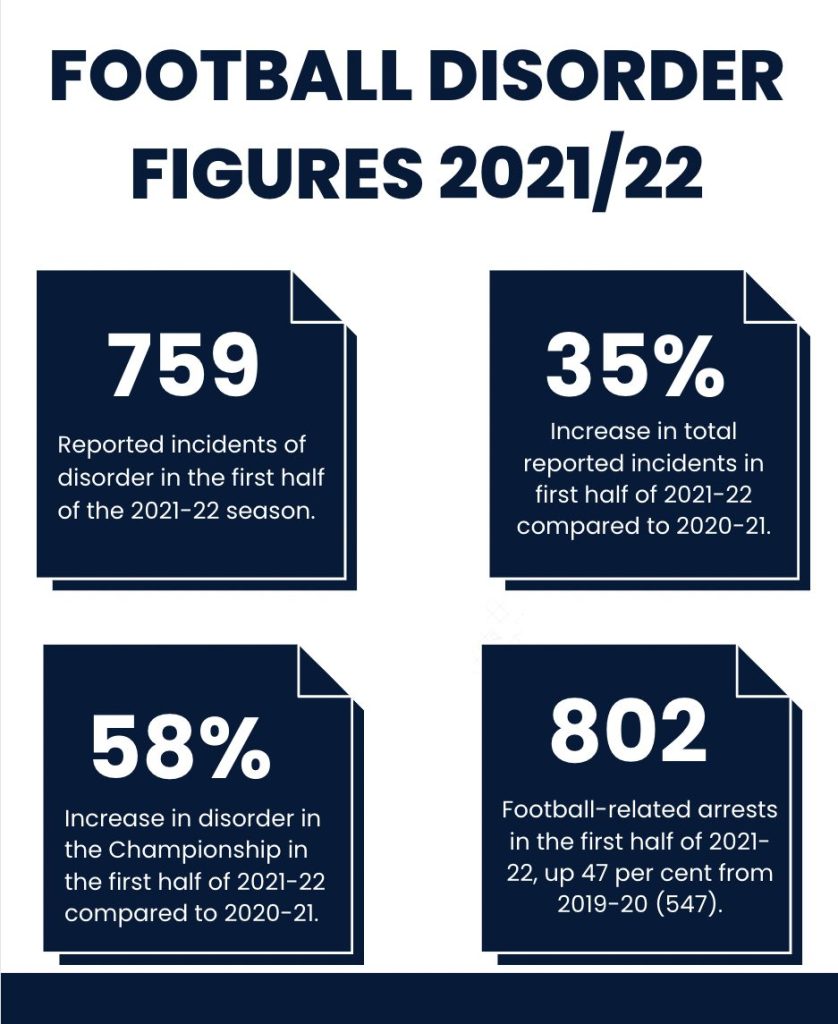 This culminated in ugly scenes in the season's final moments, most notably in the Nottingham Forest v Sheffield United play-off semi-final that has now seen two United players charged.
Moreover, this has increasingly resulted in an unsafe environment for players and club staff.
For example, Sheffield United captain Billy Sharp was headbutted by a Nottingham Forest fan during the same pitch invasion.
That's not the only example, as in February, a Leicester fan ran on the pitch and threw punches at Forest players after a goal in a feisty East Midlands clash.
Crystal Palace manager Patrick Vieira was also involved in an altercation with an Everton fan after the Toffees secured Premier League status.
And down in League Two, Swindon Town boss Ben Garner reported his players had been physically and verbally abused at Vale Park when home supporters invaded the pitch after Port Vale's penalty shootout play-off win.
There have since been arrests made in that case too.
These are just a number of incidents that have occurred in the wake of the disorder at last summer's Euro 2020 Final, where up to 2,000 ticketless people forced their way into Wembley and as a result, England was ordered to play one match behind closed doors and fined €100,000.
Experienced security steward Axel Ohoue was on duty during the Euros final at Wembley.
He believes drugs and alcohol, along with the excitement of fans being back at stadiums after the pandemic, is fuelling the new rise in violence.
Ohoue said: "The rise in violence is no surprise to me because from my experience, football's nature is filled with aggression and there are also people who will simply turn up just to cause trouble.
"Given that we have just come out of a pandemic, fans are more excited than ever due to the fact that they could not even mingle together socially.
"They're going out drinking much earlier and engulfing themselves in alcohol and illegal substances which contribute to them acting in an aggressive manner when arriving at the ground."
Ohoue also mentioned that tensions may have arisen during the Euros, as the England players took the knee before games, which was evident when pockets of fans booed the action before their opener against Croatia.
He added: "The Euros final was definitely the most hectic event I have ever worked at.
"People were rushing through the Covid pass checkpoints and causing all sorts of mayhem.
"I was at the ticket turnstiles and there were so many people tailgating trying to sneak in behind people and there were incidents where people tried to gain entry through storming the accessible entrances.
"At times, there was only me and one other colleague which you can imagine was very difficult to handle as around 10 to 20 people were all trying to push through an entrance at any given time."
Ohoue believes a bigger police presence and heavier sanctions placed on football clubs will go a long way to prevent similar types of disorder.
He said: "To prevent this type of disorder from happening again, we simply need more police because when more officers arrived on the scene, things calmed down and people did not want to risk being arrested.
"Additionally, I think stadium bans for those people who commit disorder is a good deterrent. However, there are loopholes in the sense that they could use a different email address or get someone to purchase a ticket for them.
"A regular steward will not know who is allowed and who is not allowed at the stadiums. You would need to have football spotters who are able to identify the culprits.
"You could enforce a full stadium ban, similar to what UEFA did for England. I think it is unfair to punish the majority for the actions of a minority but if that is the only way to reduce violence then it may be an idea the authorities will have to consider moving forward."
However, despite the rise in violence, football banning orders seem to be on the decrease.
On 1 August 2021, there were 1,359 football banning orders in force.
This is lower than the 1,621 in the 2019-20 season and the 1,771 in the 2018-19 season.
An independent report led by Baroness Casey to assess the failures of the Euro 2020 Final found that the excessive consumption of Class A drugs was a contributing factor and it continues to be associated with the rise of football disorder.
The Government announced in May that fans convicted of taking or selling class A drugs could face a ban of up to five years as they look to put a stop to disorder.
Featured image credit: Kwh1050 via Wikimedia Commons under CC BY-SA 4.0 license