Taking your first steps in league football is no easy task as Brentford B's Aaron Pressley found out this season.
Pressley joined AFC Wimbledon on a season-long loan for the 2021/22 campaign, the Dons first season with fans at their brand-new stadium.
Not only was this a new journey for Pressley, taking his first steps into the professional game, but it was also a new era for the club playing their football back in Wimbledon.
He joined from the esteemed Brentford B team, a youth set-up that differs greatly from textbook academy football after the closure of their academy at the end of the 2015/16 season.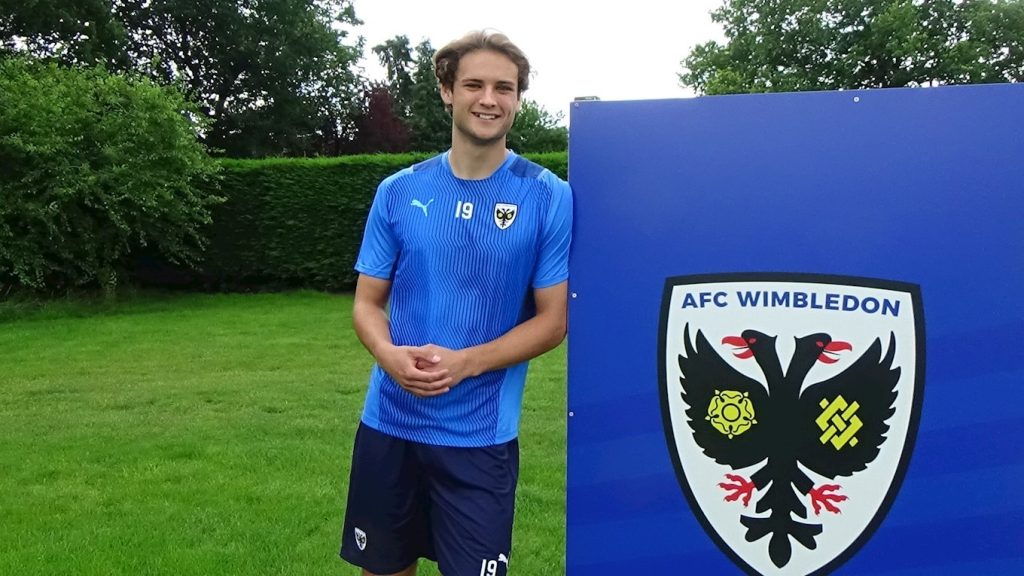 Instead of competing in competitive league environments, the Brentford B team plays friendly matches against a range of senior, U23, U21 and academy teams.
Speaking to SWL about his first loan in the English football pyramid, Pressley said: "I loved it actually, the first four months where I wasn't injured, I enjoyed it a lot.
"It's obviously different to B team football in terms of expectations, pressures and playing in front of the fans.
"My best moment would have to be Bolton at Plough Lane when I came on and scored.
"That was crazy."
Playing league football for the first time is always a test for any young player coming out of an academy or youth environment.
The target man explained that playing against sides like Rotherham who play a physical game with a number of experienced professionals helped him become aware of how to beat players in the air and get past his man.
Asked about his biggest struggle, the 20-year-old said: "I think it's just that expectation.
"You know what you can do deep down, and you just have to bring that to the table.
"I think that's probably the same for many young players this season, they know what they can do and are a little bit frustrated at times when they don't bring that to the table."
Pressley did unfortunately sustain injuries during his time with the south west London club. He explained: "It is tough because you go and watch the games and think I could be playing here.
"You really miss the buzz of playing well or doing something good.
"The timing was also difficult, Ollie Palmer went in January and I think from then I would have had a run in and once you get a run of games it can really change your career."
Wimbledon struggled after the January transfer window, a combination of the departure of Palmer, poor recruitment and injuries meant the club not only got relegated but parted ways with manager Mark Robinson.
Pressley added that Robinson was pivotal in him signing for Wimbledon, with the manager's deep passion for the club one of the main influences in capturing the striker's signature
despite interest from a number of other league clubs.
Away days in League One mean travelling up and down the country and with that comes positives and negatives.
Despite longer journeys to places like Accrington and Sunderland, Pressley said that the character and spirit of the team helped make those longer journeys not seem as difficult.
Playing against a number of sides, ranging in quality and tactical setup for the Brentford B team is something that Pressley puts down to his development as a footballer.
He said: "It does make you a better player for sure.
"It is a good stepping stone from B team to first team because we play a range of fixtures against different opponents from non-league to academy sides."
However, a major difference from playing B team football is the fans and what success means to those fans and the team.
Unlike traditional youth team football, Brentford B's do not play in a league, so players will not experience relegation and promotion.
With competitive football comes greater expectations, as goals can decide whether a team wins or loses.
That will be a key difference in young players experiencing football in two different environments.
Playing in front of a larger quantity of fans for the first time is something that Pressley mentioned.
The striker explained how good it was to play in front of a sold-out Plough Lane and how he found managing the expectations of the fans.
Pressley's loan was cut short after he picked up an injury midway through March ruling him out for the remainder of the season and he headed back to Brentford for his recovery.
His tenure with the Dons saw him score three goals.
A return to SW17, whether that is next season or further down the line, is something the young forward would love to make happen.