South Croydon born Alex Dombrandt is looking forward to his first season in Premiership Rugby as he prepares to make his debut for childhood club Harlequins.
The 21-year-old lock signed for the Twickenham-based team in February, in a deal that saw him join the club at the end of the season.
'The Dominator' Dombrandt has spent the past three years at Cardiff Metropolitan University, where he balanced studying with playing for the university rugby team and the Wales under-20 side.
He said: "As a young kid I always wanted to play for Harlequins – now to be able to say I'm a Harlequins player is a dream come true.
"I'm really excited for the start of the season, obviously with it being my first season at the club these are very exciting times and we're making sure that the preparation that we're doing now sets us up for the season."
Dombrandt began playing rugby as a fly-half at Warlingham RFC, before switching to lock when he moved to The John Fisher School – known for its strong rugby programme.
He said: "I think as a young kid it is so important to be able to play and watch a wide range of sports and be active just because you enjoy it.
"And then as you grow older you can start channelling down what sports you really like and what sports you want to pursue."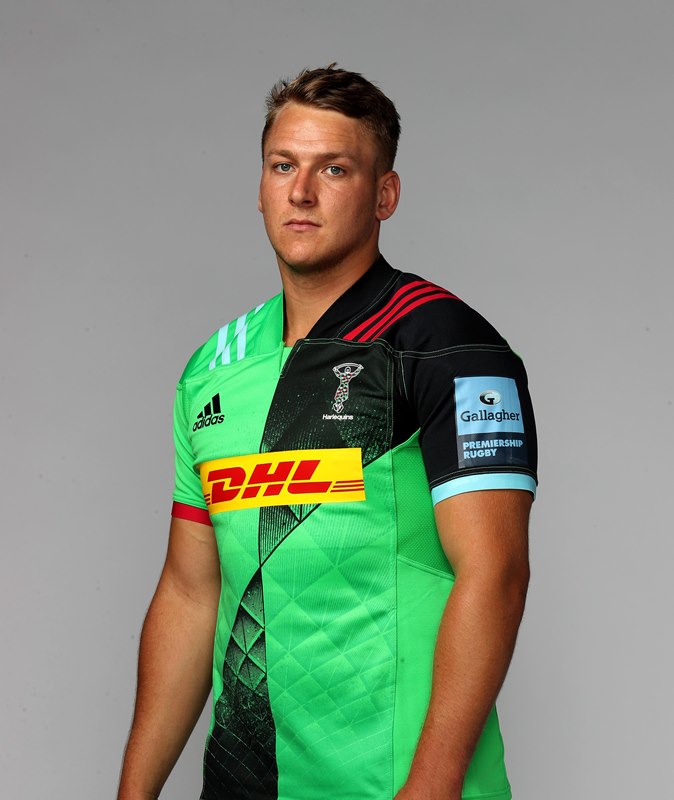 Dombrant went on to Cardiff Metropolitan University, where he studied for a three-year degree in Sport and Physical Education.
As a Cardiff-based student, English Dombrandt was eligible to play for the Wales under-20 side, and played all five games in the 2017 Six Nations.
These games provided much of the footage for the video reel which he sent out to a few rugby clubs and which ultimately resulted in him getting picked up by Harlequins.
When Dombrandt's dream team came knocking, he was overjoyed but practical, determined to finish his degree before beginning his professional rugby career.
He said: "It was very important for me to get a degree so that at the end of my rugby career, whenever that will be, I know I've got something in my pocket to fall back on.
"It was something that I was very set on because I understand that a rugby career is only for so long."
However long that is, it's clear that Dombrandt wants to make the most of it.
He said: "Coming from a university set up where obviously the rugby programme was still strong, but then stepping up into a professional environment, the intensity's higher.
"There's a lot more to learn, but I'm just trying to embrace it and establish myself within the squad and just get my head down and work hard."
Dombrandt prefers to think short term when it comes to goals.
He said: "First thing's first – just work hard and see if I can get any opportunities to play for the club.
"When those opportunities come take them with both hands.
"In terms of long term, just see what happens. Work hard and you'll get the things that you deserve."
When pushed on international aspirations, he said: "I think if you ask any professional athlete they want to play at the highest level, so if that's international then I definitely have aspirations to go that far."
Based on his journey so far, you wouldn't bet against Dombrandt achieving anything he sets his mind to.
The Twickenham Stoop provides one of the best matchday experiences in English club rugby, with fun for all the family to enjoy.
Guarantee your seat to all regular season home matches with a 2018/19 Harlequins Membership. To find out more about purchasing, call 020 8410 6010 or visit tickets.quins.co.uk