Surbiton 2 Canterbury 1
Surbiton's women completed an unbeaten league season with victory over Canterbury in the Investec Premier Division final at Lee Valley to lift the trophy for the second year running.
Goals from player-of-the-match Julia King and Abi Robinson – either side of an equaliser from Mel Clewlow – secured Surbiton's third league win over Canterbury this year in what was a tightly fought contest.
Having lifted the cup, Surbiton captain Sarah Haycroft paid tribute to the influence of her coach Brett Garrard and praised the club's strength in depth.
"We are absolutely delighted to be champions again," said Haycroft.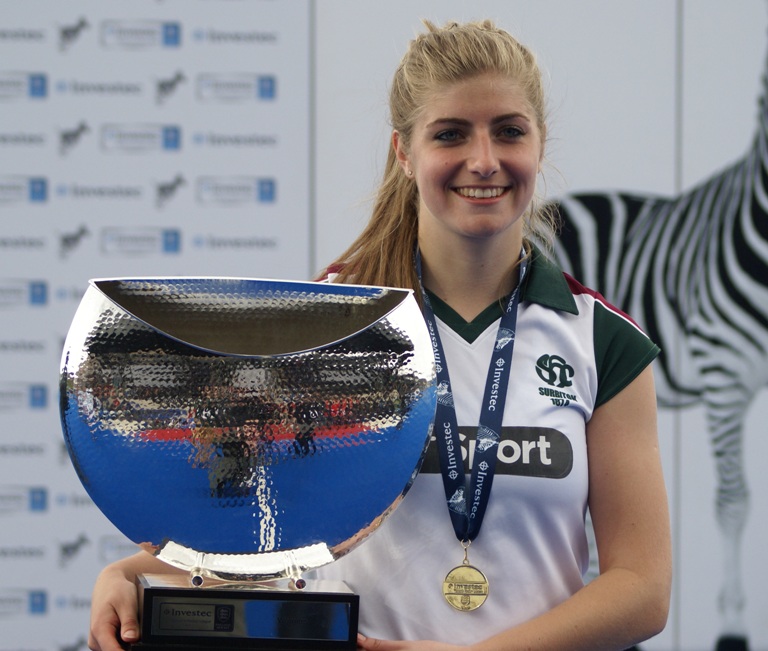 ALL SMILES: Surbiton caption Sarah Haycroft poses with the trophy
"Canterbury took us right to the end, it was a really close game but we dug deep and came away with the win which was great.
"Brett is fantastic as a coach. We train week in, week out with the same principles that we apply to every game and we've built on every performance this season.
"We've got such good strength in depth as a whole club. Our ladies second team almost went the whole season undefeated as well. We've got such a great turnaround of players.
"The men's section of the club has always been successful but for the women to be up there now as well, that is what makes the club so special.
"It's a great atmosphere here and to have so many people come and enjoy hockey at the Olympic Park brings back good memories of the 2012 Olympics and GB's bronze medal."
After a first quarter of few chances, Surbiton were awarded a penalty flick early on in the second after the ball was blocked illegally on the goal line.
New Zealand international King made no mistake from the spot, flicking the ball hard into the top-left corner of the net to give her side the lead.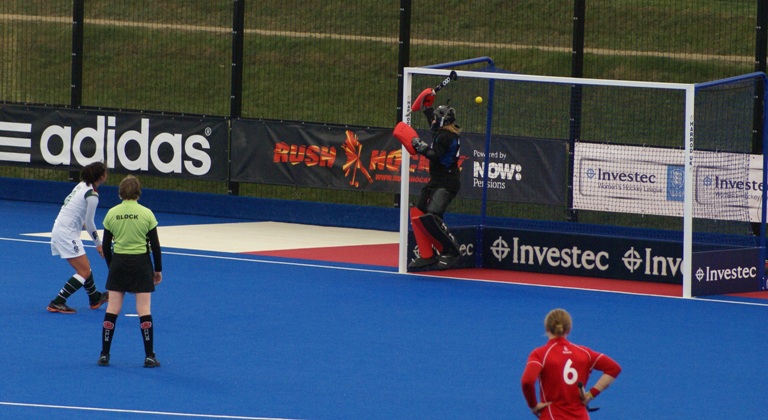 INCH PERFECT: Julia King converts from the spot to put Surbiton ahead
Canterbury's reply was almost instant. Just five minutes later a well-worked short corner was smashed home by Clewlow to send the sides into half-time level.
Four minutes before the end of the third quarter Surbiton re-took the lead with a well-hit field goal from Robinson.
But there was still time for goalkeeper Abi Walker to make a brilliant one-on-one save to deny Canterbury's Eliza Brett and preserve the one-goal advantage.
Surbiton will now turn their attention to the cup final next weekend – again held at Lee Valley – knowing victory over Clifton will see them lift both domestic trophies for the second successive season.
"If we can secure the double-double by winning the cup next weekend that would be fantastic," said Haycroft.
"We will be back in training this week to make sure that we are ready for that.
"We got great fans who've come and supported us along the way – as well as out in Europe – and I'm sure they will be there at the cup final as well."