Having already made her mark in wheelchair basketball, British Paralympic star Louise Sugden is now starting to dominate powerlifting too.
The 34-year-old co-captained Great Britain's wheelchair basketball team to the quarter-finals at the London 2012 Paralympics and also helped them win gold at the 2011 World Cup.
Having retired from wheelchair basketball in 2017 she tried a number of sports to fill the void, and  settled on powerlifting, shifting herself from a successful individual within a team to a champion in her own right.
"I got to a point where I was needing a new challenge," she said.
"I tried a couple of different sports, rowing, canoeing and powerlifting. I just really took to powerlifting."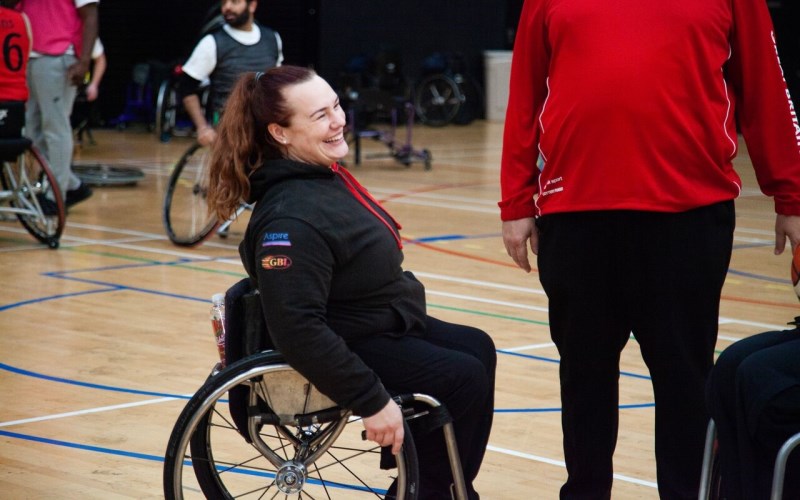 SMILES ALL ROUND: Louise Sugden made her name as a wheelchair basketball player
Within three months, Sugden increased her bench press from 77.5kg to 97kg, and her rapid progress since has been remarkable.
"It's been incredible! This time last year I'd never competed in a powerlifting competition and now I'm a silver Commonwealth Games medallist, European and British champion and British record holder.
"Now it's not that something has gone wrong in a team or someone else is having a bad day, it's now all about me."
Sugden, who was born in Newbury, is also a qualified accountant, such was the need to make money at a time when wheelchair basketball, in the mid-2000s, was poorly funded.
"It probably took six years longer than it should have done," she said.
"I didn't see my friends a lot around that period, a lot of things got sacrificed.
"But they're not sacrifices at the end of the day. – they're choices you make to get where you want to get."
However success has not always been so forthcoming.
After taking wheelchair basketball up at 13 years old because she thought it was cool, Sugden was dropped from the GB team for the 2004 Athens Paralympics, which was exactly the reality check she needed.
"It was what made me knuckle down," she said.
"I set myself some crazy goals, one of which was to captain the team at London 2012."
It may have sounded crazy at the time, but her drive and determination ensured it was a goal she achieved.
"It's hard to put it into words how amazing London was.
"The crowd didn't necessarily know the rules but anytime we did anything that they thought was good, the roof lifted off the place!
"The heroes parade afterwards was something that I will never ever forget – an experience that is going to be hard to top!"
And yet, it may well look like an experience she could top.
Following her incredible powerlifting exploits this year in her 'current life' – she refers to her basketball career as her 'past life' – a Paralympic medal may still be in her grasp.
"I'm thinking in bench press numbers rather than medals," she said.
"My next goal is 115kg, and to be competitive in February's World Cup event I really need to be looking at 125+.
"The Birmingham 2022 Commonwealth Games would be incredible.
"I don't think it would quite be London but still to be at home would be amazing.
"Who knows about the Paris 2024 Paralympics – I might want to live my life at some point."
Sugden's passion for disability sport and for it to be taken as seriously and professionally as able-bodied sport is clear.
"It's not that we're disabled and giving it a go – it's actually elite," she said.
"Even if that was the only thing that came from London, to have that respect from the public is immense."
Louise Sugden was talking as Path to Success' 'Wheelchair Challenge Basketball' charity event last month, held at the Copper Box Arena, London.
Path to Success is a charity supporting women athletes in disability sport, including Louise Sugden, on their Path to Tokyo 2020.