Sean Scarbrough praised recent signings for bringing a new dynamic to Streatham, after mixed results last weekend.
On Saturday, the Redhawks beat Invicta Dynamos 3-1 to earn their fourth league win of the season, before falling 4-3 to Milton Keynes Thunder on Sunday.
Against Invicta, there were debuts for veteran Czech defenseman Vaclav Drabek, and Alex Sampford, part of a new group of players bought in from Wightlink Raiders by new coach Jeremy Cornish.
And Scarbrough, who returned to the club this season after taking a year out last year, is confident the additions will only help the team get better.
"They've come in and they don't bring any baggage or egos, and get along really well in the room," he said.
"They bring a lot of confidence and youth, a bit of a different atmosphere."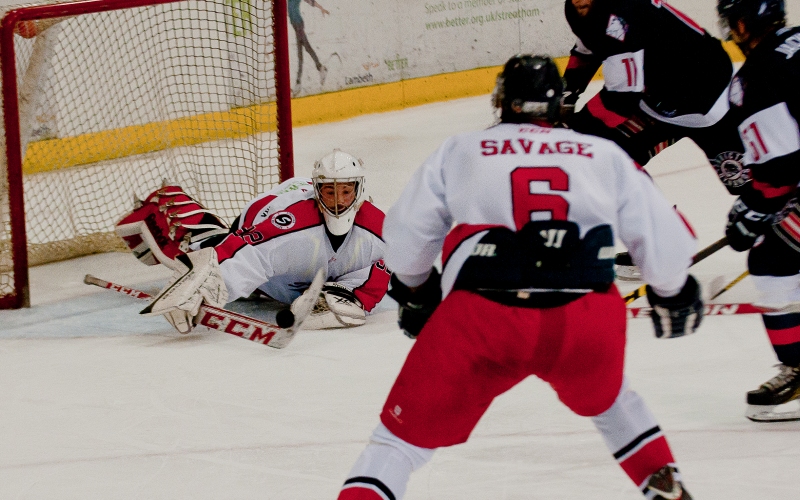 YOU SHALL NOT PASS: Matt Colclough made a series of saves against Invicta Dynamos
Dynamo came into Saturday's game with a three game-win-streak and the division's best defensive record, letting in just 12 goals.
Scarbrough said: "They've been rolling for quite a bit so it's good to get the win, and we were coming off the loss, so it was important for us to get a win."
After a slow start, Streatham goalie Matt Colclough made a great save from Invicta's Bailey Wootton, the first of many stops he would make in a man-of-the-match display.
"Matt was amazing," said Scarbrough.
"Matt came out of nowhere to make big saves, he really got the bench going."
Scarbrough also had words of praise for Liam Rasmussen after he opened the scoring five minutes before the break.
"Whenever he gets on the ice, he's been a huge plus for us," he said.
"He works so hard, all the guys feed off his work."
Colclough came to Streatham's rescue again in the second period, turning Steve's Osman's shot aside, before former-Dynamo Callum Best added to the lead by slotting past John Dibble in the Invicta goal.
A powerplay goal, scrambled in by Adam Rehak, brought the score to 2-1, but further heroics from Colclough through the final period earned kept Streatham ahead.
Against MK, the Redhawks took an early lead thanks to Dan Rose, but Jamie Line soon equalised.
Another Streatham goal, scored by George Norcliffe, took the Redhawks into the locker room leading after one period.
But the Thunder fought back, and three goals in quick succession took Streatham completely out of the game.
Norcliffe scored his second of the night with a few minutes to go, but it wasn't enough to claw back.
The results see Streatham drop one place into fourth in NIHL South One after nine games.
Feature image courtesy of Rick Webb, with thanks