Twickenham Rowing Club are targeting a Henley Regatta win within three years after they reached their first final in almost a century.
At last month's Regatta, the club lost in the finals of the men's quadruple sculls and the men's eight, while club members rowing in composite crews reached a further four.
Director of rowing Phil Bourguignon, 49, said: "It was very pleasing to see the name of the club back on the up, being recognised and being called out over the tannoy again on finals day."
The club's appearances, their first since 1927, came following fresh investment into their coaching team.
In April, five-time Henley-winning coach Bourguignon joined an already impressive backroom set-up which includes Barcelona '92 gold medallist Jonny Searle and GB coach Helen Brown.
The club had further reason to celebrate a fortnight ago when men's top boat rowers Callum Dixon, 21, and Nathan Hull, 22, won gold for Great Britain in the men's double at the European Under-23 Rowing Championships.
Remarkably, it was only Dixon's fourth competitive race since he switched to the sport from sailing in 2019.
He said: "There was a lot of work that had gone into it so the nerves were quite high, but then they say go and you actually remember that it's just rowing."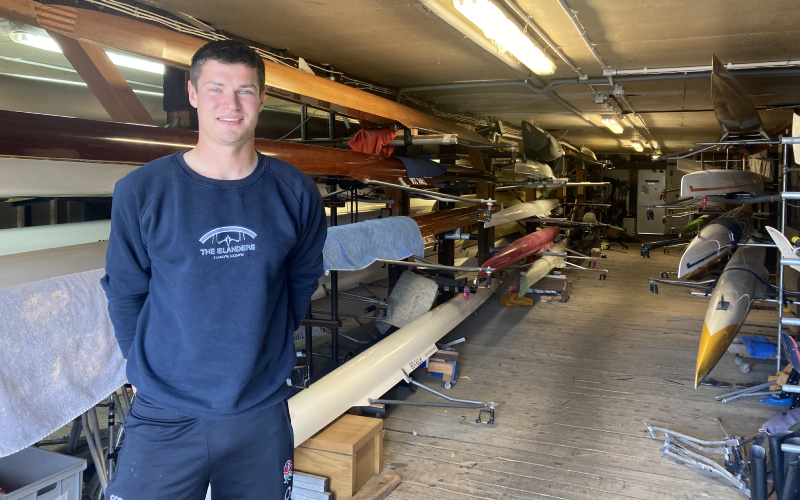 Twickenham are confident that their coaching expertise will not only develop Dixon and his clubmates, but also attract new talent.
Bourguignon said: "When you're trying to bring the club's profile up, you've got to have that expertise which then attracts athletes.
"Athletes know their window of opportunity is very small so if they're only going to have a three-to five-year timeframe in the sport, they want expertise delivered from day one."
Dixon concurred, saying: "Your coach and your programme are very important. I think the programme we're on at the moment has proved it really does work.
"I enjoy the culture, the attitude, the people and that elite mindset of 'how can we get better?'"
That elite mindset will be pivotal if Dixon is to achieve his goal of reaching the 2024 Paris Olympics.
"The Olympics is a massive goal," he said. "I remember watching London 2012 and thinking 'that is the coolest thing I've ever seen, I'd like to do that a lot'.
"So that's a big, long-term goal."
The new season commenced last Sunday and Twickenham's first major regatta is tomorrow, with between six and eight major events to follow before Christmas.