BySammy Mngqosini
June 17 2020, 16.00
Follow @SW_Londoner
From Peter Ndlovu to Sadio Mané, English football has been littered with talented African players, and a new book is now charting their success.
Since Ndlovu became the Premier League's first African footballer in 1992, more than 300 players representing 32 countries from the continent have followed in his footsteps.
Nigeria has exported the highest number of players (45), Cote D'Ivoire's Didier Drogba has scored the most goals by an African player (104) and Aston Villa's Mbwana Samatta is the first Tanzanian to play top-flight football in England.
Yet too often African footballers simply disappear into obscurity when their playing careers end with few commemorations or books to mark their achievements – unlike their English and European counterparts.
Ed Aarons' Made in Africa: The History of African Players in English Football, attempts to close this knowledge gap.
Aarons painstakingly spent a decade researching every African player who has featured in English football, interviewing their agents, families and friends – and the result is a collection of unique stories that reveal the men behind the jersey numbers and captures their struggles and triumphs.
Made in Africa combines a modern storyline alongside a historical perspective and pays homage to early pioneers like Arthur Wharton, the first black professional footballer in the world, as well as current stars like Mané.
Former Leeds United and South African captain, Lucas Radebe said it was a privilege to have played football as a career and to be celebrated in the book as one of the pioneering African players in English football.
While Aarons, 39, does not shy away from highlighting the racism and discrimination that so many African players have and continue to endure while playing in England, he admits to being disappointed by the lack of progress made.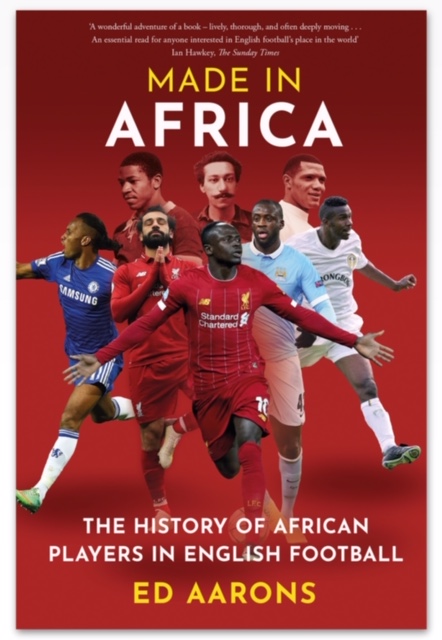 He said: "I was shocked to hear how some players remember being treated right up until very recently.
"When I started writing the book, I was under the impression and hoping that we had made real progress against racism but actually the last few years have been a real eye-opener for me and a lot of people in football.
"Last season there were never-ending stories of players being racially abused from the stands and on social media.
"Perhaps it is no surprise that we are now seeing footballers speaking up and demanding change."
As The Guardian deputy news editor of sport, Aarons has documented many historical football moments which have been included in the book.
Chapter 13, titled The Chiefs, opens with the Leeds United 2005 testimonial match for Radebe, who made 256 appearances for the club and beautifully captures the mutual respect and admiration between the South African and Yorkshire fans.
At international level, the defender won the 1996 African Cup of Nations with Bafana Bafana and captained the side during the 1998 and 2002 FIFA World Cup.
Speaking from his home country, Radebe said: "I am honoured to have been one of the first South Africans along with the late Phil Masinga, who got a chance to play in the Premier League when we were readmitted into international football.
"Playing in Yorkshire was an amazing experience and I spent 11 memorable years pursuing my passion at an iconic club which embraced me wholeheartedly.
"As a young man, I went from the streets of Soweto to captaining Leeds United and it is heart-warming to be part of the club's rich history.
"Having our legacies documented is an incredible achievement that will hopefully inspire more youngsters from our continent to pursue their dreams of playing in the greatest league in the world."
To this day, Radebe remains of one of the most beloved captains in Leeds' history with many fans still naming their children after him.
This is Lucas names after the chief @LucasRadebe born the same year Lucas retired #MOT#LUFC💙💛💙💛 pic.twitter.com/AMP6VfShDs

— Liam Anderson💙💛 (@Liam_Anders21) August 4, 2019
Its defo a leeds fan thing my lad lucas! Again named after @LucasRadebe! Middle names are james and allan, wonder where them names come from @JamesMilner and allan clarke pic.twitter.com/BPx3goxOqp

— liam quantock (@quannyGK1) August 4, 2019
Looking to the future, Aarons is optimistic there will be more African players from smaller countries joining top-flight English teams.
"There is a good crop of young Zambian players who are about to hit the Premier League.
"Patson Daka, 21 – currently at Red Bull Salzburg – is one who has a lot of potential", the Croydon-born writer declared.
Aarons also wants to see the achievements of global stars like Mané celebrated during the awards season.
"Since Liberian player George Weah won the Ballon d'Or in 1995, no other African footballer has made the podium in the whole history of football.
"Mané is the best player in the world right now, and most people agreed that he should have been in the top three last year. Even Lionel Messi voted for him.
"I hope he will get the recognition he deserves in the next year."
Made in Africa: The History of African Players in English Football by Ed Aarons, is published by Arena Sport, £14.99 and is available from here: https://birlinn.co.uk/product/made-in-africa/
Feature image: Sadio Mané shows what it means to become a European Champion after running away from home to pursue his dream. Courtesy of Getty Images, with thanks.