By Alex Jennings
April 17 2020, 14.00
Follow @SW_Londoner
The coronavirus has dragged football into unchartered territory kicking and screaming.
Answers to questions over how, and when, the season will end remain elusive, and some clubs even face existential crisis.
With their Griffin Park goodbye in jeopardy, Brentford FC fans are searching for guidance more desperately than most.
The Bees were scheduled to move into a new 17,250 capacity stadium in Lionel Road at the start of the 2020/21 season and play their last game at their home of 116 years in May, in what would likely have been a crucial play-off tie.
Griffin Park has seen some of Brentford's finest years in the twilight of its existence, and Thomas Frank's side sat fourth in the Championship when the campaign was suspended.
Uncertainty now reigns supreme.
Construction on the new stadium has temporarily stalled, but a chance remains of competitive games never returning to Griffin Park, at least with supporters in the stands.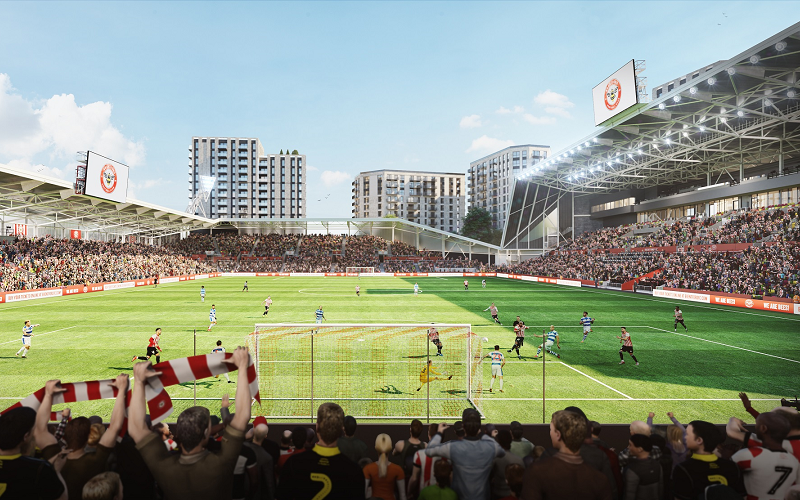 A CGI of Brentford's new stadium
"It is a concern for all Brentford fans," admitted Trevor Inns, Griffin Park Grapevine contributor, season-ticket holder and fan of 47 years.
"No-one knows what's going to happen."
BBC News producer and Bees Bulletin podcast presenter Stuart Hughes said: "The whole country is in limbo and a microcosm of that is the club and the way we're saying goodbye to Griffin Park."
He added: "We're in a strange no-man's land and everything's come to a halt."
Griffin Park is a modern football anachronism, the only ground in England's top two divisions with a standing terrace. It is famed for its pubs on every corner, and infamous for facilities that even Brentford's staunchest fans cannot defend.
The stadium may be obsolete, but Hughes insists that it's the source of its charm.
"It's like going back in time to the 1970s and 80s," he said.
"The ground is like Brentford itself. It's not a glamorous part of London, it's frustrating in many ways, but it has an earthiness and authenticity that a lot of football fans miss now."
Brentford's 5-0 thrashing of Sheffield Wednesday on March 4 might prove to be the last game played in front of the stadium's 12,300-strong crowd. Supporters did not expect it to be the final time they set foot in their old home.
"There were some mutterings but no-one could bring themselves to accept that as a reality," said Inns.
"We knew it was a possibility, but we thought it was a small one and it was more gallows humour than anything else.
"It's a good game to go out on, but we don't want to have to. Nobody wants to say goodbye to Griffin Park without having actually said goodbye to Griffin Park."
If we have seen the final ever game at this beautiful little ground, then it has been an absolute pleasure. So so many memories here, ridiculous highs and unbelievable lows. Been a joy to call Griffin Park home home for the last 13years but let's hope that Saturday wasn't goodbye pic.twitter.com/NSDG0Xl395

— Jordan Nugara (@JN1889) March 12, 2020
Brentford have danced carefully around the issue. A club spokesman confirmed: "Brentford still have five matches to play at home in the current season. We remain hopeful and are planning on the basis these will go ahead." The club declined the opportunity to offer further comment.
For their part, the EFL is understood to be open to the possibility of the club completing their home fixtures across different grounds, provided any move is approved by the organisation's board in advance.
That will not reassure fans such as Hughes, who fell in love with the ground after taking his then four-year-old son Billy to their local team a decade ago.
He watched his boy grow up at Griffin Park and for him, like most fans, the stadium represents so much more than a building ought to.
"Any Brentford fan you talk to has their memories, the friends they've made, the family members they go with, the kids they've seen grow up there," said Hughes.
"I was looking forward to the final game and going there with my son, saying goodbye to Griffin Park and knowing it's something he'll remember. Now it's in doubt.
"I've spoken to a lot of fans this season who've said 'the final game will be emotional because I went there with my dad who has passed away and it is a chance to say goodbye, pay my respects and remember all the times we've had together there."
To wrench their beloved ground away from fans without a proper service would be a darkly appropriate end to the Griffin Park story for the times we live in, but a heart-breaking twist to what had felt like a fairytale.
Hughes spoke for Brentford fans when he said, quite simply: "We just want to wish the old girl a proper farewell."