The Mayor of Merton will be joining the Dons Local Action Group (DLAG) as they sleep out at Plough Lane next month.  
Members of the AFC Wimbledon first team staff will also join supporters braving the cold by sleeping overnight at the Cherry Red Records stadium to raise money for the local community.
Following the success of their 'Big Sleep Out' 2021 where 60 people slept out and raised over £44,000 for various charities, the charity's second sleep out will take place on 3 December.
Mayor of Merton, councillor Joan Henry, said: "I am joining the sleep out to help raise money that will help families who are in poverty.
"As we enter another financial crisis and rising poverty, the Dons and their partners need your urgent support.
"Come and join me at the sleep out and let's make a difference."
The DLAG was set up by Wimbledon supporters during the Covid-19 pandemic to collect food, household goods and tech for families isolated in their homes.
In the first six months, the DLAG delivered over 120,000 food boxes and over 800 laptops and tablets to schoolchildren.
In response to enthusiasm from Wimbledon fans and the local community, the group grew substantially, adding multiple collection points across south west London boroughs.
Now, the DLAG are working in partnership with a wide range of organisations throughout south west London to continue to help people suffering through homelessness and poverty.
The charity will share 20% of the fundraising total between three charities: Merton's Faith in Action, Kingston's Voices of Hope and Tooting's Western Lodge.
The DLAG are hoping to improve on the £44,000 raised by last year's 'Big Sleep Out', in which former players such as Ollie Palmer, Benjamin Heneghan and Darius Charles took part.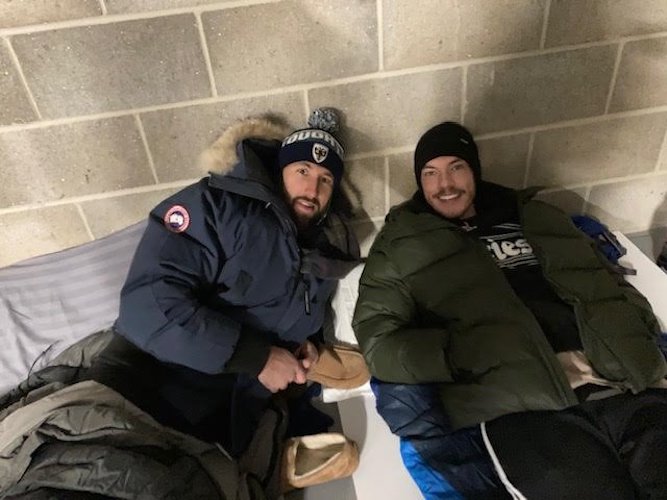 Supporters are being encouraged to take part in the stadium sleep out, which takes place only hours after Wimbledon take on Grimsby Town.
Although the event is for over-18s, young fans can still take part in a 'sleep in', by sleeping in their living room so they can still raise money.
'The Big Sleep Out 2' will take place in the West Stand first floor concourse of the Cherry Red Records Stadium on 3 December.
Find out more here.
Featured image credit: Dons Local Action Group