Streatham are looking for their own miracle on ice this weekend as they face off against cup specialists Swindon Wildcats in their first match of the National Ice Hockey League (NIHL) postseason.
The Redhawks, distinct outsiders entering the play-offs after finishing sixth in NIHL 1 South, face Swindon in a two-legged quarter-final having suffered three regular-season defeats at their opponent's hands, including February's 8-3 and 6-2 reverses.
Streatham's hopes are buoyed by memories of their 5-1 trouncing of the Wildcats in October, undeniably the highlight of their first season in a newly-reformed league structure, but head coach Jeremy Cornish demanded focus.
He warned: "We've been absolutely thumped the last two times we've been there, so we're going to have to get off to a good start Saturday.
"We have to play the way that we know, that's the bottom line. If we play the way that we can, we're fine. If we don't, we'll be done."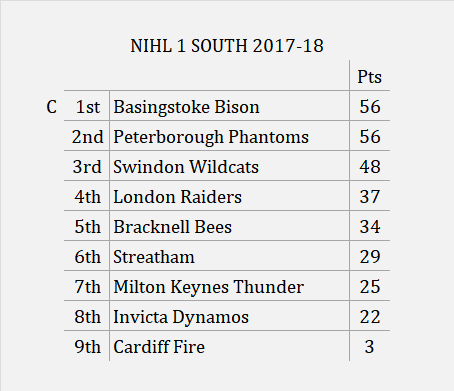 Should they triumph this weekend, Streatham would progress to face either Peterborough or Milton Keynes, with victory there taking them to the regional final, one step from April's 'Big Four' finals weekend in Coventry.
For Cornish, the play-offs represent a chance to put right a season plagued by inconsistency, epitomised by a 4-3 final day home defeat by eighth-placed Invicta Dynamos.
He said: "I'm disappointed with where we finished, I was hoping for more. At the same time we were up against pretty tough opposition and I think we did alright, but I'd never be happy with a sixth-place finish.
"It's disappointing, we had some good wins and at the same time some very disappointing games against teams we shouldn't have lost to.
"Our team is a tale of two different identities sometimes. To beat a Swindon and a Basingstoke and then turn around and lose to an Invicta, it's just unbelievable that that can happen in sport – but it does."
Play-off opponents Swindon are on the hunt for a cup treble. Last month's 5-1 win against Telford booked the Wildcats' place in the National Cup final to face Sheffield Steeldogs, and they take a 3-1 lead over Basingstoke into this Friday's Autumn Cup final second leg.
Third in the regular season, Swindon were one of four Elite Premier League clubs to move into NIHL 1 in 2017-18 after the break-up of the top flight, alongside Bracknell, Peterborough and table-toppers Basingstoke.
Cornish, a former professional on the rink in Canada and the US, joined the Redhawks staff 18 months ago after his Wightlink Raiders side folded, and believes the changes to the NIHL will only benefit his side in the long term.
"I think it's always positive when the hockey gets better" he said. "That's what fans want to see, and I'm happy as a coach – it's been the best hockey I've ever coached.
"It's actually quite nice and refreshing to have a better calibre of player and guys that want to improve their game and work hard.
"Budget-wise, it's tough to compete with teams who've played at a much higher level. What I'm disappointed in is the games that we've let slip that we shouldn't have, against teams that we used to play against."
Tickets for Saturday's first leg at Streatham Ice Rink are priced at £10 for adults and £6 for concessions, available at the gate or online at www.streatham-hockey.co.uk/
Image used with thanks to Fusional.