Vitalia Diatchenko claimed the ladies singles title at the Aegon Surbiton Trophy yesterday, as the tournament returned after a seven-year absence.
The 24-year-old Russian overcame 17-year-old Japanese Naomi Osaka, who was playing her first ever grass court tournament, 7-6 6-0 in the Surbiton suburb of Berrylands.
Naomi Broady was the best performing Brit as she made the semi-final, while British pair Tara Moore and Nicola Slater were beaten 7-6 6-3 by number one seeds Lyudmila Kichenok and Xenia Knoll in the ladies doubles final.
There was British success in the men's doubles on Saturday, with unseeded British brothers Ken and Neal Skupski beating third seeds Marcus Daniell and Marcelo Demoliner 6-3 6-4 in the final.
The men's singles title was won on Saturday by unseeded Australian Matthew Ebden, who beat American fourth-seed Denis Kudla 6-7 6-4 7-6. The best performing Brit was Brydan Klein who was beaten in the last four by Kudla.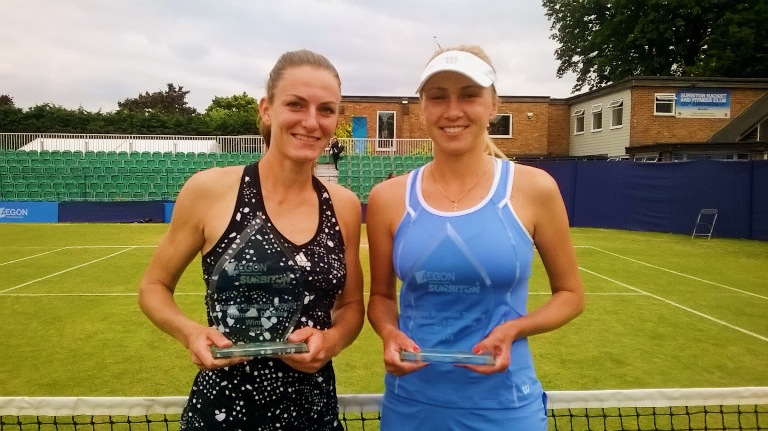 DOUBLING UP: Xenia Knoll, left, and Lyudmyla Kichenok won the ladies doubles

Diatchenko said: "I was a bit nervous because I lost some important moments and made too many mistakes but then I started to control the game."
Diatchenko struggled to get to grips with the slick turf in the opening set, falling 4-2 behind to her young opponent, who looks to have a bright future in the game.
But Diatchenko could not be deterred and won three games in a row to force a tie-break, which she won 7-5.
Diatchenko's strong ground strokes took hold immediately in the second and she began to display the quality that saw her through to the French Open second round last month, where she lost to close friend and compatriot, Maria Sharapova. The crowd did their best to enthuse Osaka, but Diatchenko proved irrepressible and ran away with the second comfortably.
Winner🏆😃 Enjoying back to playing on the grasss😘💚🍀 Happy to win a title after last surgery👍 #GrassSeason pic.twitter.com/0e7wvYxWR9

— Vitalia Diatchenko (@VDiatchenko) June 15, 2015
However, her performance did polarise some members of the club, who did not care for the volume of noise she produced for each shot.
"We all think that's not necessary and there have been other female players on court who have been as good and did not need to shout," said centre court scorer Laura Wanschelbaum.
"You can hear her from miles away."
The 91st-ranked Russian will hope her similarities with Sharapova progress into titles won, and not just by their noisy natures.
Surbiton Racket and Fitness Club director Roy Staniland said: "She's an amazing player with amazing shots.
"It was a great final and she deserved to win."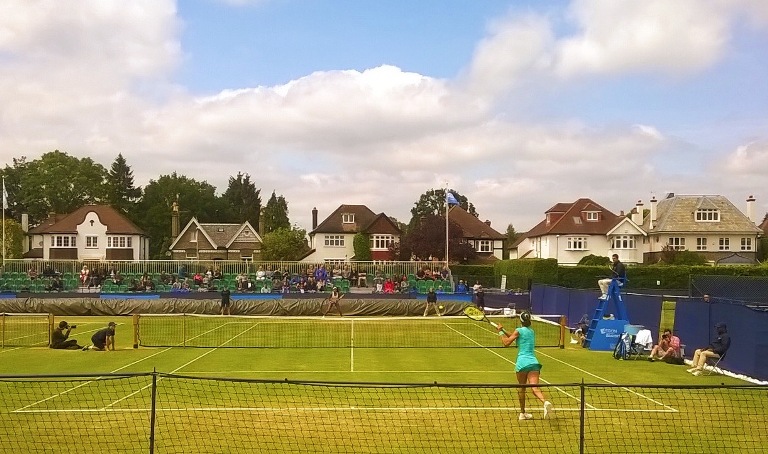 GAME, SET AND MATCH: The Surbiton Trophy returned after seven years
With an extra week in the tennis calendar before Wimbledon this year, players are seizing the chance to get some more grass court practice in.
British Davis Cup hero James Ward was in the men's draw but lost 6-2 6-4 in the first round to Klein, while two-time Wimbledon quarter-finalist made it to the ladies quarter-final but lost 6-4 6-4 to Diatchenko.
Trophy director George Donnelly said: "We've probably punched above our weight in terms of the quality of the field because they want that experience on the grass, which in this period is so vital."
"It's been good on and off the court and it's been great to have the tournament back after a seven-year break."
With tennis participation reportedly dropping nationwide, Mr Donnelly pledged to use the event to boost tennis in the community.
An outreach program ran alongside the tournament to engage more than 20 nearby primary schools, with close to 2000 school pupils coming down to taste the grass.
Mr Donnelly added: "We're trying to get them inspired and involved in tennis to continue to play, and to help more people play more often."