Richmond's director of rugby Steve Hill has vowed they will not change the structure of the club following the liquidation of London Welsh.
Bottom of the table Richmond's status as a Championship team was confirmed in strange circumstances after Welsh were expelled from the league.
Hill said that Richmond's policy of having a part time first team made financial sense despite the wishes of the RFU for the Championship to be made up of full time professionals.
He said: "For us it's what works. 18 years ago Richmond was the first team to go bust. The sad thing is in the 18 years that followed clubs didn't learn the lesson.
"There's no danger that Richmond will go back to that structure.
"There's other clubs in the Championship like Nottingham, London Scottish and Jersey, who just sold their ground, who are not far from London Welsh's situation.
"The RFU wants a full time professional championship and they've made that clear but at the moment it makes no financial sense – you can only lose money doing that and at some stage people putting money in won't anymore and a situation like London Welsh will happen."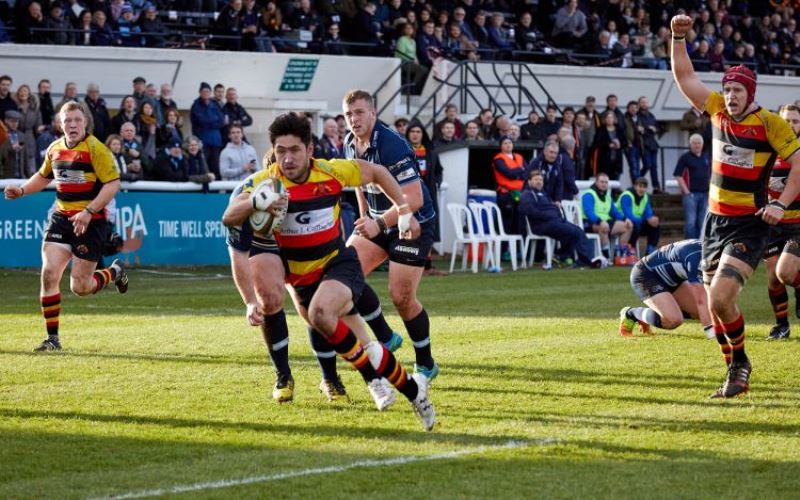 Hill stressed that Richmond were determined to stay in the Green King IPA Championship but would not change their structure in order to do so.
He said: "We will always have a competitive first team. We will run five teams on a Saturday, 3 women's teams and youth rugby on a Sunday.
"We are a club that caters for all people whether you're a former premiership international or a seven year old just starting the game.
"Clubs that have moved away from that have lost touch with their roots and we are determined to stay connected.
"We don't see the gains of chucking all your eggs in the first team basket."
Hill admitted he was surprised that London Welsh were expelled from the league, as he believed it would happen at the end of the season.
He expressed his sympathy for the players and staff of Welsh but said the circumstances gave Richmond an opportunity to prepare for another survival battle next season.
He said: "Now when players are looking at their options we can guarantee what league we are going to be in.
"The main thing is we have that body of knowledge from being in the Championship that we will learn from.
"From the medics, staff, players and the managers we all now know what to expect. We've been to all the grounds, understand the style of the teams we've played against and it will put us in a stronger position for when next season starts."
With their Championship status confirmed, Hill confessed the challenge now was to motivate the players until the end of the season.
He said: "That's going to be a real challenge. Human beings are human beings and they recognise we can't get relegated.
"We had a meeting an a number of senior players spoke and they are determined not to finish 11th.
"We don't want people to say the only reason Richmond stayed up was because of what happened to London Welsh. If we play to our potential we can do that."
Richmond certainly played to their potential in their last league fixture beating Bedford Blues 49-26 in a seven try victory proving they do belong at that level of rugby.
They are six points adrift of Rotherham Titans in 10th and with more performances like that could well prove it was not just London Welsh's demise that saved them from relegation.