Camden Town WFC chairman Richard Mahoney hopes a historic Women's FA Cup win sends a significant message to their rivals.
Against Hastings United, a club a division above them in the women's football pyramid, Camden prevailed 3-2 in the Women's FA Cup first qualifying round, a first ever win in the competition for the team.
A record crowd of 205 cheered Camden on at the Maurice Rebak Stadium in Finchley in what was a truly memorable day for all involved.
"It's a fantastic result for us – it's an amazing achievement and I'm really proud of the players and the coaching staff," said Mahoney.
"The support was absolutely overwhelming. Our attendance record before today was 83, so we've doubled it basically. It was really important for us to make sure we had a big crowd.
"This result will send shockwaves around the league. It basically says to everybody in our division and the division above that we are here, we are serious and we can cause some big upsets.
"We will continue to work extremely hard on and off the pitch in everything we are doing."
The Greater London Women's Football League Premier Division side have set their sights on reaching the top tier inside a decade and are sponsored by Pitching In – a grassroots sport investment scheme established by Entain, owners of Ladbrokes and Coral.
Among those spearheading Camden's recent success, which saw two promotions in two years before a solid seventh-place finish last season, has been manager Harry Sherman.
He said: "It's our first FA Cup game, and for the players as well, for many it's their first experience of being in this competition as well. The way the game is played is different to our league games, there's less rotation and the subs have got to be structured.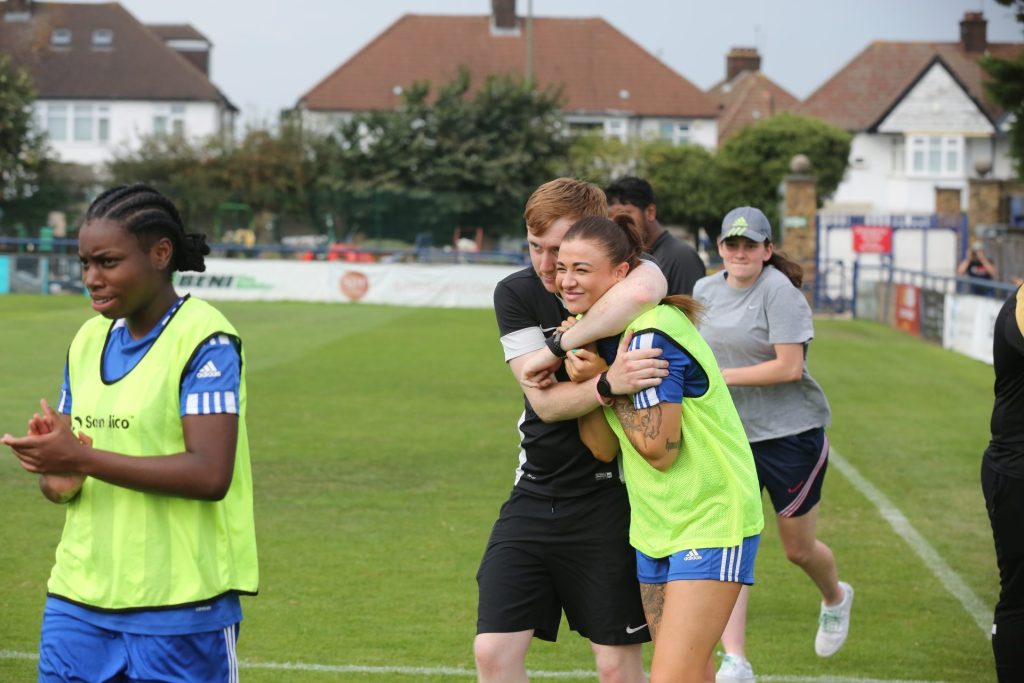 "The players have to put more energy in from the start for a longer period of time. It's a new experience, and to come through it against a team in the division above – and a good team in the division above – is really impressive. It just shows that the team and players that we have got can do it."
Emma Oldfield was among the players getting a taste of FA Cup action for the first time, the striker having joined the club this summer.
The 28-year-old was an unused substitute, but it was still a day to savour for her.
"It's huge for us. We're still very much a new team in terms of the players that have come together for the season. It's a massive moment for us and testament to how quickly we've come together.
"It's an honour to be a part of the growth and development of this club, and feed into the team as a whole, to reach those goals. It's a really exciting club to be involved in.
"It's my first time in the FA Cup. It's a massive moment for us and for me as an individual as well. We've enjoyed it and had a great time."