Japan's Yuichi Sugita won the Aegon Surbiton Trophy, beating Australian Jordan Thompson in straight sets on Sunday.
With neither player having dropped a set in the tournament before the final, Sugita neded two tie-breaks to record a hard fought 7-6 (9-7) 7-6 (10-8) victory.
The world number 78 said: "I'm really confident on the grass court and I'm hitting as hard as I can.
"He has a really good defence but when I saw an opportunity I really fought for the last point."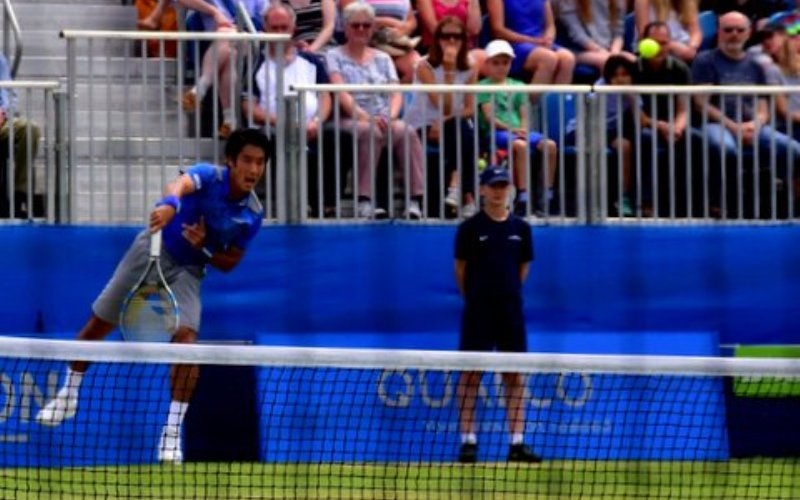 BIG HITTER: Yuichi Sugita sends down a serve in the Surbiton Trophy final
There was little to separate the players early on with Sugita firing powerful and accurate ground strokes, while Thompson hit two aces to help him hold for 5-5.
In a set with no breaks of serve, a 134mph Thompson ace in the last game forced a tie-break, however Sugita managed to edge ahead of his big serving opponent 9-7.
In the second set, a couple of unforced errors from Thompson at the start of the third game, including a double fault, allowed Sugita to force the first break, although Thompson fought back immediately to make it 2-2.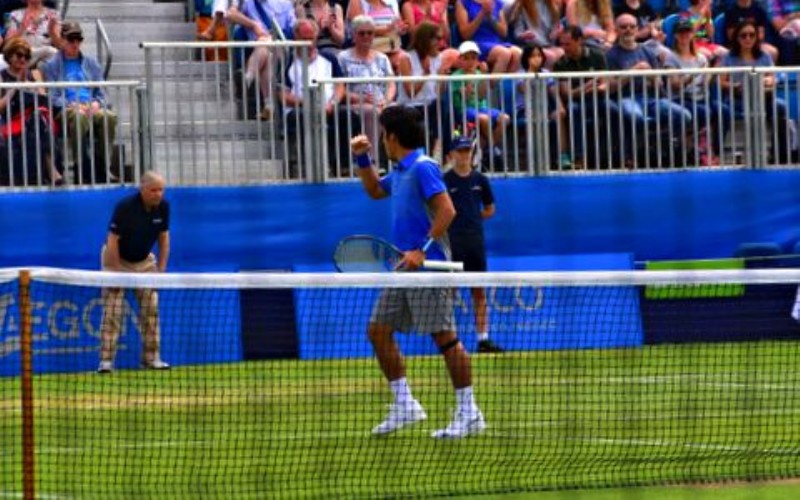 ON THE WAY: Yuichi Sugita celebrates another point on the way to victory
After a short rain delay, another double fault gave Sugita the chance to close the game out with a 6-5 lead, however he couldn't capitalise and Thompson broke back to force a second tie-break.
The Australian had pulled away with a 5-2 lead, but then lost four points in a row, and, after trading further blows, the Japanese secured victory at 10-8 for his first grass court title.
Both players now travel to play in the Netherlands with their eyes set on continuing their fine form into Wimbledon when that starts on July 3.