Hannah Field believes the newfound unity of Richmond may hold the key to them achieving Tyrrells Premier 15s success this season.
The captain has heaped praise on her side's new recruits for settling in quickly and adapting to new methods of rugby during a successful pre-season.
And with the league kicking off for Field's side later this month with a trip to last season's finalists Harlequins, the skipper believes the summer changes at the club will only strengthen their chances this campaign.
"We've had one of the best pre-seasons we've had and it's been brilliant – the culture has been a big focus for us," she said, speaking at the launch of the competition at Tyrrells Court Farm.
"We've managed to get to a place now where the team has gelled, and there isn't that much disparity between the new players and the old players and we've all seemed to come together nicely.
"We bought in a lot of new structures and had an influx of players this pre-season, so I guess the biggest thing is really buying into those structures and making sure we come together to do it justice.
"Because we've had a lot of change it's about making sure we don't fall back into habits, so really about it's about us getting on board with what we want and the systems we want to play.
"We want to perform and then the outcome will hopefully come secondary to that – it's about connecting as a team and building the culture that we want, so that's been our biggest focus."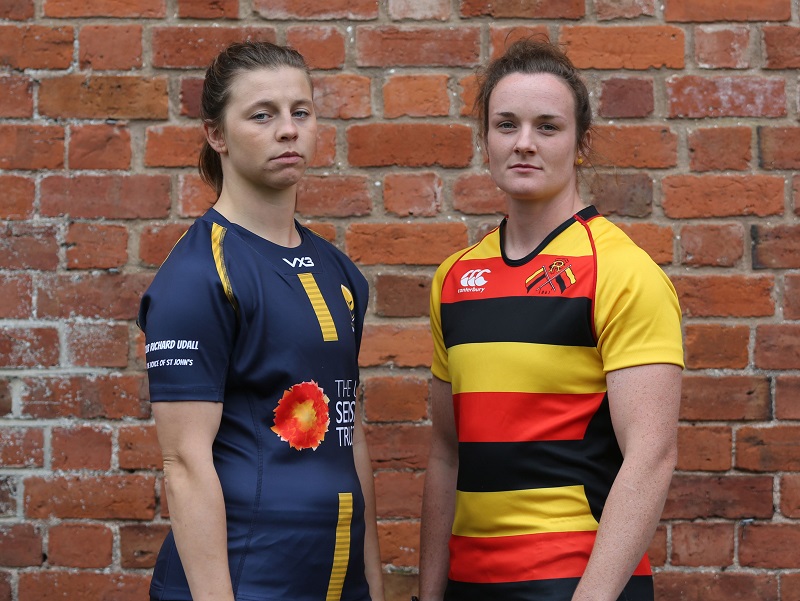 UNITED WE STAND: Lyndsay O'Donnell (left) and Hannah Field
This season marks the third edition of the Tyrrells Premier 15s, a competition continually growing in popularity and offering a strong pathway for players, coaches and referees.
The league will be played over 18 rounds, culminating on May 30 after nearly nine months of gruelling action.
And Field has set her sights high, believing her team will be difficult to handle and capable of bettering last season's seventh-place finish.
"We're really targeting the middle third of the league as the teams to attack," she added.
"At the same time, we're going to be a very unpredictable team this year and anything can happen, so we're definitely going to be up for some of those bigger games too.
"We're very excited – it's been a long pre-season but we're all ready to let it all start really."
Field was also upbeat about the direction women's rugby was heading, calling on the younger generation to continue getting involved and embracing the sport's distinctive culture.
And with her team blazing a trail for the unity rugby can generate, she is optimistic about the future.
"The growth of the game has been phenomenal – it's so different now to how it was to when I was growing up in youth rugby," she said.
"Once you step into rugby and start to buy into the culture, it's contagious and it's something that you want to be a part of.
"It's so popular now and we can only expect that in the next five or ten years that will grow."
Tyrrells Premier 15s is the top-flight women's domestic rugby union competition in England. For all the latest news from Tyrrells Premier 15s, you can follow @Premier15s on Twitter.