Agonising defeat can often be the most powerful motivation – just ask Harlequins stalwart Rachael Burford.
Quins have fallen at the final hurdle of both Tyrrells Premier 15s campaigns since England's top-flight women's rugby league was re-formatted back in 2017.
And Burford is desperate to take that next step with the new season now just weeks away, one that she hopes will end with a title.
"We're doing some work with mentality off the pitch and setting ourselves some goals," she said.
"The ultimate goal is to get into the top four, into a final and hopefully, if we get things right throughout the year, we'll get into that position.
"We will be looking at doing things a little bit differently so that we're not as bitterly disappointed as we were before.
"Everyone just can't wait for the season to get going. Nobody really enjoys training that much, they just enjoy the playing, so everyone's just chomping at the bit!
"We're in a really strong position in terms of everybody knowing their roles in the team. The girls are fit and strong and we're in a really good place.
"Every year it has got bigger and better, but at the same time we have as well. We're pressing on and pushing on, not sitting on any laurels and fully aware of what's going on in the other teams.
"Every team, on its day, can beat anybody, so we're very conscious of that and we'll take it one step at a time to get ourselves in the position for the top four."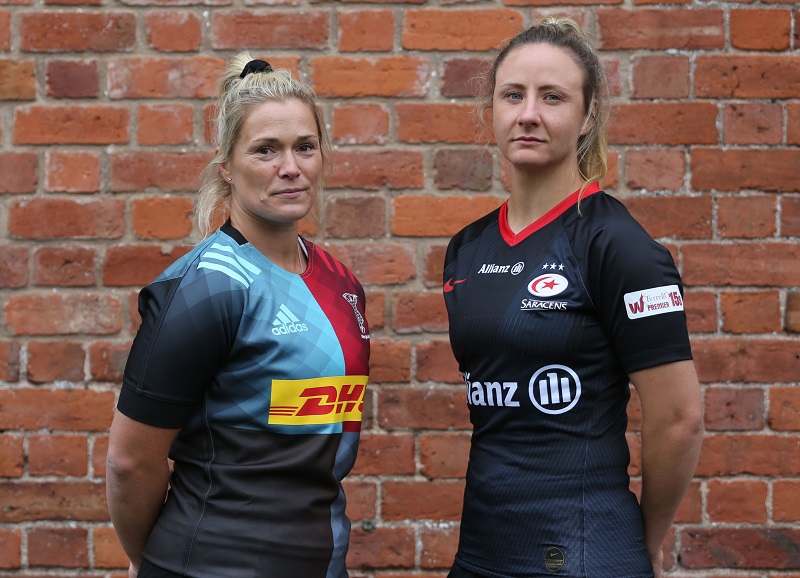 MOTIVATED: Rachael Burford (left) and Sarah McKenna
Quins begin their campaign with a visit from local rivals Richmond, looking to get off to the perfect start after wide-scale change in the off season saw a flurry of players and coaches alike switch allegiances.
Changes were plentiful but Burford still remains in south west London, relishing the chance to get back out there in front of her home faithful.
"We're really proud of what Quins try to do: they get as many people as they can in to watch us; they understand the merit of watching the women's game and want to bring as many fans through the gates as possible," she continued.
"We're in a privileged position in the amount of resources and time that goes into marketing our games and putting them on at the Stoop and hopefully getting a lot of people to watch and cheer for us.
"It makes a massive difference running out at your home place. We were averaging 1,000 people there last year, and that's a lot for the women's game.
"To go from two years ago, where there weren't many people watching to that is incredible, and we hope to go even better this year."
Tyrrells Premier 15s is the top-flight women's domestic rugby union competition in England. For all the latest news from Tyrrells Premier 15s, you can follow @Premier15s on Twitter.