Despite claiming both the league and knockout cup titles in season of staggering success, anything less than a top four finish for Surbiton in June's EuroHockey Club Champions Cup will render the year a disappointment for two of their star players.
Having recorded an unprecedented 50th league game unbeaten back in November in a run stretching back to February 2013, Surbiton then went on to win their fourth successive Investec Women's Hockey League Championships in April.
Just one week later they added the Investec Women's Cup to their ever-growing trophy haul Cup with a dominant victory over Clifton Robinsons and finish yet another astonishing domestic season in the best possible fashion.
Next up for Surbiton is a trip to the Netherlands from June 2 to June 5 as they aim to finally show just how good they are on the European stage.
Despite their unbelievable domestic form and boasting a squad full of international stars, their best recent effort at the event was fifth in 2015, finishing a place lower the following year.
But, coming off the back of this remarkable double, Rio 2016 star Georgie Twigg said she is feeling very confident ahead of this year's instalment in Den Bosch.
"The club Europeans are really important for us," the midfielder said.
"We haven't performed in the last couple of years and we really want to go out there and contest against the other sides.
"I think we can get really far. For us that first game is important – we haven't managed to win the first game and therefore haven't got into the top four, so that's what we're targeting, that first game."
Indeed, Surbiton's first game has been their downfall in their previous two attempts at clinching European success.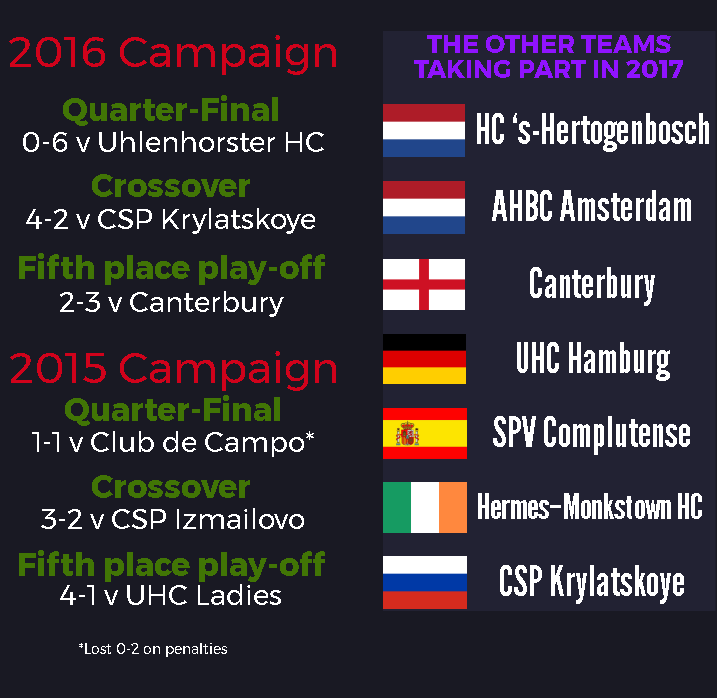 They were outclassed by Uhlenhorster HC in 2016, losing 6-0 to their German counterparts, but were unlucky the year before as they were knocked out of contention in a shoot-out having drawn 1-1 with Spanish outfit Club de Campo in normal time.
However they could not enter this year's tournament in better form, winning each of their final eight games across all competitions – scoring 29 goals and conceding just five in the process – and outclassing Clifton 5-0 in the cup final.
Although captain Sarah Haycroft is excited at the prospect of her team achieving a top four finish in Europe, she is also remaining grounded and says there are still things the team need to work on before the first game gets underway.
"We are quite hard on ourselves and there are still things we think we can improve," the 26-year-old explained.
"We still have weeks of training ahead of our European campaign and even though we beat Clifton they actually gave us a good game and there is still things we need to work on in our game in training.
"We are definitely excited for the Euros. Momentum is such a powerful thing and coming off the back of the league finals victory this cup win is the best preparation."