Former Hollyoaks star Danny Mac admitted his excitement at returning to the stage in Andrew Lloyd Webber's Sunset Boulevard, as the award-winning production comes to New Wimbledon Theatre this week.
After a four-year stint playing cocksure ladies-man Dodger in Hollyoaks, it was his turn on Strictly Come Dancing, coming runner-up in in 2016, that brought the London-born actor to national attention.
The 30-year-old is thrilled to be back on stage – where he first started his career – playing the role of down and out screen writer Joe Gillis in the Michael Harrison and David Ian-presented European tour.
He said: "It's the first job I've ever done that I've been so proud of before we've even had an audience.
"To then go out and get the reaction that we've had from the reviewers and the audiences – it's been so amazing."
The musical centres around ageing silent movie actress Norma Desmond, who lives as a recluse in her mansion on Sunset Boulevard.
Danny's character stumbles into Norma's fantasy world and the pair unite over opportunistic gains– Norma can use Joe to revive her career whilst cash-strapped Joe can enjoy the luxurious life-style Norma's money affords.
But Norma's admiration for her young lover soon teeters into obsession – leading to dramatic consequences.
Danny looks forward to the eight performance run in Wimbledon, in a theatre he describes as one of his locals.
'Family and friends across the board will hopefully make it," he said.
"I guess I do feel the pressure, but I'm trying not to!"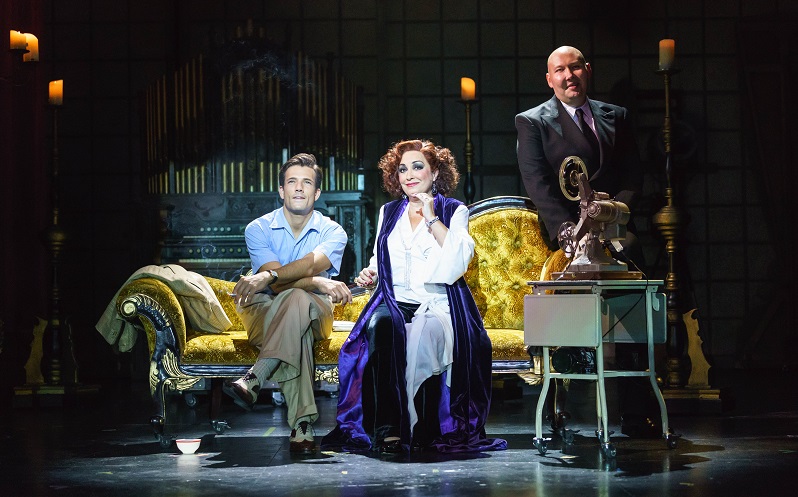 The London dates mean he'll get to see more of his wife, former Hollyoaks co-star Carly Stenson, who is currently in the West End playing Fantine in Les Miserables.
Of their often long-distance relationship, he said: "It keeps our life a bit of an adventure.
"We make it work and that's always been the way."
Other special members in the audience will be some thirty staff from St Wilfrid's hospice in Chichester – of which Danny is a patron.
A handful of his Strictly co-stars are coming to support him in the show, too.
He said: "Everyone's busy doing their own thing but we still all keep in touch.
"They're all definitely invited and I'd love to see them there.
"Ore's already come to see the show and I think he might be coming again!"
Well before his TV career, Danny was treading the boards and studied at the prestigious Arts Ed theatre school in Chiswick after landing a coveted scholarship.
He admits that growing up, he didn't have to a sole career goal but "wanted to do everything" where performing was concerned.
He's thrilled at the range of opportunities he's had so far – especially when he's landing interesting roles for complex characters like Joe.
Norma is played by Ria Jones, 51, who has received critical acclaim for her portrayal during the show's European tour.
Danny said he and Ria "get on like a house on fire", and that their special bond helps them on-stage.
He said: "You need to believe that they could have a romantic relationship. That is central to the piece.
"With the chemistry we have, it allows people to believe that."
Danny routinely won the 'Soap's Sexiest Man' award during his Hollyoaks days – and was even described by Len Goodman as 'hotter than the Amazon Jungle'.
Danny, who has to strip to his boxers during the show, said he's maintained his physique during the tour thanks to 'fitness freaks' on the production team and their almost daily 'insanity' workouts.
"I don't really like going to gyms and using machines and weights, I like to just have a good sweat in half an hour and and then get on with my life," he said.
After the tour, Danny will be starring in a musical version of the Little Princess alongside Amanda Abbington.
He admits to feeling sad that he only has a few weeks left on the Sunset tour.
He said: "I've got so much more to give for this for much longer which is a really lovely feeling.
"It says a lot about the production."
Photo by Manuel Harlan