Great Britain's latest wheelchair basketball star Siobhan Fitzpatrick knows the role of luck in the sporting sphere. 
The 20-year-old, who played a significant part in Great Britain claiming a silver medal at the World Championships last month, may not have been accomplishing that feat in Hamburg had she not discovered the sport herself "by chance".
"At school I wasn't allowed to do PE, because insurance problems are something that are common among a lot of disabled school children," she said.
"I found The Coventry Wheelchair Basketball Association, they got me to my junior level, I absolutely loved playing for them, but I just wanted a bit of improvement in my career so I joined the London Titans."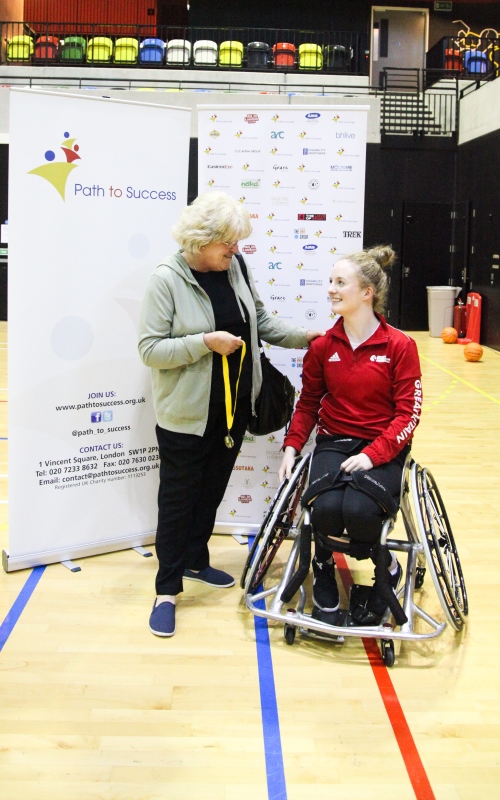 However, her experience of the obstacles preventing her from partaking in sport during her youth has led her to raise awareness of how others currently in a similar position can succeed in the area.
"I think that the situation has improved since because now we go into schools and get the message out there, but half the issue is the education around it," she said.
"Luckily I can walk and I still wasn't allowed to do it, so for other people in a wheelchair it is a lot more difficult.#
"The chair I'm in costs £5000, some of the cheaper chairs are £1000. However, few schools have that sort of budget to buy that equipment, so they'd much rather just buy a £20 tennis racket.
"A lot of why I go into schools is just giving disabled children information for them to find clubs outside of school.
"Once I had found a club I used to take my chair in (to school) and do sport that way, and you just have to provide your own equipment, so you have got to make the effort as much as the school."
However, Fitzpatrick doesn't restrict herself to aiding those who could forge a career in the sport, but also those who are very much striving to reach Tokyo 2020.
The University of Worcester student returned to The London Titans two years after leaving the side for Warwickshire Bears to participate in the annual Wheelchair Basketball Tournament held at the Copper Box Arena in the Olympic Park.
The event is organised by Path to Success, the charity supporting women like Fitzpatrick in disability sport.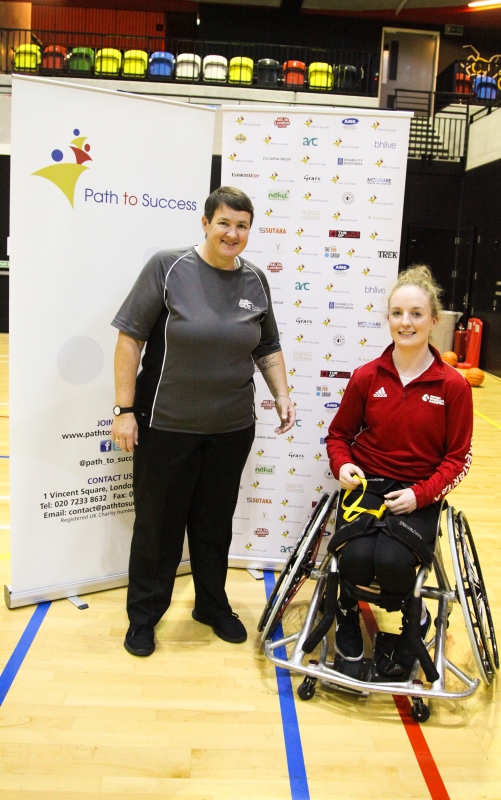 "I came to the first event in 2016 as a London Titan athlete, so I used to play for the team the charity are looking after," she said.
"I just massively wanted to help them to fundraise more money for the event. I have progressed through the Great Britain ranks so now I'm here as a World Championship silver medallist coming to show that this event and this fundraising helped me to get to where I am.
"It's just a thank you really, even though I cannot thank them enough."
That silver medal has capped a stellar year for the 20-year-old, and it was the pure experience of competing in a World Championships which gave her the most pleasure.
"I completely didn't even expect to get selected for the World Championships at 20. I have trained with the setup for two years, but some of the girls have ten years on me in the Great Britain programme, yet through hard work I made the team," she stated.
"For me it was just about enjoying the moment, whether I played 30 seconds of a game or 30 minutes.
"That's what I did it for, to play in huge arenas in front of huge crowds, and to have my parents in the stands making them proud.
"As a team we've never medalled at a senior tournament before. We all wanted the bronze, and when we finally got over the curse of getting through a semi-final, we just wanted to play our best basketball.
"We didn't get a gold but the final was probably the best game I've ever played in so we just enjoyed it."
However, while the Sports Business Management student revelled in the delight of a silver last month, she didn't have it all her own way two years previous when she was denied the opportunity to even compete in the Paralympic Games in 2016.
"I was balancing my A-Levels and my Rio hopes at the same time, and you can't have and succeed at both at the same time," she said.
"I thought the world was going to end when I found out I wasn't going. I thought 'that's it'. For two or three months after I fell out of love with the game, I hated playing it, I didn't even play in the National League.
"All of a sudden I thought 'I am only 17, it isn't the end of the world, your career is 10 to 15 years', so it made last month so much better because I felt like I was ready to play.
"I think maybe if I'd gone to Rio, it wouldn't have helped me either. I wasn't ready. In my head at the time, as a naïve 17-year-old, I really wanted to be there but looking back and speaking to my coaches now I'm grateful in a way that I didn't go."
With sporting disappointment now firmly part of the recent past, Fitzpatrick is now looking to plan out that 10-year career, with her sights now set on further success on the grandest of all stages.
"As an athlete, I want a medal at Tokyo, I want to go to my first one and a medal is my aim and then hopefully I can push on and continue my elite playing career for over 10 years," she said.
"There are other things that come in the way but that's the plan."