The UK's first women's Australian Rules football league is launching in London next month, with teams from Wandsworth and Wimbledon among the inaugural entrants.
Wandsworth Demons and Wimbledon Hawks will join South East London Giants and North London Lions as the country's first competitive women's teams in the new London league.
England's first national women's team, the Vixens, was launched last year – collecting silver at the Axios AFL Euro Cup – and the popularity for the sport has continued to grow from then.
"After the Euro Cup there were talks about starting up a women's league," said Kate Grabowski, player and current head of the Wandsworth Demons.
"Nothing really happened at first, but then a few of us girls decided to get the ball rolling with it.
"I used to play netball for the Demons team, but I really wanted to start a women's Aussie Rules team and I got in contact with the Demons and they were really keen.
"They've been so supportive from the onset and it's just really grown and a lot of women really want to play."
With preseason halfway through we are counting down to first #womensafl game for the @sheasports Cup on 18th April 2015 @PeckhamRyePark

— Womens AFL London (@WomensAFLLondon) February 25, 2015
The full contact game has become increasingly popular in the capital since the establishment of the men's game 25 years ago, and the teams will train alongside their male counterparts.
"The men's league is so well established so it just makes it easier for us to come under the wing and flourish," said Grabowski.
"I'm part of the committee for the male's team, and they've been really supportive and they're happy to absorb the costs of starting a women's team.
"It will only make the sport more diverse, it's traditionally been a more male-orientated place, but they're really on board and enjoying the mix of people."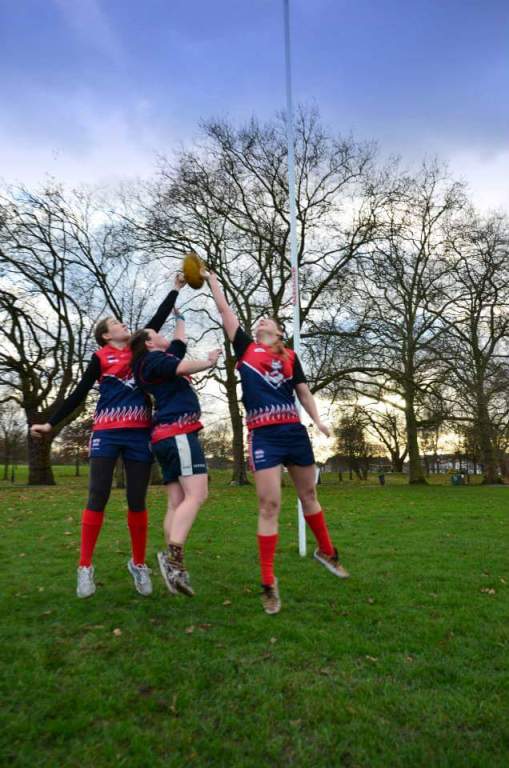 Grabowski was also keen for all levels of player to try the sport ahead of the season opener on April 18.
"At the first training session we had 11 girls and we've already got more than 30 women on our books," she said.
"A lot of them have never played but it's not a problem at all, we're more than happy to take on anyone and encourage them to learn the skills.
"There are a lot of Aussies and Kiwis around the south west area which is really handy and they know about it.
"But the response has been great so far and we've only been up and running for a couple of months, so it's really positive.
"The pre-season cup is on April 18 and we're going to make into a taster session beforehand to get more women involved."
The season starts on April 18 and runs until August. Details can be found at facebook.com/WomensAFLLondon or @WomensAFLLondon
Pictures courtesy of Kate Grabowski, with thanks