Shaun Okojie admitted football is a cruel game after Corinthian Casuals missed out on Ryman Premier League promotion on penalties.
After a goalless 120 minutes which Casuals dominated, Dave Hodges missed the decisive penalty in his 300th game for the club, meaning Dorking Wanderers won the Ryman Division One South play-off final shoot-out 5-4.
And top scorer Okojie was left to rue the performance of Wanderers goalkeeper Slavomir Huk, who produced a number of saves throughout the game as well as two in the shoot-out.
"To have so many chances and go on to lose like that is cruel," said Okojie.
"The goalie had the game of his life and I doubt he will ever have a game like that again.
"Football is a game but it's cruel and it just wasn't our day."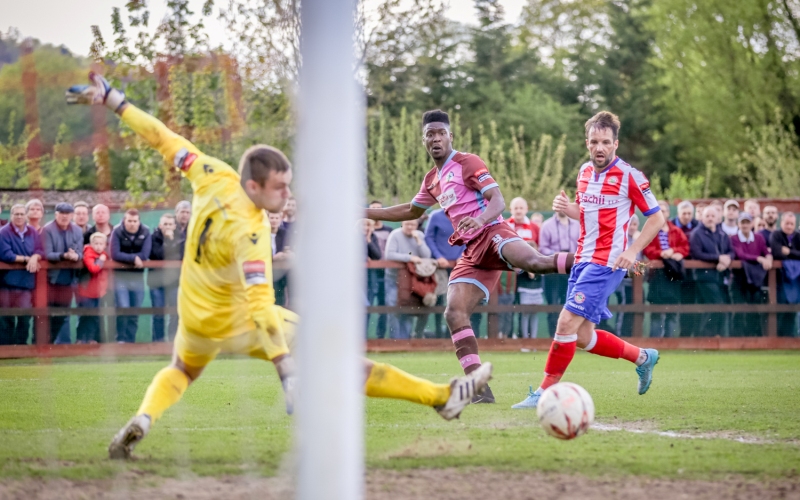 ANOTHER CHANCE MISSED: Shaun Okojie beats the goalkeeper but sees his shot drift wide
Casuals' keeper and captain Danny Bracken made a save in the opening minutes before a slow and defensive start by both teams.
Okojie was then denied twice before half time, once when Huk tipped his curling short over the bar and again when his left-foot shot struck the post.
After an hour, Casuals missed a double opportunity when Josh Gallagher made a good run into the box but saw Huk save his first strike and his close-range follow up.
They also had appeals for a penalty turned down when Okojie was knocked down by a Huk punch.
Dorking's Jake Beecroft and James McShane fired long shots in their only real chances, but Casuals were quicker and forced Huk into five crucial saves.
And when he didn't stop Casuals, the post did with Okojie again hitting it in injury time.
Huk was kept busy from the beginning of extra time as he stuck his leg out to stop a Warren Morgan shot, and Beecroft missed a great chance to steal promotion when Bracken was out of his goal, but blasted his 20-yard strike over the bar.
With neither side either to find the net, it went to penalties.
Beecroft, Mu Maan, and Dan Pearse scored before Casuals' Morgan saw his effort saved to make it 2-1 to Dorking after two penalties each.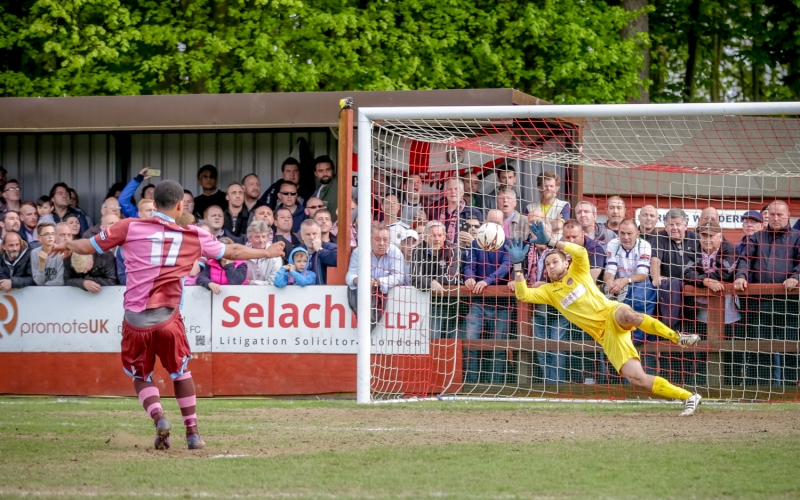 HEARTBREAK: Warren Morgan's penalty is saved by Slavomir Huk
Further strikes from Dean Gunner, Mahrez Bettache and James McShane made it 4-2 to Wanderers before Bracken produced a minute of magic to keep Casuals in the tie.
He stepped up to score his own penalty and then denied Tom Tolfrey what would have been a winner.
Jamie Byatt's successful kick meant it went to sudden death but after Matt Briggs scored, Hodges saw his effort saved by the impressive Huk.
Proud to have played my 300th game for @CorinthianCas in Play-Off final. Gutted we lost, incredible season, incredible team, incredible club

— David Hodges (@DaveTomHodges) April 29, 2017
"We're gutted," said Casuals captain Bracken
"We are proud to be amateurs and we are proud of the way we played.
"We play for each other – they are special lads and I know which team I would rather play for."
Dorking go into the Ryman League's top flight next year having notched 105 points in the regula season and only missing out on automatic promotion on goal difference.
Casuals' fan Danilo Augusto flew over from Brazil to watch the game and said: "It's disappointing because Corinthians deserved to win in normal time but it didn't happen."
All images, including the featured image of Dave Hodges seeing his decisive penalty saved, courtesy of Stuart Tree, with thanks