Brazen thieves stole cash, phones and training gear from a football team while they were playing just yards away.
Merton Athletic were losing 3-2 to Real Northern in the pouring rain with 15 minutes left last Sunday when an injured player returned to the car park to find four vehicles broken into.
Windows were smashed and six players plus the manager had everything from wallets to keys, phones, clothes and training cones taken.
Manager Steven Kenny said: "It was hammer-done, the whole window gone into smithereens on the floor, and six players combined lost everything.
"This was their whole lives; not just their money.
"Some of the boys were in tears, that sinking feeling, and not even a cigarette left behind."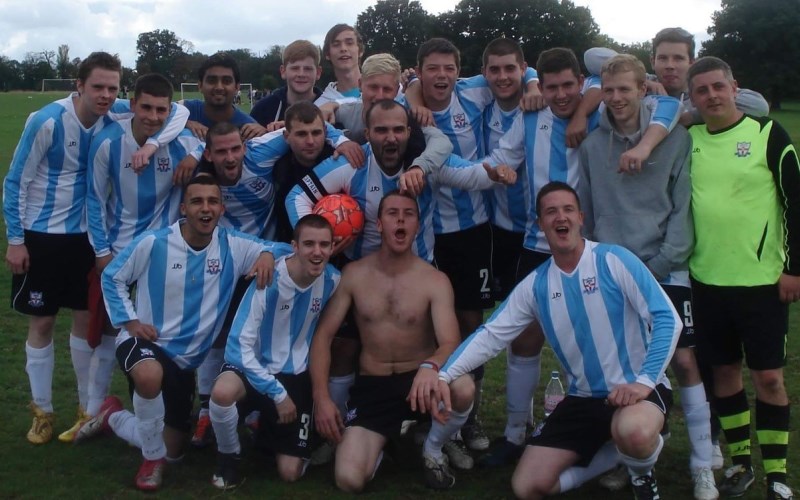 HAPPIER TIMES: Merton Athletic players
Mr Kenny, who rode as a passenger to the match in one of the affected vans, said he had suggested players pool their kit bags inside the vehicles to shelter valuables from the rain.
He added the robbers, who struck between 10.30am and midday, must have targeted older cars without alarms, otherwise more of the estimated 50 cars in the car park would have been broken into.
The vehicles included two Ford Transits, a Ford Focus and a Seat Ibiza.
Mr Kenny said: "There was no shelter from the elements, so I thought 'We'll just put our stuff here'.
"You chuck it in the car, it's an everyday off-the-cuff thing, and then you run off and get ready.
"Ten years I've been playing, and never once thought I'm not safe."
Merton Athletic FC play in the Southern Sunday Football League (SSFL), which is the largest men's Sunday football league in London.
SSFL chairman Graham Rodber said: "It was literally lock, stock and barrel.
"Players lost kit bags, tracksuits, car keys, house keys, driving licenses, cards and money.
"They came off sopping wet and all they had in their possession was what they were standing in."
Police were called at 12.46pm but after an assessment of the evidence available a decision was taken to close the investigation, a Police spokesperson said.
By the end of the day Mr Rodber had created a crowdfunder on Just Giving to raise £1,000 in support of team.
Within hours Real Northern FC donated £100 to the cause.
Mr Kenny said of the crowdfunder: "We didn't expect that; that was Graham's idea.
"Players were overwhelmed, it's unbelievable.
"Now they're seeing how successful and how together this league we take part in is."
Mr Kenny said he hoped his team's story might alert other football clubs to the dangers of leaving valuables in unobserved cars.
The incident was compounded by the three pitches closest to the car park being waterlogged and unfit for play, leaving the cars further from sight.
Mr Rodber confirmed 10 games in the league had been postponed that day due to horrendous weather.
Mr Kenny held a training session on Thursday night and said he hoped to pick his players back up, many of whom were still waiting for renewed driving licenses and bank cards.
He said: "We're a family, we've known each other a long, long time.
"This league is the one day of the week where no matter what happens we have fun.
"We just want to be back out next Sunday."