Natasha Dowie believes Doncaster Rovers Belles have a front line to rival double-winners Chelsea after drawing the defending champions in the SSE Women's FA Cup.
England striker Dowie already knew she was in for a tough start to life at Doncaster after the fixture list revealed the newly-promoted Belles would kick their league campaign off against champions Chelsea.
But things have just got even trickier as four days earlier the two will meet in the SSE Women's FA Cup fifth round at the Keepmoat Stadium, after Plover Primary School pupils Shonola Elkin and Maddison Rigby were selected to do the draw.
While Doncaster Rovers Belles fell at the first hurdle in last year's competition, losing 3-1 to Manchester City, Chelsea went on to lift their first ever SSE Women's FA Cup with victory over Notts County at Wembley.
And while the form book suggests lightning striking twice for Doncaster this season after the draw, Dowie insists you shouldn't count out the Belles just yet.
"You've got to beat the best to win the trophy, we will give it a good go," she said. "It is the Women's FA Cup and we want to win it, what better way to do that than beat the champions?
"Chelsea are champions and ideally, in a cup draw, you maybe want an easier draw so you can get that confidence going, but we have Chelsea, we have to beat the best, and I am really excited about that.
"Everyone wants to win it, so for me if you're going to progress through and be deserved champions then you have to beat the current champions, which are Chelsea, so we're really excited.
"We will prepare properly for it and to have them back-to-back in the FA Cup and then the first game in the league as well, both at home, is great.
"You want to be playing the best teams and we will be ready for it when it comes.
"Their strength probably is that they have international players throughout the team, not just from England but from other countries as well, so you can't pick out one individual.
"Their front line is very strong, the likes of Eniola Aluko, Fran Kirby, Karen Carney, Gemma Davison, Ji So Yun, but I definitely think there are areas we can exploit as well.
"With the front four that we have, myself, Carla Cantrell, Courtney Sweetman-Kirk, Jess Sigsworth. For me that is a very dangerous front three or four, there are plenty of goals for either team.
"It is about who can be the tightest at the back and then which front line is really firing on the day.
"We are a confident bunch of girls, we are used to winning. To get promoted last season they had to win a lot of games.
"Being back to back champions with Liverpool, I am used to winning as well. We have got winners on the team."
Having won successive titles with Liverpool, Dowie chose to join Doncaster this season after the Belles earned promotion from WSL 2 last term.
But just because she has swapped Merseyside for the Keepmoat Stadium, Dowie believes she doesn't have to give up on her ambitions.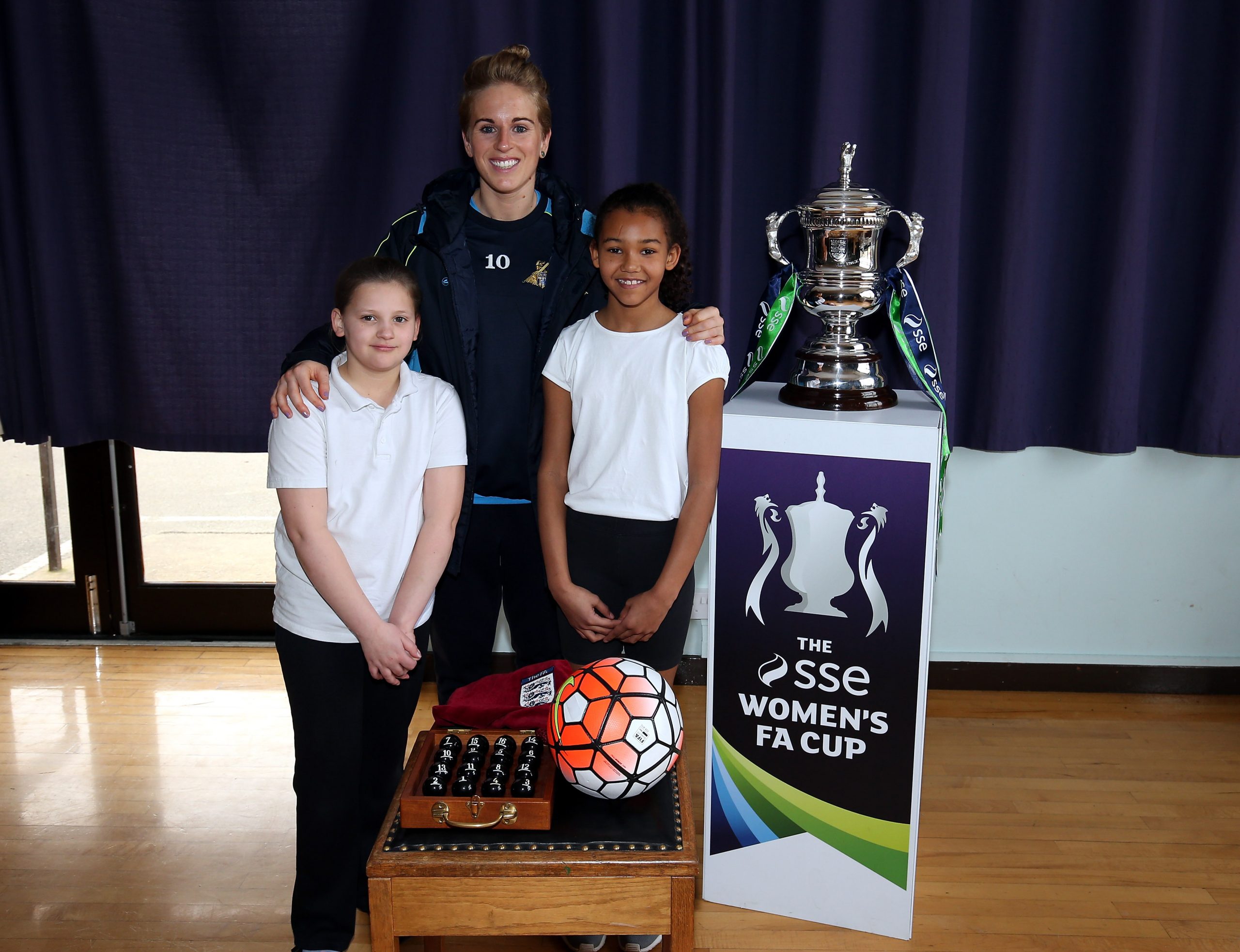 Left to right – Madison Rigby, Natasha Dowie, Shonola Elkin
"Just look at how well Sunderland did last year, for us it is just about consistency and really showing week in week out what we're capable of which I believe is big things.
"It is important to have that winning mentality. This really is a different kettle of fish now in the WSL 1.
"I have won a lot of things, but it has never been easy, it has been about the whole team collectively not just the starting 11, but the squad of 17 and the staff and everyone.
"So far we have all put in the hard work. It is a long, long season and there will be ups and downs I am sure
"It is a case of always sticking together and believing in our philosophy at the club and the way we want to play.
"The hard work and the togetherness of Donny and the history as well. We need to do the badge proud as well, which I am sure that we will."
To buy your tickets to The SSE Women's FA Cup Final, visit www.thefa.com