By Alice Fuller
October 31 2019, 10.25
Follow @SW_Londoner
More than two hundred dachshunds ran as fast as their little legs would carry them to a mega sausage meet in London's Hyde Park.
The diddy dogs were dressed in Halloween costumes ranging from witches and dinosaurs to a bee and Minnie Mouse.
The gathering was part of a monthly meet-up for owners and their pooches from across the capital.
Event organiser Ana Rodriguez said: "I love sausage dogs, they're adorable.
"We started doing the walks because of my own dachshund Winston, to socialise him when he was a puppy."
The walks were set up two years ago for young sausage dogs to mingle and the group has amassed more than 1,600 members.
Dachshund enthusiast Melissa Allan started going to the walks before she even had a dog of her own.
She said: "I used to come here before I even had a dachshund because I loved them so much and I knew I wanted one.
"Now I come to socialise my dog Brady. It's always fun and I have actually made good friends here."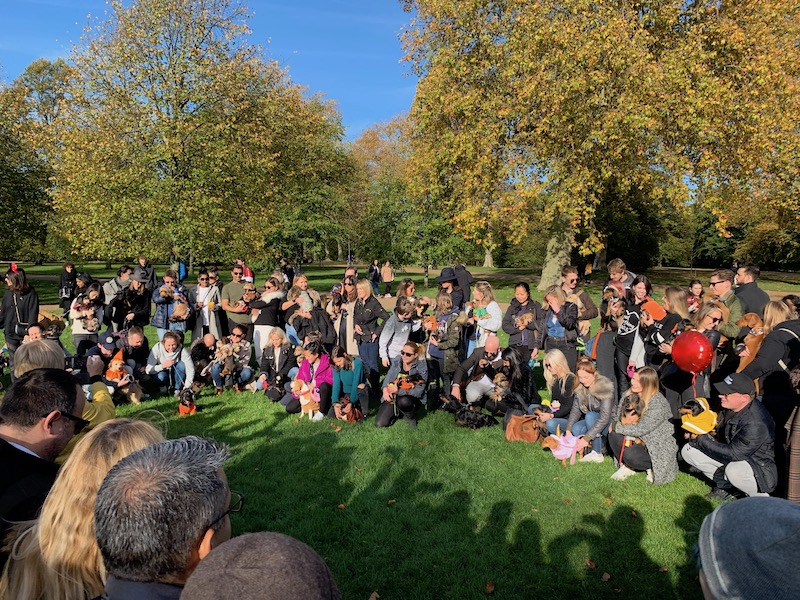 Brady is an 11-month old dapple miniature long-haired sausage dog.
Melissa, from Clapham, added: "We don't usually dress Brady up, but we thought we would for this special occasion."
Ian Mackenzie and his five-year-old Instagram-famous dog Maxwell von Gruosi are sausage walk regulars and Ian describes his pup as 'the ultimate dog about town'.
He said: "These walks give him a chance to run around and play with all his little buddies.
"Dachshunds are the perfect little dogs. Although they're small, they have real personalities, they're full of life and they're just great fun."
Ian said his dog, who has nearly 23,000 Instagram followers, has completely taken over his life.
He said: "I've become one of those crazy dog dads. Five years ago, I'd never have thought I'd be meeting strangers in the park with my dog in a costume."
Freelance creative Mikaela Rice travelled from Greenwich with her rescue dachshund Woody and Russian hound Twiggy.
Mikaela said: "I like dressing my dogs up so this is the perfect excuse.
"I also think sausage dogs are just like me as a person. I'm short, my legs are short, they're annoying, and they talk a lot."
There were prizes for the three best dressed dogs at the spooky afternoon stroll.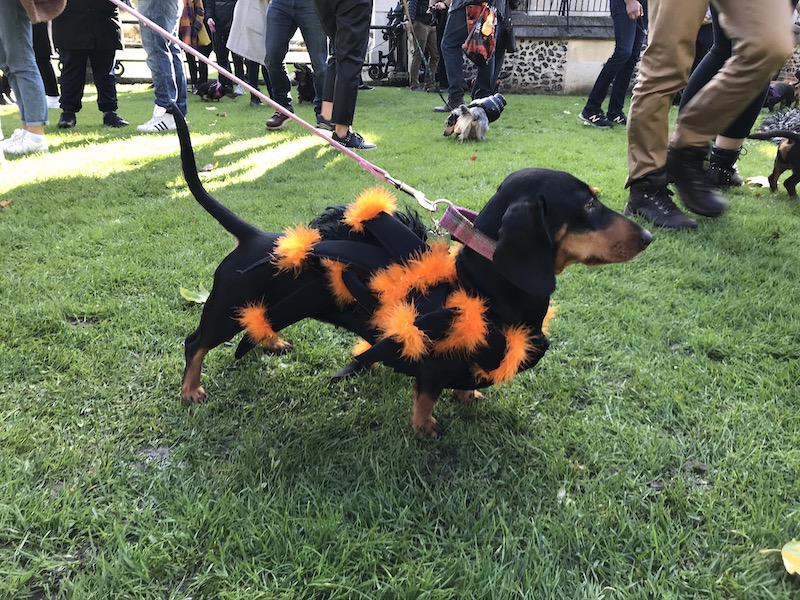 The group meets on the fourth Sunday of each month at the Italian Gardens in Hyde Park.
For more information, visit meetup.com/Hydepark-Sausage-Walk/