Since the inaugural race in 2007, a total of 15,155 runners from 677 different club have ran in more than 475 runs – and now Richmond Park parkrun is celebrating its ninth anniversary.
Park runners have met come rain or shine inside the park near the Richmond Gate every Saturday at 9am since the first run on October 20, 2007 – when just 42 runners took part.
On Saturday, October 22, 370 runners of all ages and abilities completed the 5k run in the autumn sun for the event's ninth birthday.
Runners gain points every week based on their finishing position and can also be awarded volunteer points for different roles including marshalling, timing, pacing and pacing.
Awards were presented to 2016/17 prize winners by event director Andy Caie before the anniversary run.
The male and female points winners awards went to Nick Ward and Cecily Day.
Eric Bowker won the junior award and volunteer awards went to Zanny and Maia Lewis for consistently turning up to help at the event.
A Run Report Writer award went to Fred Croft as thanks for his contribution of writing up reports of the event over the course of the year.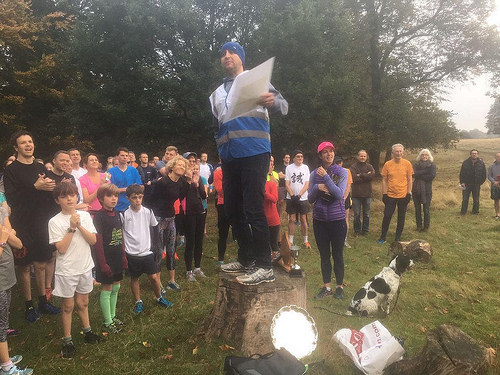 READY, SET, GO: Event director Andy briefs runners and presents awards before the run
Jo Caie, a product development manager from Twickenham, took up parkrun through an initiative at work where a group of work friends decided to train for a half marathon.
The 39-year-old said: "Parkrun is easier for beginner runners to get involved with a running event and experience the feel of an organised event in a friendly environment.
"I love the social side and you get to meet more and more people every week, there is always people going for coffee or breakfast afterwards.
"It's good for children too and if the children are faster than their parents they can speak to the race director who can pair them with another adult runner so they always feel safe.
"One of the best things for me is seeing the younger children develop, improve their times and gain more confidence with their running."
The Richmond Park parkrun is a volunteer led event with a team of 15-20 volunteers most weeks, with up to 30 on the first Saturday of the month when pacers run.
Event director Andy said: "It's a free timed run in the local community and people of all abilities from the first runner to the walkers are welcome. Everyone is made very welcome.
"Running is a sport where if you have a pair of trainers you have everything you need.
"I've been involved for eight years. As an active runner I wanted to get involved in a volunteer capacity as it's a community event near me."
Paul Sinton-Hewitt OBE started parkrun back in 2004 as the Bushy Park Time Trial with 13 runners and it has since grown into a global event with parkruns all across the country and also across the world in Afghanistan, Australia, Canada and many more.
Other parkrun events in south west London include Bushy Park, Kingston, Old Deer Park, Tooting Common and Wimbledon Common.
To join parkrun visit www.parkrun.org.uk, register, print your barcode and take it to each run to record your time and gain points.